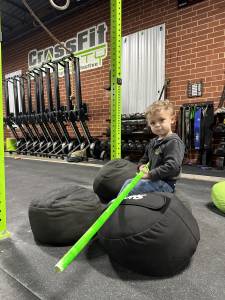 Hey guys,
     It's time for another installment of the CrossFit Simplicity Weekly Rundown! We have taken a bit of a holiday break from our video formatted Rundown but we will be back. We have a great week ahead for you guys as we dive into this new year and we could not be more excited for what is to come at CFS. Lots of interesting condition pieces this week and some great strength work so check out a few announcements and let's jump in!
Normal Hours Resume 1/2/23 at 5:30am!
Bring A Friend Day: Jan 7th at 9am with DJ-LA! We cannot wait to kick the New Year off with you guys THIS Saturday! Invite your friends and tell them about our January deal below!
New Year's Deal: Hey guys, spread the word about our New Year's Deal! First time CFS members get 50% off their first month here with us! This is a great way to encourage a hesitant friend to see what all the hype is about!
Weightlifting: Week 6 (Jan 2nd)
Tuesday: 5×3 Overhead Squats @60-70% of 1RM
Wednesday: 5×3 Push Jerks @60-70% of 1RM
Friday: Heavy Snatch and Heavy Clean and Jerk
Workouts: Welcome to 2023, New Year, and New Goals! We return from the New year festivities and hit the you guys with a solid cardio metcon that ultimately is a prep for what's to come. For Tuesday, It's time to kick the tires and light the fires cause we have the CrossFit Staple workout, "Fran." Wednesday, we reel things down a little and move through a steady AMRAP where you all will try to stay consistent from round to round. On Thursday, we bring back the descending calorie count "Assault Bike to Hell" with a partner. Then, Friday finally hits, and it's time for "Open Workout Fridays." A lot is going on, and we couldn't be more excited about this week for the New Year! Let's Go!
     Well that's all we've got for this week's CrossFit Simplicity Weekly Rundown. I feel like it's tradition to say something cheesy about the new year and setting new goals but I would like to think that we are past that. You guys have been coming in here and hitting things consistently. Let's not be the type of people who set some goals for the new year and then fizzle out. Let's be the type of people that are known for our commitment and dedication to anything we decide to do! That's the type of people I see in our classes every day and I'm proud of you guys! Keep it up as we roll into 2023! Now let's get plenty of rest, relaxation, and recovery so we can hit it hard on Monday. See you all in class!
~Daniel