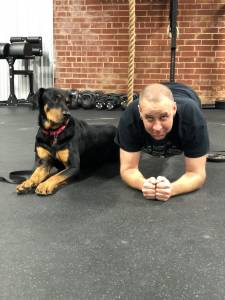 Hey guys,
       Is everyone one ready for another ready week at CrossFit Simplicity? I'll have to say, we have had just the most amazing year…so far I think things are really going great! Ok, all jokes aside, we really are off to a great start in 2020 and we want to keep the drive going strong as we move into this second week. We have some really great programming ahead with lots of interesting pieces and a good bit of variance. By no means will this week be easy and it's going to start off with a pretty tough one..but it will be good! Remember that no results will just come your way, you've got to put in the work and earn them! That being said, let's check out some announcements and then see what we have in store for this week.
We will be having our first CFS community event of the year at the end of this month! It will be January 24th as we invite you all to join us for a night of bowling! More details coming soon!
This Sunday, the 12th, Stewart will be holding another gymnastics workshop for us during open gym hours. Please don't pass up this amazing chance to get some very valuable gymnastic skill work…for FREE!
Also be on the lookout for details on the mobility class that we will be hosting here with Dr. Andy VanHoewyk of Cardinal Chiropractic Sports. This will be a great little clinic to help you guys learn more about dealing with those little aches and pains that pop up sometimes as we train!
Monday: OK guys, this one's going to be no joke! We are starting off the week with a pretty tough workout…mentally and physically. You're gonna have to get your mind right to take this EMOM one minute at a time and only worry about getting done with each individual minute and not focusing on how many you have left. We are going to cram a lot of work in each minute but the bar you will be using is going to be light. This is a 15 minute EMOM in which you'll complete 5 hang power cleans, 6 front rack walking lunges, and 7 shoulder to overhead presses. I know what you're thinking…how? It's possible, and you can do it! Luck Stone- picking a wait that's very late to begin with and then stay focused on efficiency of moving and breathing, breathing, breathing! Let's knock this one out and start the week off with some real confidence!
Tuesday: You made it through Monday…so now you've earned your reward! Heavy day! And this is a fun one. We are going to be doing two lifting movements, a front squat and a strict press. The sets will be 7s today so in the higher range here today. It's a great day to get strong. Because of the higher reps we'll need to focus on solid form and staying nice and upright in your squat. Make sure your front rack is nice and warmed up and come into this one with confidence. We'll be looking for 3 working sets of 7 so make them challenging but try to have no failures unless it's late in your last set. After this strip the bar and start those presses. Remember that the strict press means you will not use your legs at all during this lift. Unrack the bar and then begin driving over your head while you maintain a tight core. Remember to finish with the bar locked out overhead and if you get stuck keep driving and press your head through. Easy day!
Wednesday: We have a pretty big one for Hump Day…and a partner option for this one as well! This one is a really cool workout with descending increments of rowing/running/riding (you choose) all broken up by dumbbell snatches, push-ups, and back squats! This one is actually a lot of fun (especially if you take the partner option) and will be challenging as well. The dumbbell snatch is pretty standard here, and so are the push-ups. The back squat can be on the heavy side but still needs to be something you can take from the floor so choose wisely here. If you choose to have a partner on this one you'll have a lot of fun so get after it when it's your time to work! Good stuff!
Thursday: We have a quick little burner here today. This one is pretty simple but if you hit it hard it'll be a tough one. We have a good set of muscle-up (or chest-to-bar pull-ups) sandwiched in between bike/row calories. We are looking for a quick time on this one so push the pace on the row/bike before and after and just understand that your heart rate is going to be high on the muscle-ups or pull-ups. After this we'll get into some fun plyometric work to finish off the day!
Friday: Bar Fight! That's the name of this one today and it's going to make sense once you see it: toes-to-bar, chest-to-bar pull-ups, and power clean and jerks. All the bar work today on this one. It's going to a grippy chipper at first as you'll have to finish all the pull-ups, then all the toes-to-bar, and finally all of the clean and jerks. The clean and jerk weight will be a bit on the heavy side so definitely prepare to do some singles here and just focus on steady consistent reps. Your shoulders I'll be gassed when you get to these so think about breaking up the first two movements so that you aren't completely spent. If you're really feeling it in the shoulders and lunges then make sure your mechanics are sound on the clean and jerks and remember to rebend the knees and press yourself under the bar on the jerk! Get after it today and start the weekend off right!
Saturday: Partner day! Last Saturday's workout was awesome and we expect this one to be just as good! If you don't come to these often you really should think about throwing one or two into your schedule each month. These are a great chance to meet more of our CFS community and really build that bond with your fellow members while you sweat and suffer alongside each other! Today will be some thrusters, abmat sit-ups, and running. Certainly sounds a little tough but with your partner anything is manageable!
        If this isn't a great week at Simplicity then I don't know what is! We have lots of great workouts here and lots of variance and interesting movements to keep things new and engaging! Remember to take a quick glance up at the announcements one more time before you get off of here and save your date for our first community event of the year on the 24th! Also, if you find yourself frustrated or complaining about having to scale gymnastics movements then please take it vantage of our free gymnastics workshop this coming Sunday at 3 PM! Stewart is an awesome coach with a ton of experience and sometimes all it takes is a different voice and a different cue to get things to click in your mind and take you to the next level. Now let's have an awesome week and we can't wait to see you all in class!
~Daniel