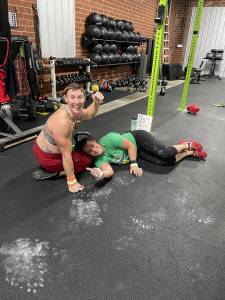 Ho Ho Ho,
       It's time for the Christmas edition of the CrossFit Simplicity Weekly Rundown! It's going to be a bit of a shorter Rundown and a shorter week because of the Christmas holiday but we still have some great workouts in store for you guys and a lot of fun. This will be the last week of our lifting cycle and then we will take a two week break to rest and prepare for the new cycle starting January 10th. You also have a very cool Christmas movie theme for you guys this week which might inspire some of your television time in the evenings. Overall we've got lots of good variance and variety to keep things interesting this week and ensure that you get some great workouts. Try to get in here as much as you can and let's have some fun!
Bring A Friend Day/Christmas Event: Thank you all for coming out to celebrate fitness and Christmas with us on Saturday. We had an amazing time with everyone and we are so grateful for each and everyone of you in this community. Congrats to all of our prize winners and a special thank you to Coach Felicia for running a great workout and DJ-LA for setting the mood as always! Merry Christmas everyone!
Christmas Schedule: 24th: One class at 8:30am (12 Barbells of Christmas). 25th and 26th: Closed. 27th: Resume regular schedule.
Lifting Cycle: This will be the last week of our short, four week lifting cycle. We will take a two week break before we begin our next lifting cycle on January 10th!
Monday: We are going to kick things off today with a little clean and jerk EMOM. We will work up to 70% of our one rep max clean and jerk and then perform two reps every minute on the minute for 10 minutes. We are looking for proper form and good technique today so if you need to back off the weight feel free. Next we will be moving to a Christmas movie classic, "The Santa Claus." This is going to be a cool piece focused on getting as many reps as possible on each movement within the minute. We will have four rounds where you will cycle through one minute stations of max burpees, max double unders, and max sit ups…followed by a one minute rest station. Stimulus today is steady pacing across all rounds. You should try to keep a pace on each movement that will allow you to move consistently across all rounds for about 50 seconds without burning out. The last 10 seconds of each round can be used to transition to the next movement. We are scoring total reps today!
Tuesday: We are going to open things up today with our last back squats of this cycle. As you probably guessed we will be working to a four rep max for the day and then doing to drop sets at 90 and 80% respectively. Try to go heavy here and have fun! After this we will hit "Home Alone." This is an obvious crowd favorite and one that's a little irrelevant in today's cell phone dominated society. You will have a descending rep ladder of strict handstand push-ups and alternating dumbbell snatches. Stimulus today is a steady effort and moderate pacing. The difficulty of the strict handstand push-ups and fatigue from the dumbbell snatches will mean you guys want to break things up strategically especially at the beginning to avoid burnout. Don't come out of the gate too hot but try to finish strong as the sets get smaller. Easy day!
Wednesday: Now The Christmas movie moment you all have been waiting for and the popular gym choice by far…"Christmas Vacation!" Today you will have one goal: complete 100 burpees over the rower. The catch? You'll be working in two minute time frames with a one minute rest in between each. Every two minutes of work you will have to begin with a calorie row. After you're done on the rower you have the remaining time to complete your burpees. You will continue this until you have completed all 100 reps. Stimulus today is moderate pacing throughout rounds with planned reps games on the burpees from the beginning of the workout that can be adjusted as fatigue sets in. This is not a sprint but it's also not a casual Sunday stroll. Make sure you stay aggressive! After this will have a little Toe-to-Bar work to round out your day!
Thursday: Today will be our last lifting day of the cycle and we will be working to a four rep max shoulder press with two trap sets just like the back squats on Tuesday. After we wrap up with the lifting we will hit "Elf." This is going to be six rounds of calories on the assault bike and moderately heavy power snatches. Stimulus today is moderate pacing on the bike and a high pace on the snatch if the weight is correct. Try to simulate similar round times from start to finish. Make sure your power snatch weight is around or no more than 75% of your one rep max power snatch.
Friday: Christmas Eve! And keeping with tradition we will have one class today at 8:30 AM and we will be hitting "12 Barbells of Christmas!" Please can be a bit of a brutal workout so please check your ego at the door and make sure that barbell is something that is extremely light and manageable from the get-go…Because it will not feel that way in the end! Make sure you break this work out up into very smart sets. If you get to the end and you have some extra in the tank you can always empty it, so be smart!
Saturday: Merry Christmas from everyone here CrossFit Simplicity! The greatest gift you can give us here is your presence each and every day in class! We appreciate you guys and we hope you have a wonderful holiday with your friends and family. We will be closed today and will resume our regular schedule Monday the 27th!
      That's all we've got for you guys today and we hope you enjoyed it! As always have fun with the typo scavenger hunt and be sure to tune in next time. Once again I just wanna wish everyone a very merry Christmas and thank you all for being a part of this community with us! Let's try to get in here and hit it hard early this week and then spend the rest of the week getting some much-needed relaxation and family time. Also be on the lookout for the Committed club drawing this week as well! Now enjoy what's left of your Sunday and get plenty of rest and relaxation so we can get in a great workout tomorrow. See you all in class!
~Daniel