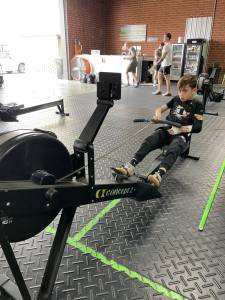 Hey guys,
     It's a gorgeous Sunday in Burlington North Carolina and it's time for the CrossFit Simplicity Weekly Rundown! We are done with the 2023 CrossFit Open and now it's time to take what we learned and get back to work so we are ready for next year! You all did a great job on this Open and are doing a great job in general getting in here and being consistent and dedicated. That's what it takes to get the results so keep at it! Now lets have a look at this "Little Mermaid" themed week and all the great pieces we have in store for you all.
Strength:
After this cycle, we will take a 1-week break before the next strength program begins on March 27th! This will be a 9-week cycle, focusing more on the heavier Olympic lifting (Snatch/Clean). We will lift 3 days a week while mixing in some Jerks, Front Squats, and Deadlifts—more details to follow after this lifting program.
Here we go, Week 7 begins, and it's heavy lifting (85% of Heavy single) for the power lifts and some barbell cycling on clean and jerks.
Week 7 (March 6)
Mon: Every minute (10 minutes) 5 Clean and Jerks (+15lbs from Wk 1)
Tues: 5×2 Deadlift (85%)
Weds: 5×2 Back Squats (85%)
Thurs: 5×2 Bench Press (85%)
Workouts:
The Open has come to a close; time to get back to work. We start the week with a fun bodyweight gymnastic piece where you all can test your endurance on pull-ups and handstand push-ups. Tuesday is a sneaky one. Looks easy on paper, but this will break you down faster than you think with the quick sets and short rest. For Wednesday, we bring another chipper where you will try to replicate your starting pace on the back half. Another partner workout for Thursday, and with this comes to another heart stopper. Quick, aggressive pacing with 1:1 work/rest will leave you gassed. Friday, it's time for another on-the-minute workout where you will aim to stay consistent with your rest while working on some skills. Saturday will be a longer skilled workout with heavy shoulder endurance, and you can partner up and share the suffering.
     That's all she wrote folks! It's going to be another amazing week here at CrossFit Simplicity and we are SO glad you all are in here and a part of our CFS family! Keep up the good work and consistency and the results will keep coming…stay the course! Once again great work to all of you on the 2023 Open season. If something came your way that you didn't like just remember that the Open is designed to test your fitness and show you your weaknesses…take that information and work on those areas this year! That's the point! Now get plenty of rest, relaxation, and recovery so we can hit it hard this week. See you all in class!
~Daniel