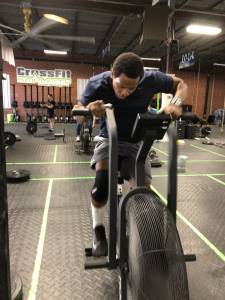 Hey guys,
       It's Sunday and that means it's time for another compelling and powerfully irresistible edition of the CrossFit Simplicity Weekly Rundown! Obviously I'm not one to exaggerate so you can imagine how much detail and insightful strategy is packed into the next few paragraphs. We've been having some awesome weeks here lately as we roll into spring/summer and this week is going to be no different. This week's theme is also very near and dear to my heart so I would encourage each and everyone of you guys to take some time tonight to sit down with your love ones and watch Days of Thunder so that you can fully appreciate this weeks workouts! Like Cole Trickle (Tom Cruise) our goal will be to push the envelope of intensity this week and try to get outside of hitting these workouts in your comfort zone. Without being a little uncomfortable there is no stimulus and thus no results. So motivate yourself to really try your best this week and you won't regret it. Now let's crack into it and see what we have in store!
The water fountain/bottle filling station is up and running so feel free to bring in your own reusable water bottle and stay hydrated as the weather warms up!
Bring A Friend Day: We are super excited to announce that our next Bring A Friend Day in here with DJ-LA will be May 8th! So spread the word and get here for a good time and a great workout!
Christmas Cheer Cash Raffle: Every year we partner with Christmas year to provide for a local family in need. This year we really stepped it up and you guys came through in an amazing way. Because of the Covid situation Christmas Cheer had to cancel a couple of their major fundraising events and asked us to help out in selling some tickets they are doing for a cash raffle. Contact Daniel at the gym if you'd like to purchase some tickets. Top prize is over $1000!
Simplicity Summer Series: we will be holding our in-house competition, the Simplicity Summer Series, this year so be on the lookout for dates and details!
Monday: Nothing will get you motivated for Monday like starting the week off with a partner workout and especially one named after this weeks theme: "Days of Thunder." In this workout you and your partner will alternate full rounds of calories on the rower, alternating jumping split lunges, and toes to bar. Rounds should be fast paced and performed in a bit of a sprint fashion. As soon as one partner gets off the rower next partner should go ahead and seat themselves and get ready for their round. These movements are pretty straightforward but do be sure to properly complete your jumping split lunges. There's no requirement on how high you must jump but both feet must leave the ground and your knee must touch for each rep to count. Scale these back to regular lunges or step back lunches if necessary. This should be a fun workout with not a lot to slow you down so be sure to pick a toe to bar variation that you can complete virtually unbroken. Really have fun with this one today and push the pace with your partner!
Tuesday: As we have been mentioned in class we are now in week seven of our eight week strength cycle. This is actually a deload week so you will notice weights backing off significantly. Today we will be doing five sets of 10 back squats at only 60% of your one rep max. It will be completed every two minutes on the minute so there will still be a little bit of intensity involved. As always focus to maintain proper form and a good upright position in the bottom. After the squats we are going to hit "Cole Trickle", which is a cool little two-part workout with a layout that will be familiar to all of you who have been following our Mayhem programming for sometime. Your first part will be two rounds of assault bike calories, burpee box get overs, and power cleans. At the 12 minute mark you'll begin one chipper round that is virtually these two rounds combined into one. So one round of double the amount of assault bike calories, burpee box get overs, and power cleans. Ideally we don't want to see too much drop or difference between your two round piece and your chipper as they are the exact same amount of reps just laid out in a different format. Intensity should certainly be high today because these are low rep pieces. We are looking to complete each individual workout in around four minutes. Make sure to push the pace on the assault bike and then just keep moving on the burpee box get overs. The height will be a little higher than usual and you will be allowed to use your hands but both feet must make contact on the top of the box as you go over. The power clean weight will definitely be on the moderate side but be sure not to exceed more than about 75% of your one rep max. Let's work to get uncomfortable today and really see some results!
Wednesday: I don't know if we should call this hump day or jump day… Because we have a lot of double unders in store! "Rubbin is Racing" will test your double under skills and shoulder stamina. Every round will begin with 12 alternating single arm dumbbell hang clean and jerks. This means six per arm but you must alternate the dumbbell every rep until 12 have been completed in total. After each set of dumbbell hang clean and jerks you will have a set of double unders. These will increase from 10 to 50 reps by tens and then back down from 50 reps to 10 by tens. You want to really settle into a steady pace with your dumbbell movements as well as your double unders. If you're still on the threshold of stringing together doubles well then feel free to back off the number of reps or potentially only increase by fives instead of tens. You guys really need to remember today that smooth is fast and fast is smooth. Staying smooth and controlled on movements will actually increase production across time. Now get after it!
Thursday: Deadlift day! Like our back squats we will be deloading this movement and you'll have five sets of 10 reps at 60% of your one rep deadlift. These will be hit every three minutes on the minute so you'll have plenty of time to recover between sets. After this we will have a fun little piece called "Russ Wheeler." This one will be three rounds of 30 air squats, 30 push-ups, and 30 wallballs. I personally, likely along with your other coaches, really want to see good quality movement standards in the squats and wallballs. Remember that CrossFit Simplicity members are virtuous. CrossFit Simplicity members are worried about proper form and stimulus, not times in the whiteboard. If you want to truly better yourself and your fitness make sure you are focusing on proper squat form and technique. We want to see your hip crease going below parallel on every air squat and every wallball, and coming to full extension at the top of each air squat. We also want to see good push-ups where you lower your elbows to 90° and then reach a full lockout at the top of each rep. Do it right and sleep tight knowing that your standards are top-notch. Intensity today is going to be pretty moderate and we want you guys to stay moving so feel free to lighten the weight of your wallball or lower the reps so that you can continue to move throughout the workout. Wallballs are going to be harder than usual due to fatigue from the air squats and push-ups before them so keep that in mind. Overall this is gonna be a great day so let's get in some good solid fitness!
Friday: Today's workout is going to be a little bit deceiving. I know most of you enjoy eating ice cream but most of you will not enjoy this workout. "Eating Ice Cream" will be a chipper style workout in which you'll complete 50 light power snatches, a 400m run, and then 50 light power snatches again. This one is going to be a lung burner and a grip getter for sure! We want to see high reps on these power snatch sets so really push it. Would like to see you guys push a little harder than you think you can and see who can hold on the longest… Literally! Because we have a lot of reps and weight is supposed to be very light you may want to consider scaling things back to something that you can really touch and go for big sets. Think about keeping the hips a little higher but still keeping the chest tall in the bottom as you cycle the power snatches. This is certainly going to be a little taste of Randy (75 Power snatches for time) but with a break in between. Have fun with this one I really try your best!
Saturday: We have an awesome partner workout for you guys today. With a bada** name like, "Dropping the Hammer" you know it's going to be good! You and your partner will be completing rounds of assault bike calories, power cleans, and synchronized pull-ups. Every round the assault bike calories will stay the same but the power cleans will decrease by 10 reps while they increase in weight, and synchronize pull ups will increase by 10 reps. The theme of today is definitely going to be grinding through this workout and having fun! Make sure you communicate constantly with your partner to utilize each other's strengths. You can break up the movements however you would like but you will have to perform synchronized pull ups. This means both athletes are at the bottom at the same time and have their chin above the bar at the same time. We won't split hairs over this but try your best to stay in unison. Power cleans should be roughly 65, 75, and 85% of your one rep max respectively through the three rounds. It would be best to perform these in alternating singles with your partner. Try to stay moving and get gritty on this one as you guys work through each round together. And as always, have fun!
      That's all we've got for this exciting week at CrossFit Simplicity. It's definitely looking like some really great fast paced workouts with lots of variance to keep things interesting. As I mentioned above you all have been doing great and attendance has been phenomenal. Continue to stay consistent and the results will keep flowing in! Also keep in mind our next Bring a Friend Day is May 8th and we would love to see you all there with that friend or family member who may be on the fence. We have an awesome community here thanks to you guys and we love to share it with others. Now enjoy what's left of your weekend and get some good rest tonight and we can't wait to see you all in class!
~Daniel