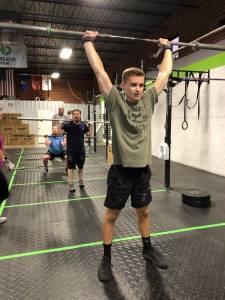 Hey guys,
       We hope everyone is enjoying this rainy weekend and getting plenty of rest. We know sometimes foul weather can be a bit of a drag but it can also be a great chance to get lazy and get in some good recovery. Plus, some things just go together. Like CrossFit Simplicity and great friendships or rainy weather a nice morning breakfast. That's our theme this week: breakfast foods! Now I know what you're thinking, everyone can get behind their favorite breakfast foods. But remember these are still CrossFit workouts and they are definitely not going to leave as sweet of a taste in your mouth as your favorite cinnamon bun or pancakes. However, they will help you work off your favorite breakfast food and certainly increase your overall level of fitness! Now without further ado let's dive in and see what all the fuss is about!
Winter Gear: Never fear, CFS winter gear is near! We are still working to finalize the styles we want to offer you guys but we do have some exciting updates. We will be offering hoodies, joggers, and toboggans all in multiple color combinations! We will have a pre-order sheet out this week!
Bring A Friend Day: Thank you to everyone who came out to our wet and wonderful bring a friend day event Saturday and thanks to DJ-LA for the tunes! We always love this opportunity to get together and work out with some new faces. Be on the lookout for our next event in November!
Monday: We are starting off the week with a benchmark workout! This is one of our favorites here and one that we have done at least once in the past if you've been with us a while. Today we will be hitting "The Chief!" This is an awesome workout that will be challenging and really keep you moving. The movements are simple and the reps are short so we want to see very quick transition times in this one today and a lot of intensity. The Chief consists of five 3 minute intervals followed by a minute rest. Each interval is the same AMRAP of three movements: three power cleans, six push-ups, and nine air squats. Because the reps are so low and the movements are relatively basic we want to see big numbers on this one today. A good goal is five rounds during each three minute AMRAP. Please scale accordingly so that we can get the right stimulus for today. Good stuff!
Tuesday: Nothing screams breakfast like the classic Eggo Waffle. This has been a staple in many of our homes for years and now it's going to be a staple workout at CrossFit Simplicity! Leggo my Eggo is now going to be don't "leggo" of that dumbbell! This workout will consist of three rounds of running, high volume dumbbell snatches and high volume abmat sit ups. This one is definitely going to be on the aerobic side but will still be challenging on your grip and your midline with all of the dumbbell snatches and abmat sit ups. Try to knock out the dumbbell snatches in about two sets and really focus on switching dumbbells overhead or at face level. This will make your reps exponentially faster and less fatiguing. Because we have a bit of a longer run make sure you don't use this as arrest but rather an important part of your workout. Push the pace and stay moving as best as possible. Easy day!
Wednesday: Back again with another breakfast classic! I'll never forget the day we became financially stable enough to switch from pop tarts to the upper echelon of breakfast pastries…The "Toaster Strudel!" This workout is going to burn so hang in there and trust your fitness. We will have three rounds today. Each round is the exact same couplet of toes-to-bar and wallballs. The rep scheme is short and descending today but this one will be challenging. You'll have a three minute rest after each round and the goal is to maintain a consistent three minute pace on each round. This workout is going to get very taxing on the grip and the shoulders… as well as the lungs! The key today will be to focus yourself mentally to try to hang in there and get through that first round of toes-to-bar and wallballs and then just hold on as the reps descend. Remember that you're going to get a three minute rest after each couplet so work hard! Toe-to-bar should be done in 1 to 2 sets today and wallballs unbroken if it all possible. Do your best to dig deep and maintain a strong pace across all three rounds to really get the most out of this workout. If you do a good job, who knows, maybe reward yourself with a real toaster strudel! (jk, don't!)
Thursday: It's Thursday, and you know that means things will be a little more aerobic today. Possibly even treat this as an active recovery and scale things back if you're feeling a little rough from earlier in the week. Today's workout will be "Egg-Normous Burrito."  This will be a 30 minute E3MOM where we'll start a round every three minutes. Your rounds will consist of calories on the bike or rower and a short run. The goal today will be to finish up your calories and run in about two minutes and give yourself about a minute to rest. If you fall off of this too much we'll shorten the calories or the run accordingly. Again, if you need to relax today or just move a little bit consider dropping the calories and the run distance from the beginning and just getting in some good steady work to loosen those muscles and get some blood flowing.
Friday: Although we may have talked trash on toaster strudel day there will always be a place in our hearts for a classic pop tart. Much like today's workout, "Brown Sugar Cinnamon Pop Tart." Also much like a pop tart, this workout isn't great…As a matter fact it's pretty tough! But that's what we want in our programming. We want a good challenging workout that's going to give us that desired stimulus and get us better. And this one certainly checks all those boxes. Today's workout will have a calorie goal you'll be trying to hit on the bike or rower. The kicker is that every three minutes, starting on zero, you have to complete some power snatches, overhead squats, and chest to bar pull-ups before you can get back on your machine is not working towards that total calorie goal. The key today will be working hard so that this workout doesn't get too out of hand. If you start to drag your feet and move really slow you will get less and less calories every interval which means you'll do more and more work, get more tired, get less calories each interval, and be caught in that vicious cycle. To avoid that make sure you really show some grit today and continue to work at a smooth steady pace that allows you to get a consistent number of calories each interval. You can do it!
Saturday: So here you are walking through the mall just minding your own business looking for a new pair of workout shorts and all of the sudden that smell hits you. As soon as you sense it you know there's no hope for your diet or your macros. This has instantly turned into a cheat day. As you turn the corner you see it in the distance…Cinnabon! That's right, today's workout is "Cinnabon Delights." For many of you this workout will be at a delight and I personally enjoyed it myself. This will be a partner workout today that's going to really blow those shoulders up and give you a great pump and an awesome strength workout. We will be working on a descending ladder of push presses and strict pull-ups! you'll definitely have to manage your fatigue to some extent early on but do you remember that you can trust yourself to recover a little bit while your partner works. On both the push presses and pull ups try not to go to absolute value until near the end of the work out so that you can stay moving. Have fun with this one and push your partner!
       It's obvious we have a great week ahead for you guys at CrossFit Simplicity. Personally I am really digging the breakfast food themed workouts and it certainly keeps things a little more fun and interesting. Don't be fooled though, this week is definitely going to be challenging so make sure you pay attention to your coaches and the scaling options that we offer each day to make sure that you get the correct stimulus and stay healthy and able to come back over and over again. Remember that above anything else consistency and quality of work are going to be the biggest factors in getting the results that you want. To do this we have to focus on preserving that stimulus, executing movements with precision and proper technique, and staying healthy! Let's have a lot of fun this week as we maintain a positive and encouraging atmosphere here and as always keep a strong work ethic. See you all in class!
~Daniel