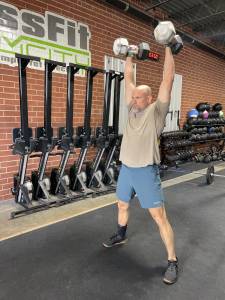 Hey guys,
     It's a beautiful Fall Sunday here in Burlington North Carolina and it's time to dive into another edition of the CrossFit Simplicity Weekly Rundown! I am potentially more excited for this Rundown than I have been in a long time. We have so many awesome things going on at the gym and so much progress on our new NBD Programming. We are about to start Phase II of this program and you all have been putting in so much work and dedication to get to this point. The results have been proof of this! As we roll into Phase II remember to keep up the good work and listen to your coaches for advice on scaling and modifying the workouts and movements (especially the gymnastics/skill progressions) so that we can become proficient in these things before the 2024 CrossFit Open season in February! I'll try to address a few things specifically below in the announcements so let's get into it!
Competition vs Common CrossFit: Of course we understand that not everyone (really hardly any of us) are trying to be competitive CrossFit athletes. Of course not! However, that doesn't mean we need to water down our training. The beauty of CrossFit is that, just by design, it's programmed for the best of the best athletes and then scaled and modified to meet the masses. That's the whole design of it! You can do any workout a Games athlete might do, you would just adjust the movements and weights to meet you where you're at and get you the same stimulus as the Games athlete. Our classes are not programmed with Games, or even elite athletes in mind, but they are programmed for the "ideal" Rx CrossFit athlete. Remember that we have people starting all the time that are brand new to CrossFit and we have members of all age ranges and abilities. The idea is the you and you coaches will help you modify these for your needs and help you get the stimulus you need to see results and get you to the next level of YOUR fitness…and isn't that what we all want? So whether you have dreams of competitions, or the CrossFit Open, or simply living a healthier more active life, you have chosen CrossFit as your means to do that and we want to give you the BEST shot at success! You may not want to compete but everyone wants to Rx more workouts. THIS is the path to that end and if you trust the process, listen to your coaches, trust the program, and show up consistently with a positive attitude it WILL happen! And the best part is that a side effect to this will be improved fitness, better health markers and physique, and better qualify of living!
Masters 45+: We are going to begin offering a "masters/45+ option on some of the workouts. This will also function as a first place to look for scaling. Some important things to remember are that you should still be looking to your coaches for individual scaling. You may not need to scale every part of a workout so you'll want to pick and choose from that if needed. It's also impossible to capture a scale that fits everyone so keep this in mind as well. There are also many workouts that do not necessarily need a "masters" option. Like Aerobic Wednesday's for example. So just because you're 45+ doesn't necessarily mean you'll need this variation everyday.

 

In all honesty that's why we have avoided it. Lastly, even when a program has a "masters" track, that program is STILL written with the "ideal" masters Rx athlete in mind and often times actual movements like gymnastics are the same. The only change would be some lighter loading or less reps. So with all that in mind, take the "Masters 45+" with a grain of salt and still try to do workouts to the best of your ability with the workout goal/stimulus in mind! If you are 45+ and you hit a workout as prescribed on the masters 45+ scaling then you can click "Rx" but you need to write "Masters" in the comments so we know your variation.
New Shirts/Sweatshirts: We have new shirts at the gym but they are going quick (especially certain sizes) so be sure to grab one before they are gone! We will also be taking pre-orders for sweatshirts soon so be on the lookout!
Costume Class: Our "Costume Class" will be Oct 28th at 9am! Come dressed in your costume and we'll have a Salvation Coffee gift card for the best costume as well as the winner of our 800m Costume Run! We'll also have some light snacks after so invite your friends and let's have some FUN!
Monday
Snatch + Snatch Deadlift
AMRAP
Optional Gymnastics: TTB and BMU
Optional Circuit: Grunt/Grip
Strength: Badger Isometric
Metcon: 10 min AMRAP
Grunt/Grip Circuit: 2 rounds
Gymnastics: TTB & BMU
Snatch 3×5 @55%
Snatch DL 3×6@80% snatch
4 Ring Dips
8 Ring Row
Goal: 12+ rounds
SB Clean @150/100- AMRAP in 1 min
Jerry Can Carry – 200m
SB Bear Hug Hold @150/100 – 1 min
TTB: 5 min EMOM x3-10 reps. Consistent reps each round
BMU: 5 min AMRAP
Tuesday
Back Squat + Front Squat
Skills – Rope Climb, Double Unders, Wall Balls
Optional Bodybuilding: Lower Body
Strength: Badger Isometric
Back Squat 3×6@60%
Front Squat 3×6@60%
Skills Complex: Rope Climb, Double Under, Wall Balls
Optional Bodybuilding: Lower Body (2 rounds each circuit)
RC: 3×1 LLRC
Cap @5 min
DU: 3×50, rest 1 min between
Cap @10 min
WB: Max reps in 2 min
Goal: >40
Good morning x6
DB RDL x12
Back Extension x24
Back Rack Barbell Lunge x6/side
DB Goblet Squat (heels elevated) x12
DB Box Step Up x24 (total)
Wednesday
Aerobic Wednesday
Power
:30 on, :30 off
Max Bar Facing Burpees
10 Rounds for total reps
Capacity
Cumulus Benchmark
5 rounds – 1 round every 2:30
500/400m Row
-Directly into-
10 rounds – 1 round EMOM
150/100m Row
Thursday
Shoulder Press + Bench
HSPU + Pull-ups Core Circuits
Optional: UB Bodybuilding – UB Press
Strength: Badger Isometric
Gymnastics Circuits
Strict Press 3×6 @60%
Bench Press 3×6 @60%
2 rounds
A1.) High plank (push-up position) x:30
A2.) DB Press iso hold (hands at forehead) x:30
A3.) HSPU @7RPE
A4.) Rest
2 rounds
B1.) Hollow hold x:30
B2.) Banded lat pullover hold x:30
B3.) Pull-ups @7 RPE
B4.) Rest
Optional Bodybuilding: Upper Body Press (2 rounds each)
DB Bench x6
Weighted Pushups x12
Chest Fly x24
BB Z Press x6
SA DB Press x12/side
Wall Ball Push Press x24
Friday
Clean and Jerk
Partner Metcon – Split Work
Optional Gymnastics: TTB and BMU
Optional LB Circuit – Hip/Knee/Ankle
Strength: Badger Isometric
Clean and Jerk 3×5 @55%
Metcon: Partner Split Work
W1: For Time – Split Work (20-25 min)
Partition as desired
10/8 Echo cal
5 Burpee DB Box Stepover (50/35) @24/20″
1 Wall Walk (synchro)
20/16 Echo cal
10 Burpee DB Box Stepover (50/35) @24/20″
2 Wall Walk (synchro)
30/24 Echo cal
15 Burpee DB Box Stepover (50/35) @24/20″
3 Wall Walk (synchro)
40/32 Echo cal
20 Burpee DB Box Stepover (50/35) @24/20″
4 Wall Walk (Synchro)
50/40 Echo cal
25 Burpee DB Box Stepover (50/35) @24/20″
5 Wall Walk (Synchro)
Goal: <20 min
Cap: 25 min
Gymnastics: TTB & BMU
TTB: For time – 10-9-8-7-6-5-4-3-2-1
BMU: 5 min EMOM x1-6 reps. Consistent each round
Lower Body Accessory Circuit: Hip/Knee/Ankle (2 rounds)
MB Squeeze 20 seconds
Seated Band Abduction Iso 20 seconds
Prone banded psoas iso 20 seconds
Weighted Wall sit 20 seconds
3 pos. ankle iso 10 seconds/pos./side
Saturday
EMOM
Optional Bodybuilding: UB Pull + Arms
Saturday EMOM
For time, 50 minute cap
1.) 10 Box Jumpovers @24/20″
2.) 10 Ab Mat Sit-ups
3.) Max thrusters @95/65
4+5.) 12/10 Echo cal
Continue through EMOM until 75 thrusters are complete
Goal: sub 35 minutes
Cap: 50 minutes
Optional Bodybuilding: UB Pull and Arms (2 rounds)
Barbell Row x6
Strict Pull-ups x12
DB Chest-Supported Rear Delt Fly x24
BB Curl x6
BB Skullcrusher x6
DB Hammer Curl x24
Dips x24
Sunday
Low Intensity Session
Low-Intensity Session: Machine Zone 2 Progression
     Well, that's all we've got for this installment of the CrossFit Simplicity Weekly Rundown! It's a super exciting week as we begin Phase II of our NBD programming. You guys have been crushing it and I know this is going to be our best CrossFit Open season ever! We have some exciting things planned for this year's Open at Simplicity so I hope you all are planning on signing up and participating with us. This is a great chance to put all of your hard work into practice and also to show us what we need to work on in the future! You all remember to stay as consistent as possible and get in here so we can build on the work we have already put in and get the best results possible. Now enjoy what's left of your weekend and get lots of rest, relaxation, and recovery so we can hit it hard this week. See you all in class!
~Daniel