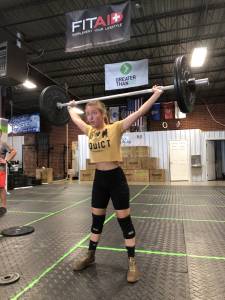 Hey guy,
       It's time for another Sunday edition of the CrossFit Simplicity Weekly Rundown here in…gloomy(?) Burlington North Carolina! It may be a little overcast but spirits are high as we roll into this next week here at the gym. It's actually good that we've had a bit of a drop in temperature right before we celebrate Memorial Day with our traditional Murph event! It's also an exciting week for us here at CrossFit Simplicity because we are heading into a new month. We saw such a strong push from all of you guys in May and we know that June will be no different! We'll also be continuing our weightlifting cycle this week so still remember to familiarize yourself with the workout in Wodify and show up to class on time and ready to get in some good work. Now, let's dive into this thing headfirst and see what we have in store!!
Memorial Day Murph: We will have two classes on Monday. One at 7 AM and one at 8:30 AM. These classes will start on time and the work out will start approximately 15 minutes after class so make sure you are on time and warmed up! We are super excited about this event and we will have some refreshments for you guys so that you can hang out and recover afterwards!
If you haven't picked up your CrossFit Simplicity water bottle be sure to do so at the gym when you attend your next class! We just wanted to say thank you and show our appreciation for you guys with the small gift!
T-Shirts: our new T-shirts are at the gym and available for $20 each. These have gone a little faster than expected. If you were someone who wanted a Large T-shirt and were unable to get one please reach out to me and let me know as I would like to make a list and think about potentially running a small order to get you guys taken care of!
Monday: Memorial Day Murph! It's time for that infamous work out that we all love to fear! If this is your first year doing Murph don't sweat it! We always highly encourage people to scale and modify this work out to make sure that it's challenging yet still safe. Let's not forget that we are coming together to honor and remember all of those who have sacrificed their lives in the defense of our freedom and this great nation. The goal is to show up and give 100% in remembrance of those that gave it all for you. RX is not a requirement to reach this goal!
Tuesday: We have a pretty cool theme this week of some iconic US places throughout history. We are going to be kicking Tuesday off with "Boston Harbor." this is going to be a really cool 15 minute Amrap with ascending reps. Basically you will pick a piece of equipment (bike, rower, ski Erg, etc) and complete to calories on that machine. Immediately followed by two burpees. The next round will be 4 of each, 6 of each, 8 of each, etc. until the 15 minutes expires. We will also have a run option today if desired. The goal today is really just moderate steady pacing and this can even be treated as active recovery for those still feeling the volume from Murphy on Monday. You can kind of take your pace and make it what you want depending on what you need for the day! After this we are going to have a clean complex consisting of a deadlift to mid thigh, a pause clean (3sec in bottom), a squat clean, a jerk dip, and then a jerk. I know this is a mouthful but will be working in some lower/moderate percentages and the emphasis today is on consistent movement and form! This is where we build a foundation for our Olympic lifting in the future!
Wednesday: White House Wednesday? Maybe not, but today we will be hitting "The White House." This is going to be a quick little burner of alternating dumbbell snatches and burpees over the dumbbell. The reps are descending today for each round and the goal is 5 to 7 minutes so we wand the pace to be high! You need to plan to go nearly unbroken on the dumbbell snatches so make sure you find an appropriate weight. Keep a steady pace and stay moving on the burpees. We basically want to push the pace today without red lining. After this we are going to have one of my favorite pieces from this current lifting cycle. A power snatch wave! A wave basically means that we will start at a lower weight and work up to a higher weight, and then drop back to a lower weight and work up again. We have done this previously with our power clean and jerk and the layout and percentages will be basically the same. After two waves you'll have a little rest and we will give you a shot to hit a couple heavy singles. We want to end the day around 85% of our one rep power snatch. Focus on keeping your chest up and getting a good pull from the floor. When you reach your hip really open up and get an aggressive pull under the bar with quick feet!
Thursday: I am loving how we are having these mid week partner workouts! "Air Force One" It's going to be a partner workout consisting of double unders, handstand push-ups, and power cleans. This is one of those inverse pyramid workouts where we will start and end with double unders, between them will be handstand push-ups, and the very middle will be one set of moderately heavy power cleans. Today only one partner will be working at a time and you guys will want to strategize splitting reps in a fashion that will keep the intensity up throughout the workout. Try to play to each other strengths and weaknesses and remember to always work together. If you cannot complete at least five handstand push-ups at a time we would encourage you guys to use some sort of handstand push-up variation so that we can get the proper stimulus and stay moving today. Power cleans should be completed in two or three reps per person back-and-forth. Really push and encourage your partner! After this we will take a little time to build up to a heavy single push jerk from the rack. This should play on some of the key points we learned last week with our behind the neck jerks. Good stuff!
Friday: Mount Rushmore… never been there but the workout looks nice! This is going to be a pretty cool piece today where you will basically buy-in and buy -out with a chunk of assault bike calories. In the middle you will have descending rep rounds of wallballs and toes to bar! This one is definitely going to be a bit of a grinder. Try to focus on steady breathing pattern throughout and especially during the wallballs. You're going to need to focus on efficiency of movement and not burning out to early in that first round of wallballs and toes to bar. When you get back on that bike at the end really send it for a strong finish! When we wrap things up here we are going to hit the rack to build to a heavy single back squat for the day. Listen to your body here. If your body is tired stay at lower percentages but if you feel good go up on each set. We want to try to reach a heavy single in 6 to 8 sets. Don't treat this like a max and don't look for 6 to 8 working sets…We just need one heavy single on the day!
Saturday: We will be hitting "US Capital" this Saturday. I wish I could tell you guys more about it but this one is not written as a partner workout and it's a little bit different so we will be having a look at this one and making some modifications so that we can have a fun partner workout for you guys. For more details show up to class at 9 AM!
         That's all folks! It's obviously going to be another epic week here at CrossFit Simplicity and we can't wait to kick it off with our annual Memorial Day Murph event! This is going to be a great way for us to remember and honor all of those who have sacrificed for our freedom. We have a lot of other really cool workouts this week and the continuation of our lifting cycle which we are very excited about. Remember to continue to get in here as consistently as possible so that we can capitalize on every opportunity to better ourselves and grow. Once again we want to tell you guys just how much we appreciate each and every one of you that make up this amazing community here at CFS. Enjoy the rest of your Sunday and get plenty of rest and recovery so that we can hit it hard this week. See you all in class!
~Daniel