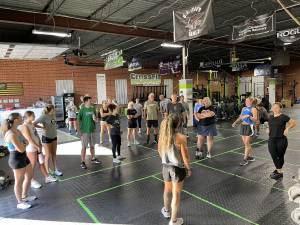 Hey guys,
      It's a beautiful fall Sunday here in Burlington North Carolina. The leaves are dropping and so is the next edition of the CrossFit Simplicity Weekly Rundown! We have an awesome week ahead of you guys filled with lots of great conditioning pieces and some good accessory work. We are currently on a little two-week break before we start our next strength cycle. This is a great chance to give your body a little bit of a rest and really up your conditioning. Try to get in here as consistent as possible. Hopefully it won't be too much of a temptation but we do have a fun Halloween candy theme week for our workouts. Now let's check out some announcements and jump in…
CFS Fall Gear: We Are taking pre-orders right now for our fall hoodie. It is a maroon hoodie. We actually received samples of the sweatshirt so we are going to extend the pre-order deadline until this Tuesday. This will give you guys a chance to try on a sweatshirt and adjust to the size you selected if necessary. Remember we also have some really cool burnt orange T-shirts coming as well but you do not need to pre-order these.
War Of The WODs: War Of The WODs is a yearly CrossFit competition in Greensboro. A lot of us are heading down there to compete. If you are interested get up with Justice and let him know and he will give you all the sign-up details.
Weightlifting: 2 week break to reset for the new strength. New Strength Cycle starts Oct 24th
Overview: This next cycle will be broken down into two parts. In the opening cycle, we will perform two Power Lifts (Back Squat & Shoulder Press) mixed with Olympic Lifting. The focus is on building the posterior chain while training your athletes to embrace the monotonous journey of strength training. Meaning we are going to grind through some big sets. You will notice more core work and accessory pieces for developing midline stability and overall leg strength. At the conclusion, we will take a 1-week break to reset and prep for Part 2.
On days with the strength, we will focus on keeping the workouts shorter (under 15 minutes) to allow for more coaching time. Lifting will be on Monday (snatch) and Wednesday (clean and push jerk) for the cycle duration unless stated otherwise.
Workouts: It's Spooky season! October is here, and we got some fun workouts in store. Monday, we have a fun workout where athletes can work on some skills and get a good cardio kick. Tuesday will be an excellent pump session for everyone, and Wednesday will be a brutal beat down within 18 minutes. We bring back a fun little party workout from last year for Thursday, where the skill level is low, but the work effort is high. Then we arrive on Friday, and it's the old classic workout, "Nancy."
For the gymnastic skill, we will focus on muscle-ups and all the movements between (kip swing, transition, ring dip, press to hold). The session will be performed after the workout and will have scaling options for all skill levels.
      Well that's all we got for this week's edition of the CrossFit Simplicity Weekly Rundown! It is a beautiful fall day so I hope everyone is enjoying the weather and getting plenty of rest and relaxation before we head into the work week. Things are going to be cooling down a little bit at the gym so we should have perfect conditions to really push ourselves on these workouts. Remember to have a look at the sweatshirt samples and put in your pre-order by Tuesday evening so that we can get these on the way for cooler weather. Now enjoy what's left of your Sunday and we can't wait to see you all in class!
Best,
~Daniel