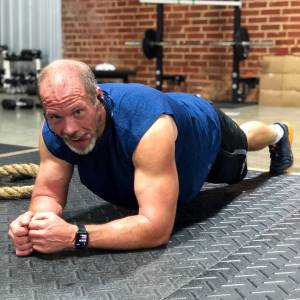 Hey guys,
      Great work to everyone last week! We are only 2 weeks from our Halloween House Party competition so make sure you get in here consistently and work toward doing your best! (We have 40 of you competing!) This week is going to be a solid one for sure. A bit less volume on some days which will give us a good chance to recover and work on some skills!  We also have a max out day! Get in here…
Monday: We have one of those "special days" where we'll hit a weightlifting piece AND a metcon. The weightlifting will be a 3RM deadlift to wrap up the deadlifting we've done over the past weeks. Then we'll move into an easy "flow workout" that's not for time, but rather for recovery! It's the start to a great week and we hope to see you all in class!
Tuesday: Today will be a little different. We are going to warm up really well and then settle into a short, but "grippy", kettlebell workout followed by some good accessory work. The goal today will be to push yourself mentally on the workout. A lot of this one will be holding on…literally.
Wednesday: Heavy day! Going to a 1RM (rep max) on the clean and Jerk today so come hyped up and ready to give it your all! If you're new to the C&J then we'll be focused on form over weight! After this we have a short little AMRAP for our accessory piece. Great day all around!
Thursday: Dumbbells are the theme of today's workout! (That makes today a little "grippy" too so be prepared for that.) This one is going to be EMOM style will ALL movements being DB variations. It's so good to get away from the barbell now and then and mix things up. Good stuff!
Friday: Lots of good work to get in today so come ready to stay focused and stay moving! We'll take the first 10min to build to a moderate snatch weight then quickly shift gears into "Cindy"!  This is definitely not the day you want to miss!
Saturday: We have a good little workout planned for you guys Saturday. As always it'll be a partner workout so you know it'll be fun. This one is certainly going to be a little spicy for the shoulders though! We'll also be out set up at the "Second Chance Hati" 5k event at the Grove Winery so get signed up for that if you're interested.
All around another excellent week here at Simplicity. We have been so proud and motivated by you all and all the effort you've been putting forth lately. It truly is amazing and we have noticed! Keep it up and we'll keep encouraging you and supporting you anyway we can!
~Daniel