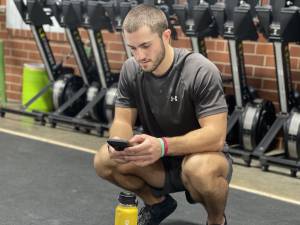 Hey guys,
       Burrrr! My teeth are chattering as I write this weeks edition of the CrossFit Simplicity Weekly Rundown! Hope you guys are staying warm and are ready for another awesome week here at the gym. We are wrapping up January and diving right into February as we continue week four of our strength cycle. You guys have been really crushing this so be sure to get in here are lifting days and stay after it. We have a super cool Mandalorian theme this week that's definitely exciting for the Star Wars buffs out there!  February also means we are one step closer to the 2022 CrossFit Open. This is a fun chance to gather together as a community and test out our fitness in a really low pressure environment so we hope you guys are getting excited. Now let's see what the week holds!
CrossFit Open: We will be participating in the 2020 to CrossFit Open. This is a lot of fun and we strongly encourage you guys to get signed up. We will be programming these workouts in class every Friday beginning the last Friday of February and continuing through the first two Fridays in March. What makes us even more fun is that we will be hosting us on a "Friday night lights" where we will all come together from 5 PM to 7 PM those Friday nights and complete the workouts together in heats! This makes for a really great experience and a lot of fun with the community! Get signed up!
CFS 5 Year Anniversary: We are quickly approaching the five year anniversary of CrossFit Simplicity this February! We will be having a special celebration February 19th at 9 AM and some cool member appreciation stuff! We hope you all can make it!
Monday: The rep scheme for the back squats is going to change a little bit this week. Today we will be doing 10 sets of three at 67.5% of your one rep max from week one. We will be hitting these every minute on the minute so get ready! After this we will hit "Bounty Hunter!" This is going to be a short 12 minute AMRAP of 50 double unders and 10 alternating dumbbell cleaning jerks…this is performed with one dumbbell. We want steady pacing across the entirety of this workout. Make sure you choose a weight on the dumbbell that is challenging but allows for proper form and fluent movement. You guys want to aim for a round every two minutes or less. Also note that the dumbbell will touch the floor each time on this movement! Easy day!
Tuesday: we're going to start out with air conditioning piece today which will be "Threshold!" This is going to be 10 rounds of burpee box get overs and calories on the assault bike with a 90 second rest in between rounds. We want to see these rounds completed in a minute or a little over. Stimulus is moderate pacing on the box get overs and high pacing on the assault bike. Still keep in mind that there should be something you were able to maintain across all rounds which means it might feel moderate in the early rounds and will get more challenging as the rounds progress. We have been practicing on fast intervals for the past few weeks so now let's see if we can keep the pace. After this we will have our shoulder press following the same rep scheme as the back squats Monday. 10 sets of three at 67.5% of your one rep max. A set every minute for 10 minutes.
Wednesday: You all should be very familiar with today's weightlifting Wednesday. Just like the week before last we will be doing a 10 minute EMOM of five power snatches. They should be touch and go reps and you will want to make sure the weight is light enough where you can be fluid and efficient. After this we will be hitting "Flame Thrower!" Unfortunately this one may just live up to its name as it is going to be a burner! You will have a chipper of 75 wallballs, 50 toes to bar, and 75 wallballs again to finish things out. Stimulus is going to be moderate pacing today. He will probably want to have preplanned sets for each movement to allow for strategic rest that will keep you moving constantly without burning out. Going for really large sets in the first 75 wallballs has the potential of putting you in a fatigue deficit that may be difficult to overcome during the work out so be smart! Also remember that upper body fatigue from the toes to bar will have an effect on your second set of wallballs so be prepared! Get gritting on this one!
Thursday: "Mandalorian" is on the menu today and it's a partner workout! You guys will have four sets (each) of calories on the rower, walking lunges forward, walking lunges backward, and double dumbbell shoulder to overhead. You guys will alternate full rounds with your partner today until each person has completed four rounds. We would like to see some moderate pacing across rounds today. The goal should be similar times or slightly faster on each round. Remember that aerobic fatigue from the rower and the lunches will make breathing difficult moving into the shoulder to overhead so keep that in mind. This is going to be a fun one so remember to encourage your partner and stay moving when it's your turn to go!
Friday: We are going to kick the day off with our deadlifts. Like everything else this week we will have 10 sets of three reps every minute on the minute at 67.5% of your one rep max from week one. Because of the volume these could get a little challenging so remember to brace your core and maintain proper position throughout the movement. Text we will hit an old open workout from the first year ever. 11.4 is a 10 minute AMRAP Of 60 bar facing burpees, 30 overhead squats (115/80), and 10 muscle ups (today you also have the option of 30 chest to bar pull-ups or 50 pull-ups). Stimulus today is moderate intensity with steady pacing through the burpees. You need to manage how hard you push these to save a little in the tank for the overhead squats. Having a solid strategy of pacing reps per minute will help keep you on track!
Saturday: Partner day! When is a Saturday at Simplicity not a partner day? Today we will have "Grenade Launcher!" Teams of two will have all walks, double dumbbell walking lunges, and calories on the assault bike. You will have to alternate through these movements. Also make a note that walking lunges must be completed and 50 foot sections before switching with a partner. Stimulus is moderate to high intensity today. You guys can split all reps as needed between yourselves with the exception of the front rack lunges which must be completed in 50 foot sections. The stimulus on this piece is going to switch between upper body fatigue to lower body fatigue so it should be a great well-rounded piece. Enjoy it and motivate your partner!
     Well, that's all we got for today's edition of the CrossFit Simplicity weekly Rundown. We know you guys are probably busy watching lots of football and hopefully getting plenty of rest and relaxation for the week ahead. Thank you guys so much for reading this far and we hope you all will continue to stay committed and get in here as much as possible! Remember it's these little decisions that we make each and every day that lead to sustained habits and eventually great results! Now enjoy what's left of your weekend and we will see you all in class!
~Daniel