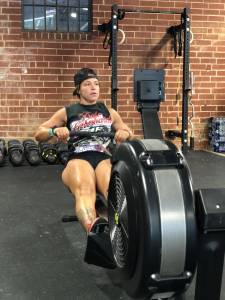 Hey guys,
       Hope everyone is having an awesome weekend and getting plenty of good rest and recovery after that amazing week we just had at Simplicity! We had some really cool pieces last week and saw some amazing PRs and results on the retest of our very first aerobic power day! This was a huge moment of validity for us as a gym that our programming is effective and beneficial for you guys. That should also be a great piece of personal validity for all the hard work that you guys put in each and every day. Remember that we don't see results overnight because we live and breathe and move in our bodies each and every day. Sometimes it takes a retest of a workout to awaken us to just how different and better we have become! We have another awesome week of programming ahead of us here so please check out the announcements and then let's dive in below!
Labor Day Schedule: 5:30am, 8:30am, 5:30pm. 5:30am MUST sign in by 7:30pm Sunday evening!
Bring A Friend Day: Our next BAFD will be September 12th at 9am! These have been awesome so far and we know this one will be no different. DJ-LA will be here and we'll have a great workout planned! Be sure to spread the word and invite your friends and family so they can see just what makes the CFS community so awesome!
Revival Recovery Class: Don't forget to spread the word to anyone who may benefit from our addiction recovery class for free every Sunday at 11 AM!
Monday: They did the mash, they did the monster mash! They did the mash, it caught on fast! That's right! We are hitting the mash up today. We will have three pieces, all for time. Each one of these is unique and challenging in its own way. The first one will be solely a barbell piece, the second one a gymnastic piece, and the third one a gymnastics/strength piece. we will start things out with deadlifts, front squats, and squat snatches. Then we will move on to rowing and handstand walks. And then finally knees to elbow and ring dips! This one truly does have a little something for everyone so be sure to start your Monday off right! Because it's Labor Day and classes may be a little full, be sure to come with an open mind and a good attitude and ready to adapt, share, and get in a great fun workout!
Tuesday: Back to our regular/full class schedule today! We have a challenging one for you guys today that's going to force you to strategize things a little bit and also push yourself. Basically today is an E2MOM. Every two minutes you'll have to row or bike a certain number of calories. The rub here is that you'll have three individual tasks set up as a chipper that you'll have to complete. The time you have to complete and work through these movements is the time you have remaining in each two minute window after your calories. Our three movements today will be toes to bar, wallballs, and power cleans! You'll want to make sure that you really put in some good hard work in those earlier rounds before you get too fatigued so that you can knock out as many reps as possible and then ride it out through the duration of that movement.
Wednesday: We have a great piece for you guys today that is going to get a little gymnastic and also a little spicy on those shoulders! This one will be three rounds of pull-ups, shoulder to overhead, and row/bike calories. Each round has 25 pull-ups, 20 shoulder to overhead, and 15 calories. This is nice because essentially you have descending reps within each round. This will help you push through the movement you are currently on, knowing that the next movement will have less reps! As I mentioned before this one can get tough on the shoulders with the pulling and pushing so make sure you break things up early on so that you don't blow up your arms too early. For the shoulder to overhead you have the option of strict press, push press, or push jerk but obviously you'll want to go with the push press or push jerk depending on how heavy the weight it is for you. Have fun with this one today and do your best! We will have a fun little gymnastic piece after this that's optional as well!
Thursday: Aerobic Day! (And it's retest day too!) Remember that we are retesting all our aerobic domain days right now. This one is is aerobic capacity today. Our second, and somewhat longer domain. Remember that the goal here is to get your heart rate up and then hold it there for 20 to 30 minutes. This one today was tough. It's a 20 minute EMOM where we alternate between four different movements. The four movements are row calories, burpees, box jump overs, and double unders! Oh my! There's definitely going to be a little bit of strategy here because if you'll remember there's a catch to the scoring. You only get to keep the score of your lowest round of any given movement. This means we are going to be looking to see what kind of numbers you can hold consistently and not just what your best effort is for any given minute.  if you hit this workout back in June you'll have somewhat of an advantage because you'll be able to see exactly what your lowest score was for each movement and make sure you give yourself a goal of improving that.
Friday: Any Marvel fans out there? If so you'll love today's workout. We will be hitting "The Avengers" metcon! This is a 20 minute AMRAP consisting of handstand push-ups, deadlifts, row calories, and double unders! While there are some movements that are similar to Thursday, we don't believe these are any that will make you particularly sore or mess you up for today's workout.  Because today's workout is on the longer side you'll want to make sure you pace things out until about that halfway mark so that you can evaluate how you feel and then decide if you want to hold that pace or try to turn things on for the end. About four or five rounds will be what we are looking for for today's piece. Good stuff!
Saturday: Bring A Friend Day! Whoop Whoop! So excited for another one…these have been AMAZING! Obviously it isn't a BAFD without DJ-LA in the house providing the best without music to keep you and your friends hyped up for fitness! This is an awesome opportunity to share our CrossFit Simplicity community with your friends and family so spread the word and get excited!
        This has been one of the longer Rundowns which means it must be an excellent week in store for us! I'm not sure what else I can say besides great job for all the hard work you guys have been putting it lately and keep up all the good work and consistent commitment! We are looking forward to having another great week here with you all and we are so grateful for each and everyone of you in our CrossFit Simplicity community. It's so easy to show up and work around such an amazing group of people! Get some great rest this weekend and we can't wait to see you all in class!
~Daniel