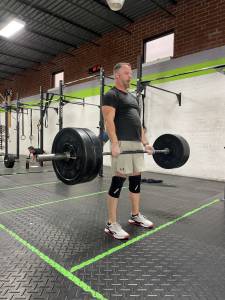 Hey guys,
      You already know what time it is…time for another installment of the CrossFit Simplicity Weekly Rundown! Do you have a great week ahead full of lots of good workouts and some great strength pieces. this week's theme is "The Rings Of Power" so all of The Lord of the Rings fans get ready! We are going to dive right in so buckle up…
Hoodies: We have some extra hoodies left over so if you did not get one and you would like one be sure to get with one of your coaches at the gym!
Garrett and Kira Wedding WOD: Nov 18th at 5:30pm Garrett and Kira want to host you all for a fun workout in celebration of their upcoming wedding! DJ-LA will be in the house and the wedding couple has provided FitAid, Muscle Milk, and some bars for you all! Be sure to mark your calendars and join us at 5:30 PM November 18th!
Weightlifting: Week 3
Monday: Every min (10 mins) 3 Squat Snatch (70%)
Wednesday: Back Squat: Establish a 6 RM for the day. Then, perform a drop set of 4-6 reps at 90% and 4-6 reps 85% of that 6RM.
Thursday: Shoulder Press:  Establish a 6 RM for the day. Then, perform a drop set of 4-6 reps at 90% and 4-6 reps 85% of that 6RM.
Accessory: 3 sets,14 Barbell Front Rack Step Ups (7/7)
Workouts:
Halloween is over, and now it's time for Thanksgiving. Weather starting to cool down means running workouts will be adjusted to accommodate the cold. Monday begins with a high-skill grit test where athletes push for big sets. We will get the heart rate up on Tuesday with some assault bikes and barbell cycling. We are attacking the core on Wednesday while trying to perform flawless double unders. Partner Thursday is back and we have a fun erg with increasing barbell weights that will challenge your athlete's consistency in lifting under heavy duress. For Friday, we will program the Hero Workout "Chad" along with another option ("Burt") to help fit within the hour timeframe. We know that "Chad" can take well over an hour to complete. The weekend we lighten the volume up just slightly to help those who suffered through the week's grind.
    That's a wrap for the CFS Weekly Rundown! We have a great week ahead of you guys so we hope everyone will be able to make it into the gym as consistently as possible! We are moving steady through our strength cycle so be mindful of what days we are lifting so that you can attend and keep the progress rolling in. I hope everyone has enjoyed this beautiful weekend and is ready for a good solid week in the gym. Now get plenty of rest, recovery, and relaxation so we can hit it hard. See you all in class!
~Daniel