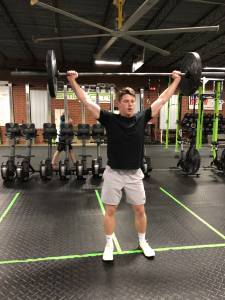 Hey guys,
       We just had an amazing week at CrossFit Simplicity and now it's time for another one! Huge thanks to everyone who came out to our community night for the Farkle tournament Friday night! We had a lot of fun and we are already planning our next community event for the month of April so be on the lookout soon! We had some great work last week and we have a lot to look forward too. As you can imagine we are continuing our deadlift cycle so try to get in here on Monday for week 4. We also have some fun and challenging pieces this week as well so there's lots to look forward to! Now let's dive into this Rundown and have a look at what's ahead!
Breast Cancer Fundraiser: March 14th at 10am! There will be a $10 donation for partaking in this class but we hope you'll all still come for this great cause and get in a good workout! DJ-LA will be there and it'll be a similar atmosphere and workout to a Bring A Friend Day! Super fun!
Community Farkle Tournament: What a great night! We had the best time hanging out with all of you guys and congrats to our winners! Can't wait for our next get together in April!
Monday: Deadlift Day! This is week four of our cycle and it's starting to get heavy! Take note of the percentages here and follow them. We will have a double at 90% today which is our heaviest so far for the cycle. Remember to focus on keeping a tight midline and a straight pull with the bar close to the body. After these we'll have 5 speed sets of 3 to round out the day. Great work so far on showing up for all these days and putting in the work!
Tuesday: Lt. Dan…I can't feel my legs! I don't want to be too dramatic but this one is going to get those legs burning…as a matter of fact, you'll certainly be feeling them! Today is going to be all bike (row) calories and box jump overs. Luckily this is a descending rep scheme today, meaning that you'll be working your way down in reps over the course of each round until you are done. We are starting at 50 cals and 25 box jump overs on round one and the cals will decrease by 10 and the box jump overs by 5 until we reach the end. Be sure you pace this out some because the legs are going to get pumped up big time on this one. Be sure to be mindful on your foot placement on the box today and be careful. Play the long game and have fun with this one! Easy day!
Wednesday: Who like dumbbells? If so today might be your day! This one is all the dumbbells so get ready. Today is a pretty cool 10-1 piece (10-9-8….1) of dumbbell burpees and dumbbell front squats that will keep your moving. The dumbbell burpee is just what you're thinking: a burpees holding two dumbbells. Make sure you keep enough space between then to get your chest to the ground and then when you stand just come to full extension…don't worry about a jump at the top. On the dumbbell front squats just keep your hands in contact with the handles and you're good to go! A little tip would be keeping the dumbbells shifted as far back as possible to find a more comfortable squat position.
Thursday: Benchmark day! Don't let anyone tell you any different..this is Coach Chase's favorite benchmark workout! This one is short and sweet! 50-40-30-20-10 of double unders and abmat sit-ups. If these are good movements for you then you can really fly through this one! Think about times in the 6-8 minute range. If not then maybe think about scaling this one to something you can do in about 7-8 minutes. After this we'll have a little accessory work to round out the day! Good stuff!
Friday: This one is…good? Yeah! Sure, let's go with that! Today we'll have 50 clusters…that's right, 50! But there's a catch. Every minute on the minute you'll have to stop and complete 5 toes-to-bar. This is certainly going to suck up a little time from your barbell and make it difficult to knock out a ton of reps. Remember that a cluster is a thruster with a clean first. You'll start each rep work the bar on the floor and clean it into a front squat then finish with a thruster. Make sure you a virtuous here! That means the clean is a squat clean (below parallel), then the press of the thruster is just like a push press (no rebend at the top). This one is going to be tough for sure. You have no toes-to-bar at the start of the first minute so this is your chance to get a little ahead but don't redline. You'll want to get about 3-5 per minute if you want to finish in 10-15 minutes. Let's get that grit score up today!
Saturday: We have a good partner workout for you guys today, and remember that we also have our Charity Cancer Workout at 10am today! It's going to be fun! So we'll have our normal class at 9am for free and our charity workout at 10am for $10! The class workout is a cool EMOM style workout where you and a partner will alternate between a 200m run and 10 double kettlebell front squats. These kettlebell front squats are no joke! They'll really test your front rack, core strength, legs, and lunges! So get ready! If you're feeling up to the challenge we'd recommend hitting the class at 9am (the workout is only 12min long) and then staying for our fun charity workout which will be simple movements similar to a Bring A Friend Day!
       What a week we have in store for you all here at CFS! This one is going to be really good and really challenging. These are the weeks that end up being so effective on working towards your goals and increasing your health and fitness! You guys have just been crushing 2020 and it's so encouraging to watch. Staying consistent like this is exactly what it takes so let's keep it going this week as well! Be sure to give the announcements another look so that you don't miss out on our great charity workout Saturday and then let's get in here this week and put in work! See you all in class!
~Daniel