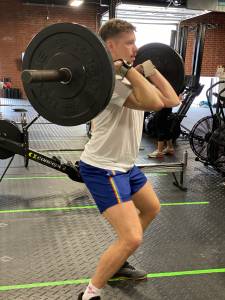 Hey guys,
       It's Sunday here in beautiful Burlington North Carolina and that can only mean one thing…Time for another CFS Weekly Rundown! We had an awesome week that we just finished up and we know this one will be no different. We've got lots of great variance and some really interesting workouts coming up this week which will all be capped off with another epic Bring a Friend Day on Saturday!  This is an awesome opportunity to invite a friend or family member to check out CrossFit Simplicity and the community that we all love so much so be sure to spread the word this week! Now let's dive into what we have planned for the programming…
Bring A Friend Day: This Saturday, the 22nd, at 9am! DJ-LA will be in the building with the best music curated for your workout and we'll have an awesome first time friendly workout for your guests!
Addiction Recovery Class: This class is free to folks in the community that are struggling with addiction and in recovery. The class rule will is sobriety to participate as safety is our #1 priority. Scaled to whatever fitness level participants are at so CrossFit experience is not a prerequisite. The mission is to develop a positive sober active lifestyle through the vehicle of health and fitness and will be followed up with a devotion. Please share this information with anyone you believe may benefit from this program!
Monday: We have a little mash-up Monday to get your week rolling! This is a good one so try not to miss out! They're always a lot of fun as you kind of get a taste of three little workouts with a dedicated rest between each. Our first will be an AMRAP consisting of wallballs, pull-ups, and heavy deadlifts. After this we'll have a five minute rest and then hit a couplet of handstand walks and toes-to-bar that will get your shoulders and your core super fired up. Finally, after another five minute rest we'll finish off the day with another couplet of hang power cleans and push-ups. We've had a couple of these before so this should be nothing new to you guys but remember to trust your fitness and that rest so that you can push hard in each workout. However, I would advise pacing out the first workout to some extent to be safe!
Tuesday: We are trading in the weights on this one today in favor of your body and gravity for resistance! This is definitely going to favor you body weight ninjas and cardio warriors. We will start things off with an 800m run buy-in. After this we stay inside for 10 rounds of air squats and burpee pull-ups. There's nothing necessarily heavy about today so some of you may be able to move fairly quickly through this one although you may still want to pace the air squats a little bit so you don't blow up your legs too early. Overall just have fun with this one and look at it as a great opportunity to work on some singles on those pull-ups if you need help in that area. Easy day!
Wednesday: Think of today as a deconstructed DT. Well, maybe a deconstructed, and then reconstructed DT!  All the reps and movements you're normally familiar with in DT are here but we have rearranged the order and thrown in some calories to make things a little more interesting! You'll be knocking out all of your deadlifts followed by a set of calories, then all of your hang power cleans followed by a set of calories, and then finally all of your push jerks followed by set of calories. Because we will be exhausting each movement individually…and obviously because of the row/bike calories after each one…you can expect this workout to take longer than a normal DT. Try to break up your reps in some sort of descending order and stay moving as best you can throughout the entire workout and really finish strong on that last set of calories!
Thursday: It's aerobic day again! By now you guys are probably starting to look forward to these…Or dread them? We have a great aerobic capacity day planned for this Thursday. It's going to use some two minute intervals forcing you to stay on pace and accomplish a maximum amount of work within that window. Aerobic capacity days are about getting that heart rate up there pretty high keeping it there for a sustained period of time…Today around 25 minutes. We will have a solid mixture of running, calories, and box jump overs. Remember that We started all of this right when we came back in June. This means you should look for our retest workouts coming up next month!
Friday: We have got a two-part day for you all to kick off the weekend right! We are going to start things off with 10 to 15 minutes to establish a one rep max strict press and then dive into some conditioning. Our piece today is actually a really cool three rounder. The rep scheme is 21-15-9 but not for each movement, rather 21 pull-ups in each round, 15 handstand push-ups in each round, and nine moderately heavy thrusters in each round. This one is going to be very taxing on the shoulder so think about breaking things up a little earlier than usual so that you still have some gas in there for the last round. Overall this is a great and challenging piece so have fun with it. Always remember not to go to absolute failure on those early rounds of handstand push-ups or it will be very hard to continue pressing.
Saturday: Bring A Friend Day is BACK! This is our second post-quarantine Bring a Friend Day and it's going to be awesome! Our July BAFD had a really big turn out and we can't wait to see how this one goes. As always DJ-LA will be there with some awesome music on deck for us and we will have a great first time friendly workout planned for everyone! Whether you have a friend in mind or not we still want you to be there because YOU are the original friend and what makes this community so great!
       As you can see this is going to be an awesome week here at CrossFit Simplicity. I almost feel silly writing these Rundowns because when do we not have an amazing week here at the gym? It almost seems redundant! But redundancy is not a bad thing when you're talking about being consistently positive and motivated! That's the environment and atmosphere we are trying to cultivate for you guys here at CFS. We hope everyone is feeling encouraged and ready to come in and getting some really good training. Enjoy the rest of your weekend, get a good nights sleep tonight, and we can't wait to see you all in class!
~Daniel