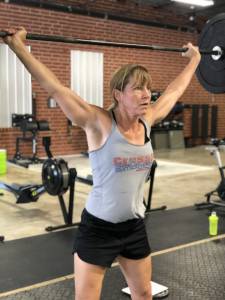 Lots of exciting things going on here at CrossFit Simplicity this week! Have a quick peek below to catch up on some important announcements and to see what our programming will be like this week!
This Saturday, Sept 15th, is our "Back to School: Sweat in Style" event with Lululemon and Feel Better Burlington Yoga! At 10:30 AM we will have a short CrossFit workout followed by short yoga session, all followed by a pop-up shop from Lululemon right here at CFS!
Be on the lookout in your email this week for a registration link for our CFS Halloween House Party!
GEMs "Bring A Friend Day" is Monday Sept 10th at 5:30pm! Share this class with any young ladies you know!
Monday: Here we go! Kicking Monday off with a lifting day and some good accessory work. We'll start off working towards a heavy split jerk and then follow this with some good upper body strength accessory work. This will focus mainly on pushing and pulling strength, with a little shoulder maintenance thrown in as well.
Tuesday: We'll be honoring the lives of all those lost in the tragic events of September 11th. This is a different workout than we hit last year so give it your all and really have fun with it as well!
Wednesday: We have a quick chipper style AMRAP in store for hump day this week. This one has lots of legs and shoulders and brings back a familiar movement we haven't had in a while: the medball clean! This one is only 9 minutes so the pace should be strong the entire time. The goal on this one is just one full round!
Thursday: Core and cardio! We'll be cycling rounds of sit-up and row calories here with a short rest between. This means you need to push hard on the rower and rack up those calories while you can. We'll finish off the day with some grip strength work!
Friday: You've got to really earn your weekend this Friday! We have a big day here with a clean and jerk 1RM followed by a pretty spicy 2 round workout. The 2 rounder has some clean and jerks and bar facing burpees..a little something for everyone. The key here is to keep pushing through those burpees as they'll take up the majority of your time.
Saturday: "Back to School: Sweat in Style" event at CFS. Workout/yoga/shop! Feel Better Burlington Yoga will be joining us and Lululemon Greensboro will have a pop-up shop to conclude the event.
The weeks just keep getting better and better around here and we can't wait to see how September will be! No doubt it'll be just as fun as August. Stay focused on your goals  and maybe set a new one for the month of September…
~Daniel