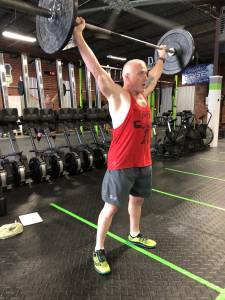 Hey guys,
        It's that time again…time to wrap up another weekend and look forward to another awesome week here at CrossFit Simplicity! The stage is certainly set for a good week with some good workouts so we hope everyone is rested up and ready to hit it hard. we also have some exciting news for the end of the week as Stewart, our resident gymnastics expert, will be holding a gymnastics skills workshop for you guys were interested next Sunday from 3 to 5 PM!  Everything is adding up to a week you don't want to miss so let's see what we have in store and get after it…
Gymnastics skills class from 3 to 5 PM Sunday July 19th!
Bring A Friend Day July 25th! As always DJ-LA will be here with us setting the mood and providing an awesome atmosphere! Spread the word and let's have a great class and show everyone what you love about CrossFit Simplicity!
Monday: We have a tough one for you guys today but a great one to kick off the week! This one is going to have a buy-in element and the rest of the workout is going to get pretty spicy on the low back! First you have to complete a double under buy-in before you advanced to a chipper consisting of moderately heavy deadlifts, handstand push-ups, and single arm dumbbell snatches. The reps are relatively high here today so you'll have to break up these movements to make sure you don't fatigue and wear out too early in the workout. to make things a little more interest we might just throw in a partner element for the day! Definitely don't miss out because Monday is the most important day of the workout week.
Tuesday: We have a little burner for you guys today that's going to get your lungs and your shoulders going good! this one is going to be short and fast and will consist of row calories and push presses. These will be done in a 21-15-9 rep scheme which is perfect for this workout since we will be trying to push the pace. As you complete each round they will continue to get shorter and shorter allowing you to continue to move with less rest. Ideally this should be a weight that you can complete each round in no more than two sets…maybe three. Make sure you are taking good hard strokes on the rower and not spending too much time transitioning back-and-forth from the rower to the bar.
Wednesday: It's time for some mid-week mayham! This is going to be a great workout and one that has some flashbacks from Monday…specifically the dumbbell snatch! This one is going to be challenging on your grip. We will be working through rounds of alternating dumbbell snatches, rope climbs and then a unilateral farmer carry in the form of a walking lunge. this is actually a movement we've done before but it's been a little while so there may be a bit of a learning curve. Remember to try to take good long strides and don't gather your feet between each step and you will get down the platform and back much quicker. This is a great piece to work on some odd object strength and a little bit of grit! Good stuff.
Thursday: You know what day it is… And you know deep down in your heart you're excited about it! It's aerobic Thursdays and today's domain is POWER! arguably the worst day… Arguably the most effective! Remember that these power days are all about what you put into them so make sure that for that short window you are pushing yourself to the max and getting the most out of the day. We are going to have a lot of fun with this one and you will notice a bit of a pattern. We will be working in two minute intervals with five minute rest intervals in between. Every other interval will be an AMRAP of a bodyweight benchmark workout and the intervals in between will be an AMRAP of Amana structural movement. Our benchmark workouts will include Cindy, Mary, and Annie. All your favorite girls! Our monostructural movements will be rowing, double unders, and burpees. Lets see what we can do today!
Friday: Heavy Day! We are deadlifting today and it's going to be fun! It's been a while since we had a good lifting day so we hope everyone is fired up and ready to go. We'll start with some sets of 5 then taper to some triples to finish things off. As always try to let form be your guide but if you are feeling good then go for it! After this we'll hav a little farmer carry work to round out the day!
Saturday: We have a really cool workout for you guys today that's actually a variation of a hero workout called "Zembiec." This is a great workout filled with back squats, strict burpee pull-ups, and some running! We're going to adapt and modify this into a partner workout that should keep you guys moving and challenged. Saturdays are always epic workouts so be sure to get in here and have some fun with us. Also remember that next Saturday after this, July 25th, will be our bring a friend day!
       We have an awesome week ahead for you guys and we hope you're rested up and ready to roll! These are going to be some challenging workouts but are also going to give us a chance to work on some things we haven't seen in a while and continue to improve our overall fitness. Remember that we have our gymnastics skills workshop with Stewart Sunday July 19th so do your best to make that happen! Keep staying consistent, keep this awesome atmosphere alive, and let's have a great week! See you all in class!
~Daniel