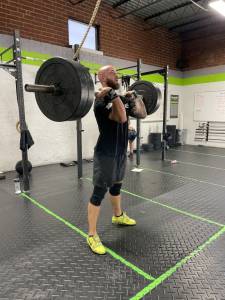 Hey guys,
      It's time for the CrossFit Simplicity Weekly Rundown! I've been told to do a bit of an abbreviated/cut to the chase versions so here we go! Remember we are starting a new strength cycle this week and we have a fun Halloween workout event for you guys on Saturday so attention to your emails!
Halloween Workout: We have a Halloween workout and some fun planned for you guys this Saturday at 9am! Costumes encouraged!
New merch: New CFS gear should be in soon! If you ordered a hoodie it will be charged to your account when they arrive at the gym unless you would prefer to pay cash. Let us know if so. T-shirts will be on sale first come first serve for $25.
Strength:
This next cycle will be broken down into two parts. In the opening cycle, we will perform two Power Lifts (Back Squat & Shoulder Press) mixed with Olympic Lifting. The focus is on building the posterior chain while training your athletes to embrace the monotonous journey of strength training. Meaning we are going to grind through some big sets. You will notice more core work and accessory pieces for developing midline stability and overall leg strength. At the conclusion, we will take a 1-week break to reset and prep for Part 2.
On days with the strength, we will focus on keeping the workouts shorter (under 15 minutes) to allow for more coaching time. We will alternate the days of strength for this cycle to help target members that don't have a consistent class schedule. Please set strengths to certain days if needed to fit your gym needs.
Week 1 (Oct 24th)
Monday: Hang Snatch: Establish a 3 RM for the day, Snatch Deadlift 3×3 @90%
Wednesday: Back Squat: Establish a 10 RM for the day. Then, perform a drop set of 8-10 reps at 85-90% and 8-10 reps 80-85% of that 10RM.
Thursday: Shoulder Press: Establish a 10 RM for the day. Then, perform a drop set of 8-10 reps at 85-90% and 8-10 reps 80-85% of that 10RM.
Accessory: 3 sets,14 Barbell Front Rack Step Ups (7/7)
Workouts:
It's Spooky season! October is here, and we got some fun workouts in store. For Monday, we kick things off with a classic 5-round couplet where athletes should save the push until the end. Tuesday will be the ultimate cardio session, be sure athletes stay hydrated and roll out after. We approach hump day, and it's no slouch of a workout. This workout is designed to be quick yet effective, where we want a repeatable performance. Partner Thursday and we have a fast 5-rounder into some max rope climbs. Probably the workout I'm most excited for is Fridays, a big chipper where athletes can partition the reps any way they choose. It makes for a fun day after it's over, where athletes can talk about what they did and how they would change it.
We will take a breather from the gymnastics skill next week. We will start a new progression beginning in November for strict pull ups.
     Well that's all we've got today guys. I tried to be a little more brief and cut right to the point so I hope this was informative and direct! Remember to try to stay as consistent as possible especially as we start this new strength cycle. You guys have really been killing it lately so let's make sure we keep it up! Enjoy what's left of your weekend and get plenty of rest, recovery, and relaxation so we can hit it hard on Monday. See you all in class!
~Daniel