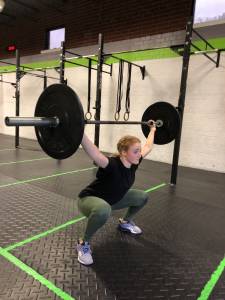 Hey guys,
       It's time for another week at CrossFit Simplicity and another Weekly Rundown to fill you in on all the important happenings here at the gym. We are super excited for this Thanksgiving week and our hearts are super grateful for each and everyone of you guys that are going to be here celebrating and working out with us! We know that last weeks Clint Eastwood theme was a little dated for some of you guys so we're hoping that this weeks "Big Daddy" theme will catch your interest a little bit more and require you to only watch one movie to get all of the whitty references coming up later in today's Rundown. In addition to this we will be sprinkling in some of the 2020 CrossFit Games workouts but slightly modified for us mortals. As well as getting into the second phase of our 5-3-1 lifting program. We have some important scheduling announcements below with this holiday week so make sure you don't skip over the announcements before you dive into this weeks programming!
Thanksgiving Schedule: Wednesday normal hours. Thursday 8am and 9am. Friday 8:30am, 12pm, 5:30pm. (We are debating the need for a 5:30am class so let us know if this is something you would like to see on Friday!)
Gymnastics Skills Class: If you are reading this on Sunday know that there is a gymnastics skills class for free today at the gym from 3 PM to 5 PM. However our next gymnastics skills class with Coach Stewart it's going to be December 13th from 3 PM to 5 PM during open gym! This is a great chance to come and work on those gymnastic progressions so that you can get one step closer to reaching those goals!
CFS Winter Gear: our winter gear has arrived at the gym. If you placed a pre-order with us you have already been billed for your order and it is ready for pick up starting today, the 22nd, at 3 PM. Please only pick up what is labeled with your name. We will have some extra gear once everything is picked up and I will be putting out an email notifying you what this looks like and it will be first come first serve!
Monday: Heavy day! "There's no better way to start a Monday than with back squats." 2 Opinions 5:9.  Ok maybe you don't think so, but we do! As we mentioned above we will be getting into the second phase of our lifting cycle beginning with back squats today. We will be doing three sets of 5 ending with a set of 5+ at 85%. Remember that the goal here is one or two extra reps but do not sacrifice form or risk a field rep to do so. After we get done squatting will have a short piece from the CrossFit games this year to round out the day. This is going to be the toe-to-bar/kettlebell lunge piece. This workout is short and fast so make sure you stay moving. We are going to drop the RX kettle bell wait just a touch to better suit our classes so you want the intensity to remain high. If you have a great toe-to-bar capacity then go for it but if not attack these in measured set so that you don't burn out too hard. Core fatigue from the toe-to-bar is going to transfer over into the front rack kettlebell walking lunge so be mindful of this going into the workout. The kettlebell weight is pretty heavy so make sure you pick a weight you can at least do the 20 yard lunge unbroken. Kettlebells must remain in the front rack position. Easy day!
Tuesday: We are going to be snatching today and upping the weight on the EMOM. Every minute on the minute we will have to squat snatches at 75% of your one rep max. Remember that the goal today is receiving the bar in the bottom of a snatch so if this means you need to back off the weight to do so then definitely go for it! These will be two singles from the floor each minute but if you are new to the movement we will likely go from the hang to work technique. After this we will have Adam Sandler icon, "Big Daddy." Every three minutes for five rounds you will have 10 dumbbell thrusters, 50 double unders, and 10 dumbbell thrusters. The stimulus today is high intensity. We want you guys going unbroken on both sets of thrusters and aiming for unbroken or big sets of double unders. You need to work fast to make sure that you get your round done in time to have at least 60 seconds of rest before your next one. If mobility in the bottom of your thruster with two dumbbells is an issue then I think about going to lighter kettlebells due to their higher handles. Go hard on this one and have fun!
Wednesday: Hump day is going to be full of ups and downs with this Games workout. Today we'll be hitting the "Bike Repeater" from 2020. We will have a couple different options available for you guys today. The prescription for the class will be ten rounds of 15/12 cal on the Assault Bike or 600m on the Bike Erg and descending reps of burpee pull-ups from 10 to 1. You may also row or run if desired. The games version of this included legless rope climbs. If that's a movement you're comfortable with then you'll have one legless rope climb each round. A rope climb variation for this would be two rope climbs each round if you are using your legs. The goal today is constant movement. Your heart rate will increase and that's OK. Try to continuously be biking or doing burpee pull-ups through the entirety of this work out. Pick a pace that allows you to continue this throughout. Good stuff!
Thursday: Happy Thanksgiving! We are so grateful for the community and all of you guys here at CrossFit Simplicity! Remember that today we will have an 8am class and a 9am class in case you guys need to keep going to any family gatherings…shhh! There's nothing better than getting in a good hard partner workout and starting off the day with a little bit of a calorie deficit to help balance out all that Thanksgiving food! Rest assured, we will have something fun planned for you guys and we can't wait to see you all there!
Friday: We have another lifting day for your Friday enjoyment. Today's movement will be the shoulder press and we will be using the same rep scheme as we did with our back squats on Monday. Remember your last set of 5 at 85% will be a 5+ set. Don't expect to get as many extra reps on your shoulder press. And be especially mindful that you do not dip or bend at all in your hips or knees for this movement. We want this movement strict for a reason. We need to build strength through our press with increased time under tension. No leg drive today! Trust me you guys will be getting plenty of leg drive during "Scuba Steve." Unfortunately this won't be as funny as the Scuba Steve character you all remembered from big daddy. This will actually be a max effort 2k row! (Doesn't it just sound less intimidating when we call it Scuba Steve?) Regardless, make sure you approach this with a strategy or you may burn out far before the finish line. You need to have an idea of the pace you want to maintain throughout the entirety of the workout and then really turn things on for the last few hundred meters. Our target time today will be between 7 to 9 minutes.
Saturday: Partner workout! Saturdays are truly the best here at CrossFit Simplicity! It seems like I could never get tired of hitting a workout with a good friend! We are going to deviate a bit from the Games workout that would have been scheduled today so that we can stick with our partner workouts on Saturdays. We're not exactly sure what it will be yet but it's definitely going to be challenging and it's definitely going to be fun!
       We have a great Thanksgiving week here at CrossFit Simplicity. Especially this week because of the holiday, but really every week, doing this Rundown gives me a chance to reflect on our community and all that we have to be grateful for here at CrossFit Simplicity. It is such a blessing in our lives to have a place where we can come and grow physically and also mentally. Where we can foster relationships that encourage us and build us up. Life is not always easy and it's not always pretty, but having a place to come and shrug off the stress of life and just enjoy good workouts and good friends is something really special. We don't want to take that for granted. I especially want to say that I am thankful for each and everyone of you that makes up our community. We hope you guys have a great week celebrating what you're thankful for in your lives as well! See you all in class!
~Daniel