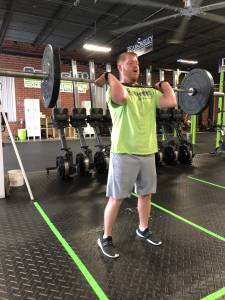 Hey guys,
      It's Sunday and that means it's Rundown time. Time to have a sneak peek of what we have in store for this week's programming at CrossFit Simplicity! We had a great week last week and saw some really good results and quite of you guys even got a few PR's on our snatch day and our hero workout. We are going to have plenty of opportunities to do the same this week as we have some excellent workouts lined up. You guys have been working hard and staying super consistent so try to keep it up as we finish out the month of August and roll into September! Now check out the announcements and then we will dive into this week.
Bring A Friend Day: Our next BAFD will be September 12th at 9am! These have been awesome so far and we know this one will be no different. DJ-LA will be here and we'll have a great workout planned! Be sure to spread the word and invite your friends and family so they can see just what makes the CFS community so awesome!
Revival Recovery Class: Don't forget to spread the word to anyone who may benefit from our addiction recovery class for free every Sunday at 11 AM!
Monday: We have a big day to kick off this week! Today will be a double day consisting of a back squat and a short conditioning piece. The back squat is going to have a little catch though… specifically at the bottom! We're going to be spending 20 minutes to work up to a single pause back squat. This means one heavy rep with a hard one second pause at the bottom. Be virtuous here and make sure that you come to a complete stop and hold for one second in the bottom before you drive out with everything you've got! We will be looking to get a heavy single on this today but it does not have to be one one rep max. After this we will grab out some rowers and do a quick conditioning piece with row calories and strict handstand push-ups to round out the day! This one's going to be short and fast so try to stay moving and really push the pace on the row as it will not conflict too heavily with your strict handstand push-ups. Let's make sure we show up today and start the week off right!
Tuesday: We have a classic workout for you guys today and one that we have certainly done at least once or twice here at CrossFit Simplicity. This one is "Filthy 50!" There's almost too much to describe here but basically you'll have 10 different movements each for 50 reps. The movements aren't necessarily heavy but notice that that means we have a 500 rep workout today which is quite a bit of volume. Let's make sure we scale this down to movements that are appropriate and keep us moving for the duration of the time. I want you guys to finish around the 25 to 30 minute mark if possible! Come in ready to have some fun today and hopefully see a couple PR 's!
Wednesday: If we are being honest this is a little bit like a weightlifting Wednesday…But with a touch of cardio thrown in there as well! Today's workout is three rounds of a 200m run, 10 bar muscle-ups, and then five heavy clean and jerks!  The run is short today so try to push the pace here and get back inside so we can get to work. Definitely consider breaking the muscle-ups into a couple sets if you need to or moving to a scaled variation like a chest-to-bar to keep you moving. It may also be a good option to stick with the muscle-up but drop the reps if needed.  The cleaning jerks should be moderately heavy today. Thanks somewhere between 75 and 80% of your one rep max clean and jerk. Singles will definitely be the way to go here so make sure you just stay smooth and only pick up that next rep when you know you can complete the full clean and jerk. Have fun with this one and try to keep pushing through those three rounds.
Thursday: Aerobic power is on the menu today! This is also the moment you've all been waiting for…Retest week! That's right, we will be retesting our very first aerobic power day to see how you guys have improved. If you guys don't remember this one is made up of three minute work intervals followed by five minute rest intervals. Your first work interval is running and rowing, your second one is rowing and burpees, and your final one is burpees and double unders. And each interval you'll have a buy in amount of work that you'll have to do before you can go max effort on the second movement for your score. Remember push hard today and let's see how much we've grown!
Friday: Hero/Benchmark day! "Omar" is the workout today and it's a good one! Lots of thrusters and bar facing burpees here so get ready for a sweat session! The good part about Omar is that we have a relatively low amount of total reps. However, the reps do increase as you move through the workout which can make things tough mentally. This also means you to be careful that you don't start out too strong on the short rounds and blow yourself up for the later rounds. Remember on your thrusters to breathe overhead and try to move at a smooth steady pace on the bar facing burpees. When you get in that last round go all out and let's have a good time with this one!
Saturday: I am really excited about Saturday's workout for you guys. This one's actually going to be really neat. We will have some E4MOM intervals of running coupled with back squats and then switch to intervals of rowing coupled with handstand push-ups. This one's going to be a really fun and interesting partner workout that we think you will all enjoy so definitely try to make it in today. Saturdays are always the best day of the week!
       Overall it's shaping up to just be another tremendous week your CrossFit Simplicity. And honestly, when is it not an amazing week here at the gym? The atmosphere and energy you guys bring each and every day is absolutely contagious and we have been having a ton of fun. As we wrap up this month it's important to look back at how far we have come in all the great work we have put in during all of this. Let's keep the same energy in the same drive strong as the president September and stay focused on consistency and reaching our goals. Remember every day to come to class with a positive attitude and an open mind ready to learn, grow, and encourage others! See you all in class!
~Daniel