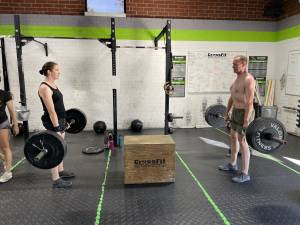 Hey guys,
       It's a beautiful day here in Burlington, North Carolina and time for the CrossFit Simplicity Weekly Rundown! The sun is shining, and the workouts are flowing this week! We have some awesome strength, conditioning, and gymnastics so I hope everyone is geared up and ready to go. Things are going to be shifting around a little bit this week with some new movements on Thursdays and some waves in our lifting, so pay attention to the rundown below. Remember, as always, to stay consistent in here so that we can realize our goals and keep seeing results. Let's dive in…
September 11th: Monday is the anniversary of the attack on 9/11. Our hearts go out to all those who have been affected by this tragic event in our Nation's history. Thoughts and prayers for all of those families.
Johnny Hodge: AKA "Papa Shine." Many of you have asked about our resident CrossFit Simplicity Legend Johnny. We are happy to report that he is home and on the road to recovery…please keep him in your thoughts and prayers as well!
Weightlifting Waves: You'll notice some waves in the weightlifting. This means you'll hit sets of decreasing reps at increasing weights, then back to where you started on the reps but more weight the second time through. Monday for example will be: 6 @70%, 4 @75%, 2 @80%, 6 @75%, 4 @80%, 2 @open (you choose the weight for the last two and hopefully its heavier than your first set of 2 in the wave). It's important when we are doing these that you are focusing on the percentages and hitting good clean reps. If you need to back off the percentages that's fine in order that you are able to increase across the wave. Be sure to ask your coaches if you have any questions!
Percentages: Remember that it's super beneficial to you, your class members, and your coaches if you can take a few moments to look up for weightlifting percentages each day before attending class! This will help you feel prepared and help the flow of class!
Affiliate Programming:
Week 15
Monday
Performance Prep
Coach led – hips and shoulders focus
Weightlifting: Snatch
6 @70% 4 @75% 2 @80% 6 @75% 4 @80% 2 @open
Gymnastics
Accumulation Emphasis Pull-ups 5×40%
or
Bar Muscle Up 8×25%
Conditioning: Intervals
3 RFT
Echo Bike 30/24 cal
Optional Accessories
Tuesday
Performance Prep
Coach led – full body focus
Strength: Back Squat
6 @70% 4 @75% 2 @80% 6 @75% 4 @80% 2 @open
Engine EMOM
4 rounds (24 minute EMOM)
1. 15/12 Cal Row + WB's @20/14
2. 12 Alt. DB Snatch @50/35 + WB's @20/14 3. 5 Shuttle Runs + WB's @20/14
4.12 Alt. DB Clean and Jerk @50/35 + WB's @20/14 (alternate arms each round)
5. 5 Burpee Box Jump Overs @24/20″ + WB's @20/14
6. Rest
Score = Total WB reps
Goal = 100 reps
GHD Progression: Week 15
2xAMRAP
Optional Accessories
Machine Zone 3 Progression – see coach for details
Wednesday
Performance Prep
Coach led – lower body focus
Aerobic Power
10 rounds of Rower
10 seconds on, 50 seconds off
Aerobic Capacity
5k Row for Time
Optional Accessories
Resilience/Group Work Circuit (see coach for details)
Thursday
Performance Prep
Coach led – full body focus
Strength: Strict Overhead Press
6 @70% 4 @75% 2 @80% 6 @75% 4 @80% 2 @open
Gymnastics: Strict Handstand Push-ups
2xAMRAP
Conditioning: Metcon
15 min AMRAP
3 Wall Walks
6 Front Squats (135/95) 9 Lateral Burpees over Bar
Scoring = score rounds + reps Goal = 8+ rounds
Optional Accessories
Standing Barbell Calf Raise + Seated SL Anterior Tib Raise
Friday
Performance Prep
Coach led – full body focus
Weightlifting: Clean and Jerk
6 @70% 4 @75% 2 @80% 6 @75% 4 @80% 2 @open
Gymnastics: Double Unders
Single Under/Double Under EMOM
Even Minute: Max double under for 45 seconds Odd Minute: Max single under for 45 seconds
Conditioning: Zone 4 AMRAP
15 min AMRAP In a vest:
10 Box Stepups 10 Pushups
10 Box Stepovers 10 Air Squats
Scoring: Rounds + Reps
Zone 3 AMRAPs are intended to be completed at a sustainable pace. Move through this workout at an intensity that feels challenging yet sustainable for the full time domain. You should pick a pace that you may be able to say a few words in but likely cannot hold full conversation. If you are focused, you should be able to breathe in and out of your nose for the majority of the time.
*If you use a fitness device that tracks your heart rate, you want to work in HR Zone 3.
Optional Accessories
Saturday
Performance Prep
Coach led – full body focus
Strength: Deadlift
6 @70% 4 @75% 2 @80% 6 @75% 4 @80% 2 @open
Conditioning: Metcon
120 Double Unders
100 Calorie Echo Bike
120 Double Unders
80 DBL Dumbbell Deadlifts (50/35) 120 Double Unders
60 DBL Dumbbell Box Stepovers (50/35) 120 Double Unders
40 Burpees
Goal: Sub 20 min Cap: 26 min
Optional Accessories
Bodybuilding Circuits – see coach for details
Sunday
Optional: Low intensity
aerobic session
Well, that's all we've got today folks! The CrossFit Simplicity Weekly Rundown has been a success and hopefully you are feeling prepared and excited for the week ahead! Progress has been phenomenal lately so keep it up and keep pushing towards those goals. The CrossFit Open season will be on us before you know it. Stay committed to the program and we'll have some great success this year. As always, thank you all so much for being a part of the CFS Family. We love and appreciate you all so much. It's an honor to get to go through life and fitness with you guys! Now get plenty of rest, relaxation, and recovery so we can hit it hard this week. See you all in class!
~Daniel