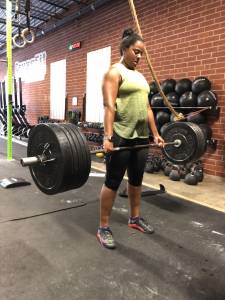 Hey guys,
      you already know it's time for another edition of the CrossFit Simplicity Weekly Rundown on this gorgeous North Carolina Sunday! We love Sundays as a day of rest but also as it day two look forward and prepare for another week in the gym. We have an awesome summertime theme to get you in the mood for this weeks workouts as well. Great job to everyone on our last strength cycle. We saw lots of PR's and tons of progress. We will be taking a two week break and then starting a new strength cycle on July 26th this next cycle will be a little more traditional lifting with some Olympic lifts thrown in as well so get excited! Remember that we have an awesome event being held right here at the gym July 24 to benefit MS so check out the announcements and get signed up. Now, let's check out all the awesomeness we have in store for this week.
MS Strong: Our very own Tiffany Light is hosting an event right here at CFS to raise money and awareness for MS! This is going to be a fun CrossFit event Saturday, July 24th at 9 AM! This event is for all levels of fitness so invite your friends! It's $25 to register and all of the proceeds go to the MS Run Organization! (Oh yea…and DJ-LA will be here!)
Monday: "Summertime" is on the menu today and is also our theme this week! This is going to be really fun couplet of double unders and toes to bar. But before you dive in…And before you quit…You'll have a buy-in and a buy-out of 50 air squats. Double under and toes to bar reps are descending and are exactly 3:1 of each other. For example you will begin with 75 double unders and 25 toes to bar and end with 15 double unders and five toes to bar. The stimulus is going to be moderate to high pacing today but do be mindful to keep your buy-in squats at a pace that will not negatively affect you once you get into the actual workout. We don't have a tremendous amount of double unders today but the toes to bar will add up. Think about approaching these in small quick sets of 5 to 10 reps to avoid burnout especially if this isn't a strong movement for you. We will have some good scaled options to keep you moving regardless! Let's get in here and take the week off right!
Tuesday: Any Harry Styles fans out there? No? Didn't think so. (Kidding! Y'all chill) Today we will be hitting "Watermelon Sugar." This is going to be a shoulder taxing workout of single arm dumbbell push presses and single arm overhead dumbbell walking lunges. We are looking for moderate pacing today. Make sure you select a dumbbell weight that will allow you to constantly move for 12 minutes. Breathing with each rep will help you continue to correct pacing throughout this workout. You may begin the workout with whichever arm you would like but must always perform the following set of lunges with the same arm that just pressed and then alternate after completing those lunges. This one's going to get rough on the shoulders so don't come out too hot and make sure you're maintaining proper form and stack that dumbbell correctly overhead. After this we are going to do some accessory work which will consist of an EMOm of strict pull-ups. Focus on proper form, full range of motion, and a straight line pull. Your coaches will help you scale!
Wednesday: "A Summer Song" it's going to be a tough little Tabata workout of calories on the assault bike, calories on the rower, and wall walks. Remember that Tabata is a style of interval workout where you will work for 20 seconds and then rest for 10 seconds through a number of rounds. Stimulus today is pretty high. We want you guys to focus on finding a challenging pace but also something that is repeatable across all rounds. We haven't seen wall walks since the Open so this may bring back some pleasant or unpleasant memories for you depending on how you feel about these. They could be good practice or a brutal ending to the workout! Easy day!
Thursday: We have a nice little five round workout today called "Cool for the Summer." This one is alternating dumbbell snatches, push-ups, and box jump overs. We want you guys to have a steady, moderate effort during this workout and keep consistent pacing to keep the shoulders from blowing up. The clock is always a great peacekeeper so remind yourself that you need to average under four minutes a round to finish in the time cap! There is a tendency to blow up on the push-ups so aim for fast quick sets of 5 to 10 reps and get off the hands as soon as you aren't working. Also remember that these are box jump overs today which means we can stay low and do not need to stand up all the way at the top of the box. These should allow you to move a little faster than usual. After this we are going to have some really cool accessory work where we are going to combine some chest to bar pull-ups and high box jumps. This work is not the time, it's for quality, so pay attention when we go over this at the whiteboard and have fun!
Friday: "Summer Breeze" is a very deceptive name for this workout…which is not going to be a breeze…Pun intended! Today we are going to have lots of light deadlifts, hang power cleans, and thrusters. This is a chipper style workout and will have a 400m run before and after every movement. You will have four in total meaning you will have completed a mile during today's workout so keep that in mind as you think about pacing. You really need to find a consistent moderate pace on the run that allows for big sets on the barbell across the entire workout. Do not be tempted to start out too hot if that same intensity cannot be held later in the workout. This is key! The weight is the same for all three movements which means it will feel very light towards the beginning of the workout and then get a little heavier as we get to the thrusters. Make sure you practice all three movements with your chosen workout weight. If it feels heavy when fresh then it's going to feel 10 times worse when fatigued so choose wisely. One bar and the open road…What a fun way to kick off Friday!
Saturday: Time for another partner workout! Love Saturdays at Simplicity! This is going to be a tough little piece with an interesting layout so pay attention to your coaches. Basically you and your partner will be alternating back-and-forth between two minute AMRAPs. Each one will consist of two rope climbs, 10/8 calories on the rower, and then max two back squats in the remaining time. The interesting part about this workout is that you alternate AMRAPs back-and-forth with your partner until you guys have completed a total of 150 reps between yourselves! You have a two minute rest while your partner is working so try to keep the intensity high when it's your time to go. Really attacked the rope and the row quickly to bank as much time as possible for the back squats! This one is going to be fast paced and fun so really send it and enjoy yourselves today! It's the weekend!
     And that's all we have for in this beautiful Summertime edition of the CrossFit Simplicity Weekly Rundown! Remember that we are still going to post the Mayhem bodybuilding pieces as they are programmed so feel free to work in some of that over the next two weeks while we are taking a break from a strength cycle. Also remember the next strength cycle will begin July 26th and will be a bit of a change of pace that we think you all will enjoy. We have some really awesome workouts this week filled with lots of interesting variance and movements so try to get in here as consistently as possible and let's keep those results pouring in! Now enjoy the rest of your weekend and get plenty of recovery so we can hit it hard this week. See you all in class!
~Daniel