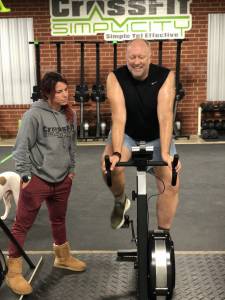 Hey guys,
       You already know the deal. Time to crack into some light Sunday reading and find out just what's going on at CrossFit Simplicity this week. We certainly have some great workouts planned and this is always one of my favorite Rundowns of the entire year as it marks the transition to a new year at the gym. This is also right around the time we will be celebrating the end of our fourth year at CrossFit Simplicity and beginning our fifth year of this amazing community. I love the new year as a time of reflection and gratitude and I would encourage you all to think about the same things over the next week. It is definitely a blessing to have the physical ability to be able to come and workout every day and also to have an amazing community to be a part of. So let's check out exactly what we have in the line up this week after a few announcements below!
15 Days for $15: Many of you guys have referred friends to get signed up for our January special and thus have secured your name in the hat for a drawing to win a free month with us! There's still time to invite anyone else you have in mind and get your name in the hat again! This is an awesome opportunity for your friends and family to fall in love with the gym and see what we are all about!
Class Registration: Beginning January 1st we are going to be cracking down on registering for classes. This is a twofold effort to help us better plan and manage the space we have available so that we can think about offering new classes and opportunities at the gym, as well as to continue to be diligent about our numbers in relation to Covid. Please be sure you register for the class you would like to attend at least 45 minutes before hand on the Wodify app!
Holiday Schedule: Our last class New Year's Eve (Jan 31st) will be 4:30pm. We will have classes at 10am and 4:30pm New Year's Day!
Monday: As you can see from, " Santa Claus is coming to town" we are still in a bit of a Christmas theme this week which is fine by me! We are going to ease back into things without a lifting piece today but with a challenging conditioning piece! This one's going to be two rounds of assault bike calories, lightweight thrusters, and bar facing burpees. The reps are descending for each movement but each round is the same and we'll have a five minute rest in between the two. As always we want to see some consistency between both of these sets. Five minutes is a big rest so push hard during round one and trust yourself to recover. We want a target time of about 4-5 minutes. These thrusters are considered light today so make sure you pick a weight that you can complete in 1 to 2 sets and no more. Be sure to stay upright in the bottom and breathe with the barbell overhead. When you get to the bar facing burpees it's time to just go until you finish all of them. Easy day!
Tuesday: Now it's time to break out the Olympic lifts! Next week we will be testing our one rep max snatch but today we will have a really cool snatch ladder as a sort of conditioning piece. This is really similar to what we've seen previous years in the Games and like something you might encounter at a local CrossFit competition! We want to make sure we are good and warmed up before this workout so you'll have plenty of time to work on some power snatches before we say go. "Away in a Manger" will consist of three rounds every five minutes. In that five minute window, as quickly as you can, you will complete 7-5-3-1 reps of power snatches. Each set the weights increase so you'll have to change them. The goal is 2 to 3 minutes per round so you'll need to make sure that these are manageable ways because we are looking for a good smooth consistent reps with no misses. Emphasis today is definitely on solid technique and not rushing your lives. Use this as a great day to work on consistency!
Wednesday: Hump day is looking legit this week with "Deck the Halls!" This is a great little piece that's going to require some consistency across your rounds and certainly some strategy in how you're going to approach your wallballs and push-ups. This one will be three rounds of wall balls, push-ups, and double unders. As we have done in the past we're actually going to offer an option today to do fewer wallballs at a heavier weight or more wallballs at a lighter weight…both options being RX. Do you want to aim to complete your wall balls in 2 to 4 sets no matter which weight option you choose. Also this workout will be 90 push-ups in total so think about starting out with some shorter sets so that you don't burn out. This one is certainly going to be shoulder intensive so you'll need to keep that in mind as you plan how to attack it today. Just have fun with this one and really go after it on that last round! Good stuff!
Thursday: Remember that we have an abbreviated schedule today because of New Year's Eve. Our last class today will be 4:30pm. We have a pretty simple piece for you guys today but one that is definitely going to allow you to stay moving and really get in some good work. It will be a 20 minute AMRAP of single arm dumbbell cleans, sit-ups, and lunges. The weights are moderate here and the lunges are simply bodyweight so you'll be able to work at a continuous pace relatively easy. This means you want to set a pace that is challenging but also something you think you can maintain for the entirety of the 20 minutes (minus that last little two minute sprint at the end)! This is a pretty straightforward workout with not much strategy but it is important to know that you complete all of your dumbbell cleans on one arm before switching to the next. This is obviously a little different than how we do alternating dumbbell snatches.
Friday: Happy New Year! Remember we will have a 10 AM class today and a 4:30 PM class. Let's get in here and kick the new year off right!
Saturday: We have a really cool piece for you guys today titled "Frosty the Snowman." This will be a 28 minute workout and you have two options on how to tackle it. You and your partner can either alternate full rounds or alternate movements. If you alternate full rounds you will complete a full round while your partner rest and then vice versa. If you alternate movements then you'll be splitting the work in half but it will have to be down the middle according to each actual movement. Today you will have squat snatches, box jump overs, and toes to bar. The reps are short today so rounds will move quick which is why we will give you the option to alternate full sort of "sprint" rounds or alternate each movement. Enjoy!
       That's all we've got folks! It's going to be another awesome week here at CrossFit Simplicity and a great week to roll us into the New Year! Amid the barrage of new diet plans and New Year's resolutions I would encourage you guys to try to focus on one thing that we talk about all the time here at the gym…Consistency! You guys have been doing so good lately so let's set some New Year's resolutions and New Year's goals, but the one thing we don't want to change is showing up to the gym each and every day ready to put in a good effort! If the last four years have taught us anything it's that we're about to have another amazing year at CrossFit Simplicity. Every day, week, month, and year, this community is growing and evolving into what you guys make it and we are thrilled with the results. We hope you are too! We just want you know how much we appreciate each and everyone of you here at the gym and we can't wait for another amazing week and another amazing year. See you all in class!
~Daniel