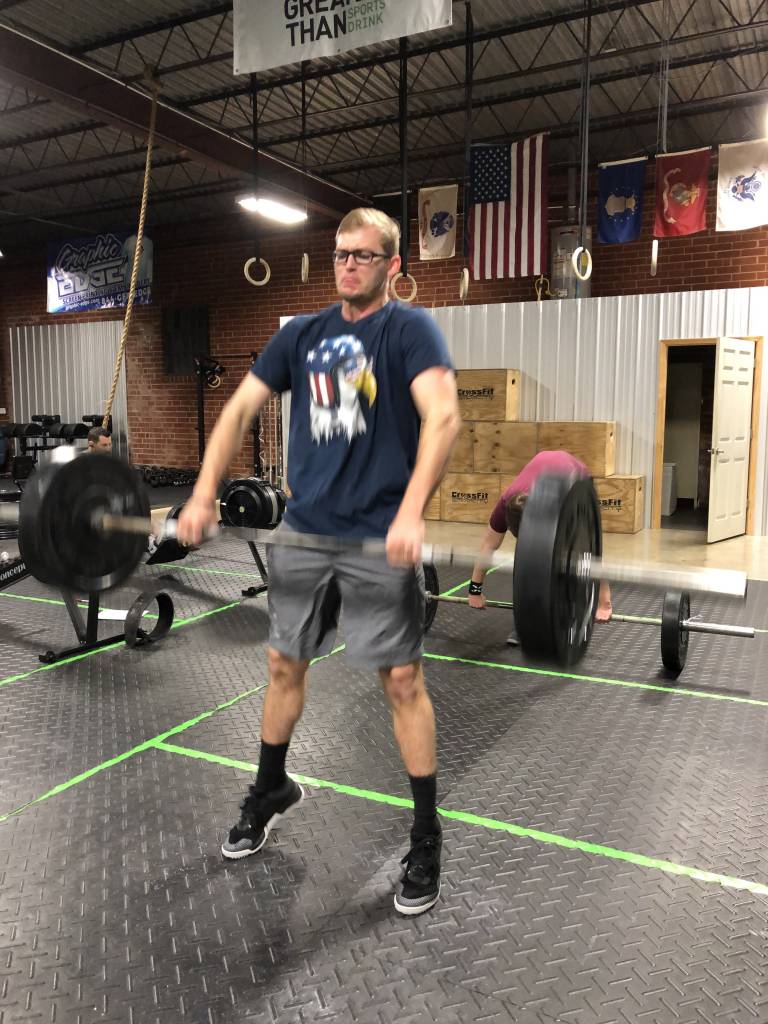 Hey guys,
      Sorry again about last week but the Weekly Rundown is back! I actually really missed going over these workouts on here and hopefully sending out you guys some useful tips and information. With the CrossFit Open right around the corner let's really try to stay focused in the gym and keep working hard so we can really see where we are at this year! I believe this is going to be the best CrossFit Simplicity Open we have ever had and it's going to be a lot of fun. Remember to get signed up as soon as possible so we can get our intramural teams set and start working on these team names!
CrossFit Open is here! Get signed up so you can participate in our intramural Open, The CrossFit Simplicity Open! Follow this link to sign up and make sure you select CrossFit Simplicity as your affiliate: https://games.crossfit.com/
Remember that new CFS T-shirts are at the gym in black and white! We have sizes XS-XXL for $20
The CFS 2 Year Anniversary is (2/16) and it's going to be fun! Live DJ (DJ-LA), brunch, and it's a "Bring A Friend Day!"
Sign up for The Open!! Do it today! 
Monday: What a fitting way to start the week as we begin gearing up for the CrossFit Open season! Monday will be a retest of CrossFit Open workout 17.1! This workout is a little on the longer side as Open workouts go but it's a good one. We will have a dumbbell snatch ladder that is increasing across each round. This is broken up by burpee box jump overs. This one can really be a burner. I think the idea here is to pace the burpee box jump overs so that you don't elevate your heart rate too much and can work hard on the snatches. Remember that it's important to try to bend some at the knees so that we don't do our dumbbell snatches with a rounded back and blow it up too early. Start out smooth on this one and finish with a lot of intensity if you still have some gas left in the tank!
Tuesday: Things are looking pretty aerobic for Tuesday as well this week. We'll be getting into a 30min EMOM with one min on/off. It's all about the row/bike today! After we wrap this up we'll be doing a little odd object work to round thugs out. Easy day!
Wednesday: Hump day is going to be tough this week…no doubt about it! But it's so good! We'll have a 5 rounder today with a moderate back squat and some KB/DB work! The back squat weight should be something you can do unbroken but I would recommend a short break on the KB/DB clean and jerks as these can get you really breathing heavy! Go hard on the last round or two and see what happens! 
Thursday: Lifting day! We have a 1 rep max snatch today! If you're feeling confident go for it here! This is also a great chance to work on snatch technique and proper form. Either way it's going to be a great day to get a bar in your hand and do some work! Good stuff. 
Friday: Such a good one for you all today! Tough but good. This one is a chipper style piece with lots of shoulders…lots of shoulders. Breaking things up early and deliberately is going to be really smart here so that you don't gas out towards the end. We will have three barbell movements and at a lighter weight but we do have a relatively large amount of reps. This one will get a little "gymnastic" too with some chest-to-bar pull-ups and handstand push-ups. If you struggle with these don't sweat it, we'll have some scaled options. 
Saturday: The Saturday "super chipper!" For real..this one is big! Not in movement variety but more so in volume. This one will be a lot of fun but we are going to have to work smart. This will be a partner workout with a you go/I go style where only one partner works at a time. It's going to be a great way to start off the weekend! 
      Overall we have an awesome week and an awesome start to February! This is the month we kick off The CrossFit Simplicity Open so be sure to get in the gym, get signed up, and be thinking about some sweet team names to pitch to your team captain! Can't wait to experience this with you all again. If it's your first time then get excited for some fun! Remember to make sure you have a current email on file for us and keep a lookout for more details! 
Best,
~Daniel