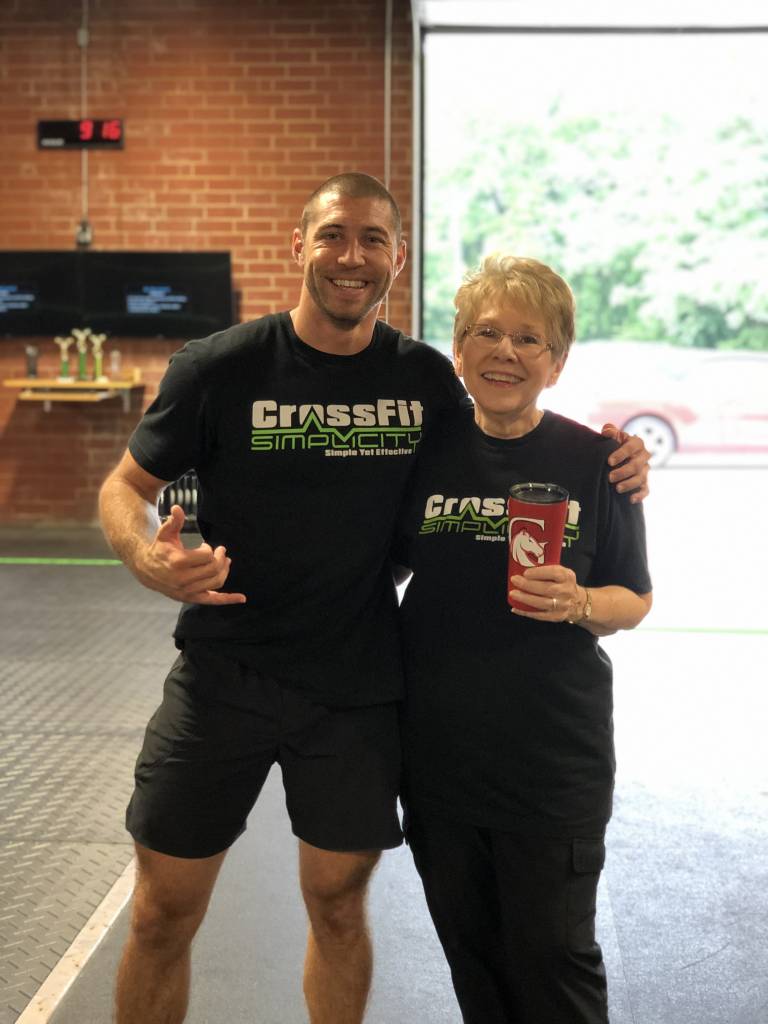 Hey guys,
It's that time again… Time to start a new week and put in some work! So far June has been going great and we have been hitting it really hard. Let's keep that drive going as we roll into this week. This week should be similar to last week with some pretty good workouts and a few optional accessory pieces, as well as the summer course series. Be sure to have a look at some of the announcements below and then check out what we have planned for class each day. Good stuff!
Bring A Friend Day is THIS Saturday, the 15th, at 9am! Of course DJ-LA will be there and this is your chance to invite someone to check out what you love about CFS! Tell your guest they can also snag a free koozie at the door… might come in handy at the pool party!
Simplicity Pool Party! Saturday, the 15th, at 1pm. This will be "floating" well into the afternoon/evening until the fun ends. Kids, friends, family, and "Bring a Friend Day" guests are welcome to attend. Food and drinks will be provided but feel free to bring a side or dessert! Address is: 1 Chowan Rd, Greensboro, NC
Tank top pre-orders end Monday at 12pm! We will be placing an order for these Monday afternoon so this is your last shot to snag one!
Monday: starting off the week with some weightlifting! I always feel like it's nice to ease into the week with no cardio… But that's just me. Back squats will be on the menu tomorrow with a bit of a wave rep scheme. (10-1-8-1-6-1) The idea here will be to increase the loading across all of the higher volume sets and try to keep your singles the same for all "1s". Your 10, 8, and 6 rep sets should be challenging but not to failure. After this we will do a little bit of single leg accessory work and call it a day! remember on your back squats to keep your chest up in the bottom and fight for a good position coming out of the hole. As always, depth over weight! Depth over weight…
Tuesday: The burpee pull-up is back! But for a limited time only so don't miss your chance on this excellent gymnastic movement! OK let's be honest, no one loves a burpee pull-up. They are tedious and involve the most hated movement in all of conditioning. But they do work so try not to miss today. We'll be doing "The Mule." This one is heavy deadlifts and burpee pull-ups (lots of pulling) but in descending reps..so it gets easier. Make sure you scale the weight on the bar to something that's appropriate but still challenging…This should be a heavy deadlift for a conditioning piece. The key here will be breaking up the deadlifts wisely and trying to keep a consistent and steady pace on the burpee pull-ups. After this we'll have a good little accessory piece with double unders and toes-to-bar!
Wednesday: Hope you all are feeling chipper today! (Too many puns? Ok.) Anyway, today is a solid chipper that will definitely give you an opportunity to work on some strategy and how you attack different movements and numbers of reps. This one is going to start out… And really finish… Pretty heavy on the legs but the reps are descending so this will help you a lot mentally. It'll open with a big row for calories and lots of wallballs so pace those out smart and you'll have most of the workout behind you. As always try to finish strong and keep breathing and moving! 
Thursday: I really don't love to be hated…promise you. With that said, today is a 5k Run. If you have a watch today please bring it…because every three minutes you'll be stopping to perform 15 air squats. Listen, we want a well rounded and varied approach to fitness. We don't want to specialize in any one area or mode of fitness. So unfortunately that means now and then we need to go for a long run. If you love running, great, please keep that to yourself and don't rub it in too hard on the rest of us today. If you hate running…don't miss today. It'll make you a better person, I promise!
Friday: The snatch and press! Today's workout will certainly tax the shoulders…it's going to be spicy! But it's not a terribly long one do stay moving and before you know it you'll be done. This one is lots of DB snatches and handstand push-ups! This is great chance to work on cycling/changing hands on those DB snatches in the air on the return to the ground and also working on HSPUs. The reps are relatively low here so this may be something you'll want to try and RX if you're coming along in your HSPU. After this we'll get in a little bit of core work and rest up for Bring A Friend Day and the pool party on Saturday!
Saturday: Bring A Friend Day! We are going to have an awesome workout planned for you and your guest… And rest assured, it will be first time friendly so spread the word that no previous CrossFit experience is required! Remember that this is also the day of our Simplicity pool party so feel free to invite your guest to the party as well. This will be open to your family as well if they would like to attend! It's going to be a great day for fitness, fun, and friends!
What an awesome week we have planned for you guys inside and outside of CrossFit Simplicity! We can't wait to have a great week of training and cap things off with a fun celebration at our pool party on Saturday! Be sure to get in here and stay focused on your goals and focused on just putting in the work each and every day so that you can see those results! Hope everyone had a great weekend and we can't wait to see you in class!
~Daniel