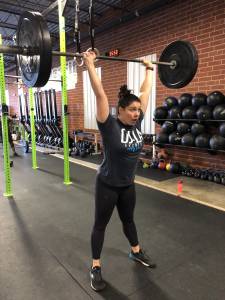 Hey guys,
       It's another gorgeous weekend here in beautiful Burlington North Carolina. And is there anywhere else you'd rather be? (Well maybe…but would CFS be there? No!) we had an amazing Thanksgiving week celebrating our friendships and fitness with you all and I want to just take them out again to say hell forever grateful we are for this wonderful community that you all have built. Now it's time to switch gears and sleigh…or is it slay…some workouts as we move into December. I always love a rundown as we wrap up one month and move into the next. It's exciting when we get to start a new week and a new month. This week is going to be exceptionally cool with all the great workouts and exciting things we have coming down the pipeline so make sure to read the announcements below! Do it!
Christmas Party: Our annual CFS Christmas party will be Saturday December 19th! Like always it's going to be an epic event with food, fun, and all your favorite friends and family. We will have an ugly sweater contest, Dirty Santa, and more!
Christmas Cheer: We have an amazing local family we are helping for Christmas this year. Take a tag from the tree in the gym, purchase the gift item on the tag, and then return the gift and the tag to the gym unwrapped and we will do the rest!
Bring a Friend Day: Our next BAFD will be Saturday December 12th with DJ-LA! Mark your calendars!
Gymnastics Skills Class: Our next gymnastics class with Stewart will be December 13th! Don't miss this chance to focus on these skills for class!
Monday: We are kicking off the week with a hero workout! "Daniel" is an honor of Army Sgt 1st Class Daniel Crabtree Who was killed in Iraq in 2006. This is a very solid work out with some large pull up volume, a good bit of running, and some thrusters. If you are new to this much pull up volume please make sure to back the wraps off some today. We want you to be able to complete the pull ups in sets of 5 to 10 at least. The thruster weight is moderate here so we want you guys to be able to complete each round of them in no more than three sets. Preferably two! Remember how important it is to breathe during each thrust your rep. Breathing in when the bar is locked out overhead and breathing out coming out of the bottom of the squad. I want you guys to have fun but really push on this workout today. Sometimes these hero workouts are a gut check but they are for a great cause. Remember to fight to the end and remember those who have served!
Tuesday: We have an absolutely epic Tuesday lined up. We are going to kick things off with some triples on our back squat cycle where we will be working to a set of three or more reps at 90%. This is starting to get heavy so focus on maintaining a great upright position in the bottom. Ride that bar down smooth and then fire up hard out of the hole. After our squats we have a really cool workout. "Goku" it's going to be five rounds of a two minute AMRAP. In that two minute window he will complete 75 double unders and then max effort push-ups. You'll have one minute to rest between each round. Our target score today will be 20 push-ups per round. Be careful not to go to failure too early on your push-ups because these will be hard to recover in the later rounds. To help with this think about breaking them into small quickset from the beginning. Remember also that we want good push-ups where your arms been to 90° and you come to a complete lock out at the top! A big goal today will just be consistency across all rounds so avoid totally destroying the arms on round one and two. Good stuff!
Wednesday: Weightlifting Wednesday! Last week we snatched mid week so this week we will be doing clean and jerks. Every minute on the minute for 10 minutes you'll have to clean and jerks at 75%. Weight should be light and something we are comfortable with so we are looking for no missed lifts. Complete these in singles and looked at it a rep every 6 to 8 seconds. Remember that today is a day to focus on good form and positions. These will be squat cleans! After we clean we will hit "Dragon Ball Z." This is a 12 minute AMRAP that follows a ladder rep scheme. Beginning with four wallballs and four toes-to-bar you will increase by four reps on each movement each round as you work. This means things will start out pretty easy at first but we will quickly get into some big challenging sets. It may be smart to continue to break your toes-to-bar up in sets of four to maintain a good steady pace. Try to go unbroken on your wallballs as long as you can because 12 minutes will go by pretty quickly! This one is definitely going to be spicy on the shoulders so hang in there as long as you can! Easy day!
Thursday: Lifting day again! Today will be shoulder presses and we will be following the same rep scheme as our back squats earlier this week. We will finish off the day with three or more reps at 90%. Remember to make sure that these are strict. Absolutely no movement in the hips or knees during these presses. After we press we will hit a three round workout called "Vegeta." This one will be bike calories and hang power snatches. We want some moderate to high intensity on the bike and consistent reps with your barbell work, but do take into consideration there will be some grip fatigue in this one. Also don't max out the bike and then sacrifice technique on the barbell. We want to make sure you can get to your bar and still work. Make sure that this weight is under 75% of your one rep max snatch. Go hard on this one today and have fun!
Friday: Partner workout! That's right, two this week! "Spirit Bomb" will be alternating dumbbell box step-ups and synchronized burpee pull-ups. You and your partner will take turns completing alternating dumbbell step ups. When your first set is complete you will then move to a pull-up bar where you guys will have to do synchronized burpee pull-ups. This means you are down on the floor when your partner is, you guys stand up together, and then perform the pull up at the same time. The reps for this workout will decrease every round which is very nice both mentally and physically. The intensity should be relatively high because you will be resting while your partner is working besides your time spent on the burpee pull-ups. Would like to see you guys complete about 5 to 10 reps on the dumbbell step ups before you alternate with your partner. Make sure that you reach for extension top of the box before stepping down. Get in here today and let's have some fun with your partner and get in a great workout!
Saturday: Nothing like a good Saturday here at CrossFit Simplicity! We are going to have a really cool workout for you all today that's going to include some rowing, some handstand push-ups, some pull-ups, some floor presses, and even some barbell curls if you can believe it! This will definitely be a bit of a different one for us today but one that's going to be a partner workout and a lot of fun. Don't miss out!
       It's looking like an excellent week to kick off December. We love Christmas time here at CrossFit Simplicity and we have so many things to look forward to. Not only some great workouts but some amazing events and opportunities for us to get together and build on our relationships and this awesome community. If you've made it this far through the rundown there's a great chance you read the announcements but just in case make sure you breeze back through those and mark your calendar's for upcoming events. We know that December is a busy month and exciting time with the holidays but be sure to continue to get in the gym and stay consistent so that we can battle those holiday sweets and keep those energy levels high for all we have going on! Can't say enough how much we love all you guys and how much you mean to us. Let's crush another week together. See you all in class!
~Daniel