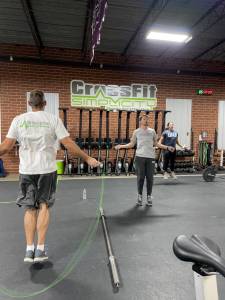 Hey guys,
       It's a beautiful breezy Sunday here in Burlington North Carolina and it's time for the CrossFit Simplicity Weekly Rundown!  We have a great week of programming ahead for you guys as we continue with week six of our current lifting cycle as well as some really good conditioning pieces. This week's theme is going to take you back in time to some of your favorite sports movies so get ready to stream a few of these this week as we prepare! (That's optional) We will have a good bit of overhead work this week so be sure to take care of your shoulders and maybe throw in a little extra mobility throughout the week as time allows. It's always important to stay recovered and feeling good so you can get the most out of class. And speaking of class, let's go ahead and dive in….
Push/Pull for Pancreatic Cancer: we are so excited to host this event again this year at CrossFit Simplicity! This is an awesome chance to raise awareness and funding for pancreatic cancer. I will attach a link where you guys can get signed up and you can also sign up the day of the event. DJ-LA will be in the house for the event it's going to be a lot of fun. You can also submit your score and compare your results to folks all across the nation taking part in the fundraiser!

https://donate.projectpurple.org/team/390183

T-Shirts: Don't give up on us yet, T-shirts are on the way! They will be here when you least expect it!
Monday: Raise your hands in the air and overhead squat them like you just don't care! (Does that sounds exciting?) Anyway, we are starting things off today with five sets of three overhead squats between 60 and 70% of your one rep max snatch. This way it should be comfortable I'm bordering on challenging but should not put you at risk of missing reps. Use this to practice good form rather than focus on heavy lifting. Next we have "Remember the Titans!" (Amazing movie: 10/10 recommend!) This is going to be a simple piece where you have to complete 75 toes to bar for time. The kicker here is that every two minutes you'll have to stop and complete a set of calories on the assault bike. When this is done you will rest until minute 12 and then complete the exact same workout but with 75 wallballs instead of 75 toes to bar. The goal today is steady pacing with a planned amount of work for each round before returning to the assault bike. Need to have a solid strategy and fight to stick with it in order to stay on track for this one today. Work hard!
Tuesday: We are going back overhead today with some push jerks. Similar to Monday we will have five sets of three push jerks at 60 to 70% of your one rep max clean and jerk. Just like yesterday focus on form and let's be smooth and clean with these reps. Remember to get a big leg drive and then push yourself under the bar until those arms are fully extended. After this we are going to hit a good little work out called "Little Giants." This is another classic movie and should prove to be a pretty good work out as well. You guys will begin and end the workout with a row. In the middle you'll have a big set of push-ups sandwiched between a set of alternating hang dumbbell clean and jerks. Shoulders are going to take a beating on this work out so be sure you stay smooth and establish some different times to rest before fatigue really sets in. If you open up with a massive set of push-ups you may just find yourself burned out and really struggling so be smart today! Try to find a steady pace that you can maintain across all movements and just settle in to some moderate intensity. Good stuff!
Wednesday: Big day today for weightlifting Wednesday! We are going to take 10 minutes to establish a one rep max clean and jerk. Make sure you are smart and calculated with your jumps in weight and being conscious of form and when enough is enough. We are basically looking to reach a heavy single in 5 to 8 working sets so don't sweat it if it's not a true one rep max. Just go heavy and have fun. We have a classic for you guys when we are done with these clean and jerks. "Air Bud: Golden Receiver" it's going to be a two-part workout. Part one will be an eight minute AMRAP of double unders, deadlifts, and straight cane stand push-ups. At the end you'll get one minute of rest before you move into part two which will be two minutes of max rep bar muscle ups. Stimulus today should be moderate pacing on part a and a hard push on part B. I deal pacing should have you guys completing around every one and a half to two minutes. Make sure you keep your deadlift weight around 40% of your one rep max.
Thursday: It's Veterans Day and we have an awesome partner workout planned for you guys so be sure to get in here and let's honor all of those brave men and women who have served our country and protected our freedom!
Friday: Wa-wa-wa-Waterboy is in the menu today! This is going to be a tough little piece with lots of core work and pulling. You guys will go from 21 reps down to three reps by threes. You'll have GHD sit ups and chest to bar pull ups. Stimulus for today's workout is moderate to high intensity with high skill gymnastics and high volume core movement. These two movements paired together will push your core endurance for sure. Be sure you scale the volume or the movements to get the right stimulus today. If you are unable to consistently complete 10 or more reps you might want to think about scaling or modifying the chest to bar pull ups to a regular keeping pull up or jumping pull up as needed. This is going to be a tough one so keep grinding.
Saturday: We have a cool little partner workout today called "Gridiron Gang." You guys will be knocking out some running, clean and jerks, and rowing. All work will be split as needed today so be sure you get up with your partner and do a little bit of strategy before you get started. Also make sure you're clean and jerk is around 60% or less of your one rep max. Have fun with this one today and encourage your partner!
      That's all we got for you guys today and we hope you enjoyed this edition of the CrossFit Simplicity Weekly Rundown. We have a lot of cool things happening this week and also the celebration of Veterans Day which we are very excited about. Make sure you guys get in here and stay super consistent as we dive deeper into November. Again, thank you all for being so amazing and making this community special. We really appreciate each and every one of you guys and are grateful for the opportunity to get in here and workout with you and alongside you every day! Now enjoy what little is left of your weekend and get plenty of rest and relaxation so we can hit it hard on Monday. See you in class!
~Daniel