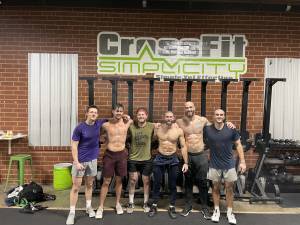 Hey guys,
      It's time for the CrossFit Simplicity Weekly Rundown! We have an awesome week in store for you guys and a great theme for all you Taylor Swift diehards out there! (I know we have a few) This is also a big week for our strength cycle. We tested our lifts last week and now it's time to begin our cycle and build on those numbers for the next eight weeks. let's go through some quick announcements and then dive in!
Love Yourself February: We will be offering a free yoga class every Sunday in the month of February (5th, 12th, 19th, 26th) at 1pm here at CFS! Who will have an actual yoga instructor here but you guys will need to bring your own yoga mat. (You can grab a cheap one at five below which might not be the best but it will do the trick!)
CrossFit Open: We are gearing up for the CrossFit Open. We are going to do this "Friday night lights" style for the three weeks of the Open. This means there will be no not right no 4:30 or 5:30 class for these three weeks (beginning the 17th). Friday night lights will begin at 5 PM! The Open is a great chance to test out your fitness with the entire CrossFit community globally… And more importantly right here at CFS! (remember there is a scaled division in the Open as well and this is a very low pressure environment!) Get signed up with the link below!
Weightlifting:
Here we go, Week 2 begins, and it's moderate lifting (65% of Heavy single) for the power lifts and some barbell cycling on power snatch.
Week 2 (Jan 30)
Mon: 5×5 Deadlift (65%)
Tues: 5×5 Back Squats (65%)
Weds: 5×5 Bench Press (65%)
Thurs: Every minute (10 minutes) 5 Power Snatch (light)
Workouts:
We now have strength starting, so let's keep the classes rolling from one to the next. Monday, we got a body rocker with devil's press and double unders; careful, it's harder than it looks. Tuesday, we are taking a version of Angelo's challenge a few weeks back, dialing back the pull-ups but upping the assault bike. Last week on Wednesday, we challenged you all with 100/80 calories on the bike with a twist. We bring that style back with some burpee box jump overs and front squats. For Thursday, we will reel you guys back with a "just move, get a good sweat' type workout with some minute work. Then, we come to Friday, and it's the 14.4 Chipper that had a lot of highs and a lot of lows. Some people even go their very first muscle up with this workout. Saturday is another partner grind that is all about synchronization and shoulder stability.
     Well, that's all she wrote folks. This concludes the CrossFit Simplicity Weekly Rundown! We have an awesome week in store for everyone and I hope you all are getting excited about jumping into this new strength cycle that we have for the next eight weeks. It's going to be really important to maintain that consistency and get in here on the days that we lift, so be proactive about that if possible! Also remember to get signed up for the CrossFit Open as this is an amazing chance to come together as a community and have a little fun while we test our fitness and see what we need to work on going into the next year. Now get plenty of rest, recovery, and relaxation so we can hit it hard Monday. See you all in class!
~Daniel