CFS Weekly Rundown (8/6-8/11)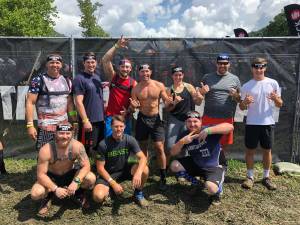 Hey guys,
       Great job last week! We are wrapping up our month of 15 Hero workouts and our last two will be Monday and Tuesday this week. You all have really done an amazing job on these and we can't wait to retest them in the future! We have a great week ahead, check it out:
Monday: This is the first of two Hero workouts this week. "Del" is a one that's a little different than any we have had this month. It's mostly a pure conditioning piece but there will be some pressing and pulling thrown in so the shoulders will be feeling it some! We haven't done this one before so try your best and we'll set a baseline time.
Tuesday: Tuesday will be the last of our Hero workouts…and it's definitely going to send us out with a bang. The "Dallas 5" is a challenging workout honoring some brave police officers. This one is like 5 mini 5 minute AMRAPs all rolled into one so pace things some but still trust your fitness and stay moving! You will have a minute rest between rounds.
Wednesday: The CFS staff had a blast testing this one for you guys! We think you'll enjoy it as much as we did! This one is a 20min EMOM alternating between a "conditioning" minute and a "lifting" minute. This one certainly combines two favorites so don't miss out!
Thursday: Grunt work right here! And we love it! This will be a great mental test and maybe a bit of a grind. The odd object in this one will be a bumper plate…you'll learn to love your plate and cherish your plate as your carry it throughout the duration of this workout.
Friday: Max Out Friday! Oh yea, that's right…maxing out the snatch and the clean & jerk today! Need we say more?
Saturday: Saturday's are always solid..this one will be no exception. We'll be hitting a partner Kelly so push the pace hard on this one to ensure a good workout. Both partners will be running today…enjoy!
A little heads up, your CFS Coaches will be competing in Greensboro this Saturday for the War of the WODs Summer Series. If anyone is interested we would love to have you out there for some support! Ask coach if you need some details.
Great week ahead of us here at Simplicity! Don't miss out!
~Daniel