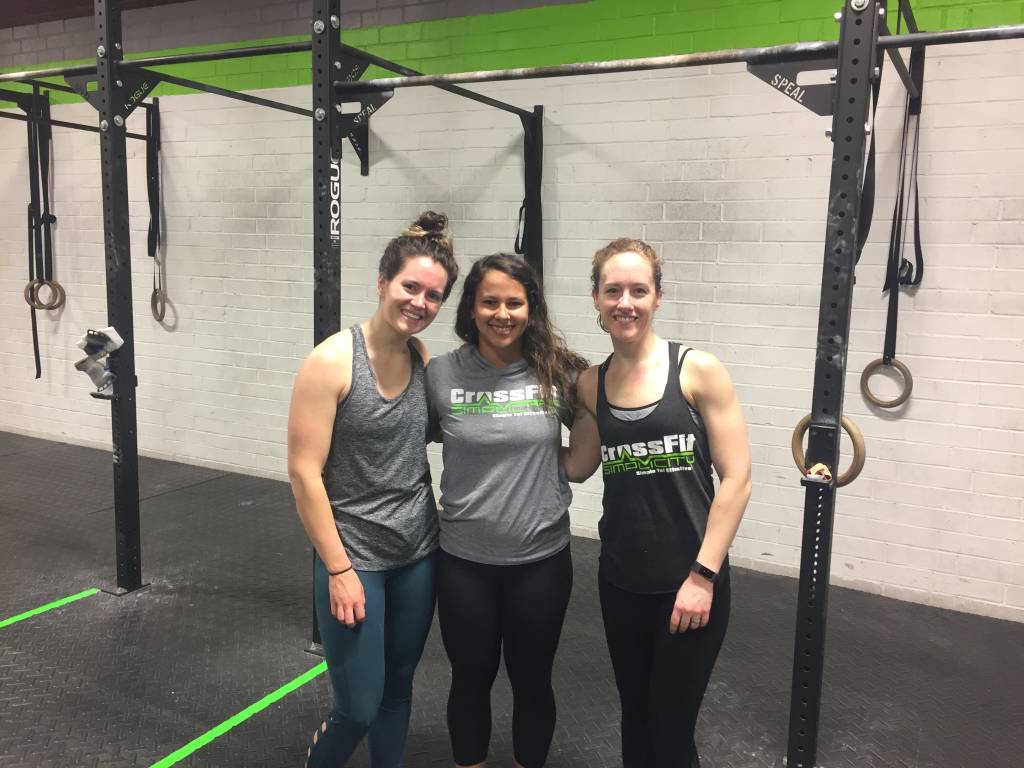 Hey guys,
Great job last week and great work on this year's CrossFit Open! Whether you were officially signed up or not, you all hit these workouts hard and gave it your all! It's been a great Open season and it's given us all a chance to see what we need to work on…but more importantly, to see how far we have come! We couldn't be more proud of all the effort you've been putting in lately. It's paying off! Now… It's time to get back to our regularly scheduled programming and back on the grind! The end of the Open is a great chance to set some new goals and refocus your efforts in class. We have a great week ahead to do just that! Check out the announcements below and then what we have in store for you all this week…
Again, great job on the Open. We had some excellent teams and a lot of fun! As soon as we get all of the points tallied we will release your overall top three teams! We will likely do this with a small celebration and a little hang out so stay tuned!
Our next Bring a Friend Day is this coming Saturday, March 30 at 9 AM! DJ-LA will be there providing the best atmosphere for us as well! Don't miss it!
Remember our referral plan! If someone you referred to CrossFit signs up for a month to month membership you will receive 20% off of your next month. If someone you refer signs up for a six month membership you will receive 50% off your next month!
Be on the lookout for a Spring calendar of events in the near future! Let's take advantage of this warm weather to get together and have some fun as a community!
Remember to submit your 19.5 Open scores by 9pm Monday evening!
Monday: It's looking like a great start to the week! We have a fun little barbell cycling piece for you with some rowing mixed in there too. The clean and jerks are high rep but at a moderate weight. I would suggest pacing these out with some smooth/constant singles or small sets so that you can keep a strong pace on the rower. If the weather is nice then feel free to swap out the 1k row for an 800m run! Remember that Monday sets the tone for the whole week..let's get it!
Tuesday: Super cool set-up for you all today! This is like three little 3min AMRAPs in one…and you'll have only one min of rest between each! The key here will be to take these one at a time mentally and try to focus on going as quickly as you can through each. Trust your fitness to give you enough recovery in that one minute rest. There's no doubt that your heart rate will be up there on that last three minute AMRAP but that's what we want! Oh…and as far as movements…a little bit of everything..you'll have to show up to class to find out! 
Wednesday: Weightlifting Wednesday!! Love these days!  Awesome snatch complex for you all today. You'll especially love this one if you're a fan of the power snatch over the squat snatch. This complex is really going to focus on getting a strong pull from the floor and a good strong/high pull under the bar. Remember that the "power" snatch requires us to catch the bar above parallel. Knuckles down, chest up, keep that bar close, get a good contact at the hip then shrug and snap under that bar! Good stuff! 
Thursday: We have a nice "recovery" workout planned for today. This one will involve some good skill work including some Turkish get-ups! If you're sore from the week this can serve as a great active recovery piece. 
Friday: Great way to finish off the week and ring in the weekend with this 7 round workout! This one is full of rowing/biking, handstand push-ups, and power snatches! This is one you'll want to pace a little early on but build as the rounds increase. The rep scheme here is pretty small so transitions should be quick! 
Saturday: Bring a Friend Day! It's finally back! We took a little break during the Open but we are back to our regular schedule now! Remember that we will be having one of these every month (but only once a month) so make sure you take advantage of this opportunity to bring your friends and family that you've been wanting to introduce to CrossFit Simplicity! Of course it wouldn't be the same without DJ-LA so she'll be back with the sickest beats to get you and your friends up and motivated to crush it! Don't miss this one! 
Again, excellent work on the 2019 CrossFit Open! We can't state enough how proud we are of everyone's effort and commitment to giving it their all each and every week. Like I mentioned above, the Open is a great time to find out what we need to work on throughout the year but it's an even better time to celebrate the progress we have made and to showcase the results of all of our hard work. You all have done just that! Now…it's over!!! So let's celebrate by getting back to the normal programming and working towards those goals! We have a great Spring/Summer planned for you all with lost of fun activities and events so let's keep working hard and having fun! As soon as we get the scores tallied we'll have a little get together for an awards ceremony! Can't wait to see you all in class this week!
~Daniel