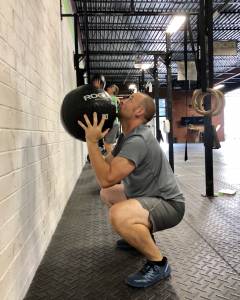 Hey guys,
        What an awesome week we've just had! The "Possible EMOMs" and "Benchmark Friday's" are going great and we hope you all are enjoying the change and the challenge…because it's back for another week! Hope everyone had a great weekend and is ready to hit this week hard and get him some solid work and some even better results. The programming this week offers us a lot of variance and some chances to really test ourselves mentally and physically. We also have an exciting weekend ahead with two fun events! The first is "Bring A Friend Day" with DJ-LA and then Sunday at 5pm we have a slow flow yoga class after open gym! It's shaping up to be an amazing week so check out the announcements below and then let's dive in…
"Bring A Friend Day" is THIS Saturday the 24th at 9am! As always we'll have the best music from DJ-LA and an awesome workout from your CFS coaches. This is an excellent chance to bring your friend or family member in to check out what Simplicity is all about! (And don't forget our referral discount!)
Slow Flow Yoga at the gym this Sunday, the 25th, at 5pm! This will be free for our Simplicity members and will be a great chance to get in some much needed recovery and a maybe some extra mobility in the process! Bring a mat (but we may have a couple extras…you can also scoop one at 5 below for…you guess it: $5)
Gymnastics skills class went great today! Thank you so much to coach Stewart for sharing his knowledge and expertise with us and to everyone who came out! This is a huge step in improving your movement and skills! Look for another one in Sept!
Monday: It's back! Another "Possible EMOM?" and it's a good one! This one will be wallballs and chest-to-bar pull-ups which will make it pretty easy to scale back if it's a little too much to handle. If you have your chest-to-bar pull-ups then this one could actually be pretty possible. I would suggest going unbroken on the wallballs and using the remaining time to get in a little bit of rest. If you don't have  great capacity on the pull-ups I would suggest breaking these up into two or three sets with a short rest inbetween. Ultimately look for the majority of your rest in your wallball minute. If this one does prove to be a little too much we can easily back off the number of reps until we reach a sustainable pace for each minute or we could lighten up the weight of the wallball or scale back the difficulty of the pull-up variation to a standard pull up or ring rows. Either way this is sure to be a good day!
Tuesday: We have a very cool workout for you guys today! This is sort of a "mirrored chipper" where the reps will increase from 10 to 50 reps and then run inversely on the second half of the workout back to 10 reps (10, 20, …50…20, 10). We have a great variety of movements in this one as well which will make it challenging but should also include at least one or two movements that are in your wheelhouse. But like any workout you want to kind of pick and choose where you are strong and focus your efforts there while trying to maintain a steady pace where you are weakest. The middle of this workout will get very aerobic and will include a lot of movements that will raise your heart rate so try to keep a steady pace and maintain consistent breathing. If you are a bodyweight ninja this workout may play more to you today but it does begin and end with some very heavy deadlifts! That's the beauty of CrossFit: there's always something that will highlight your strengths and something else that will humble you!
Wednesday: Hump Day! And this is a very fitting hump day workout… Because you'll feel like there are humps in your butt after all these walking lunges! All jokes aside, I'm not sure if anyone ever really gets used to doing walking lunges so I would definitely expect your buns to be a little bit sore on Thursday. Nevertheless, this is a great workout and one you definitely don't want to miss. This will be a four round piece with front rack walking lunges, double unders, and calories on the bike/rower. The saving grace here is that we will have a two minute rest in between each round so try to push the pace when it's time to go. The goal here will be to keep consistent times throughout all four rounds of under three minutes. Good luck!
Thursday: This will be a pretty interesting/different day for us. Will start out with some lifting focusing on the upper body and pressing strength and then switch over to an aerobic piece to finish off the day. The lifting will be push presses followed by single arm dumbbell strict presses which will really finish off the arms. Try to focus on quality reps here and get the most from the lifting. After this we will have a moderate aerobic piece with biking/rowing and running. It'll be your choice if you want to make this two rounds or just one…I'd go for two!
Friday: "Benchmark Friday!" This is an oldie goodie here! Taking it back to the very first year of the CrossFit Games Open! 2011 Open workout 11.3. This one is deceiving..it looks like a pretty easy piece and then you get through about one minute of it and realize you're in for a bit of a fight. This one is only 5 minutes of one squat clean (squat it!) and one jerk. The key here will be smooth and steady work. If you have the strength to do a thruster here that will be very beneficial but don't exhaust your shoulders. You can also do the old thruster jerk where you dip back under your bar at the top of the thruster. Either way try to focus on knocking out as much work as you can each minute and remember that after 5 minutes it'll all be over…besides a little heavy breathing and a whole lot of leg burn..
Saturday: "Bring A Friend Day" is back! These have just been epic! Ever since we got teamed up with DJ-LA our Bring A Friend Day's have been better than ever. This one will no doubt be the same and we can't wait! We'll have a great "first-time-friendly" workout programmed for your guest and a great atmosphere. Remember that we have a referral program so be sure to have your fiend mention your name of they get signed up!
      This summer has been awesome at Simplicity and we know this week will continue to be the same! I know it's hot around here but hang in there and cooler days are sure to come. We have been so impressed with everyone's efforts lately and the commitment to the gym and to giving solid effort in class. That's really the key to seeing results so keep it up! We have a lot to look forward to this week like excellent workouts, Bring A Friend Day, and Slow Flow Yoga! So get in here and let's have a great time! See you all in class…
~Daniel