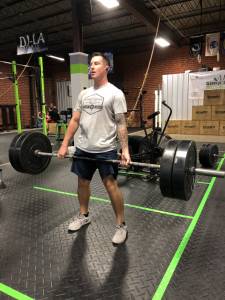 Hey guys,
       Time to start another week at Simplicity and find out what's going on at the gym! November has flown by wayyy too fast and this is our last week before December so let's make it a good one. We have a bit of an abbreviated schedule because of the Holiday but we are going to make sure we are open everyday so that you can still get in here and have the chance to stay on track with your workouts. (Check the announcements below for the changes.) This week has so really good pieces, including a tough one to kick off your Thanksgiving Day and combat some of those turkey day calories we are all sure to have throughout the day! So let's go ahead and dive right in and find out what we can look forward to at CFS this week…
Push/Pull for Pancreatic Cancer went great on Saturday! Thank you all so much for coming out and supporting this great cause. And great job on the workout!
Christmas Cheer! We have some great news this year: we have a local Christmas Cheer family to support as a gym! Basically how this works is that a family has submitted their Christmas needs (mainly for their children) to the Christmas Cheer organization and we have "adopted" that family. We will have a Christmas tree up in the gym with ornaments listing the needs of this family. Simply select the ornament(s) that you would like and then go out and purchase those items for the family and be sure to bring them back to the gym by December 15th at the latest. Look for more details in an email soon!
Canned Food Drive: The race between the AM and PM classes is getting tighter and tighter as the deadline approaches. I would say at last glance things are dead even. This will be our last full week to bring in canned food items to support your crew and our local community so get after it!
CFS Christmas Party: our Christmas party is just two weeks away so get excited! December 7th at 6pm we will have our annual celebration at the gym and we hope you all can make it! Be sourcing those ugly sweaters and come ready for some fun and fellowship!
Monday: We are kicking off your week with a short little burner! This one is only 6 minutes long you so better come ready to push the pace. This one is all rope climbs and hang squat cleans so wear your long socks/pants if needed. The reps are very short here so keep transitions fast and try to hold on the entire 6 minutes! The weight is a touch on the heavy side but should be something you can do unbroken (3 reps). After this we will have a cool little odd object carry piece to finish off the day!
Tuesday: We have a long one for you guys today so be ready to settle in on that rower! We are also going to throw out a partner option for you guys as well today to make this one a little more fun! This will be a row/clean and jerk ladder where the row distance increases and the clean and jerks decrease (but increase in weight). This one is going to take the vast majority of class so try to get here on time today and be ready to get focused and get right to it. We won't be able to wait too long to start the clock on this one because you want to give everyone time to complete the workout if possible! Because this one is in the 40 minute window it's important to start out at a smooth steady pace and try to maintain this throughout the entire work out rather than sprinting out of the gate. Settle in and have fun!
Wednesday: Weightlifting Wednesday! (The best days!) We have the back squat lined up for you guys too so you definitely want to be there! This will be a pretty high volume (lots of reps) squat session so get nice and warmed up at the beginning of class. We'll start with a big set of ten and then decrease by 2 reps each set until we reach a heavy double. Don't except to PR your two rep max. That is absolutely not the goal today. We want all the sets to be challenging working sets but with hopefully no failures. Remember to stay upright and as ALWAYS focus on form and depth over weight on the bar! Good stuff!
Thursday: Happy Thanksgiving! We hope you'll all be able to make our two classes today before you head off to your big Thanksgiving feasts! We will have one class at 7am for those of you who need to hit the road early and one class at 9am. We'll run "Thanksgiving with The Girls" again this year which is an awesome workout that incorporates many of our favorite/famous CrossFit benchmark girl workouts! A perfect way to start the day!
Friday: No formal classes today but we will have Open Gym hours from 10am-12pm today and we hope you'll stop by to get a little work in! We'll likely write up a little something optional on the board for those of you who might want a little inspiration!
Saturday: Partner workout day! These never get old! We have a really good one today that will really test your shoulders, your barbell cycling, and as always… Your lungs! This one will mix and hang power snatch is, handstand push-ups, and a little bit of running. The reps are descending here so this will help you out with your pacing and mentally in general. You break up the work however you would like for both partners will run at the same time today. Really have fun with this one and remember to always speak up and encourage/motivate your partner!
      This is going to be an amazing week to finish off the month of November! We have some really great workouts and a Holiday! Thanksgiving is the perfect time to reflect on all the things we have to be thankful for each and every day. And what's more obvious than the opportunity and physical ability to walk into a gym and workout! There are lots of people without the ability or mobility to get into a gym and get in a workout. So don't take it for granted. The days you don't feel motivated just be thankful that you can walk in here and it'll turn your whole perspective around! Not let's get in here and stay consistent through this Holiday week and have some fun!
~Daniel