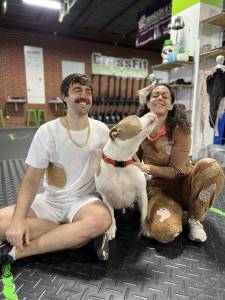 Hey guys,
       Sunday Funday is here! Time for the CrossFit Simplicity Weekly Rundown. In keeping with last week's theme we will be brief and to the point! We are rolling into week two of our shrink cycle and we have a cool Flintstones theme for you guys this week… Let's dive in and check it out.
Fall Gear: Hoodies are in! These were pre-orders so if you ordered one make sure you come by the gym and pick it up from a coach. When these are gone I will send out an email about extras! T-shirts are $25 and our first come first serve. Make sure you write your name on the list when you grab one!
Weightlifting: Week 2 (Oct 31st)
Tuesday: Hang Squat Clean: Establish a 3 RM for the day, Clean Deadlift 3×3 @90%
Thursday: Back Squat: Establish an 8 RM for the day. Then, perform a drop set of 6-8 reps at 85-90% and then 6-8 reps 80-85% of that 8RM.
Friday: Shoulder Press: Establish an 8 RM for the day. Then, perform a drop set of 6-8 reps at 85-90% and then 6-8 reps 80-85% of that 8RM.
Accessory: 3 sets,14 Barbell Front Rack Step Ups (7/7)
Workouts:
October is coming to a close, and for Halloween, on Monday, we have costume friendly workout that is all bodyweight to help for large classes. For Tuesday, we got a light posterior chain wrecker that will shock the lower body. Wednesday's workout turns into a multiple-set, high intensity where we want speed and repeatable performances. Then we arrive on Thursday for the workout I'm most excited about. Can you beat Froning? This is supposed to be a lights-out work out where we want a solid 1x push for the day. Friday is another solid partner workout where strategy, transitions, turnover, and maintaining a non-stop effort will be key.
– We will take a breather from the gymnastics skill next week. We will start a new progression beginning November 7th for strict pull-ups.
     That's all she wrote folks! You guys are killing it so keep up the good work and the consistency as we roll into November! We have some really great workouts this week so do your best to show up with a great attitude and ready to put in some work. Now enjoy what's left of your weekend and get plenty of rest, relaxation, and recovery so we can hit it hard this week. See you all in class!
~Daniel