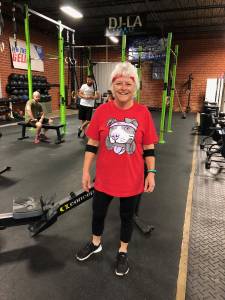 Hey guys,
       It's Sunday and the moment you've all been waiting for…time for the launch of this week's Rundown! We have an awesome week ahead for you guys and remember that we are capping it off with a "Bring A Friend Day" this Saturday at 9am! It's been a while since we've had one of these because of all this covid craziness so hopefully you have a couple people in mind that have just been itching to come out and see what CrossFit Simplicity is all about. I want to take a brief minute to just virtually pat each and everyone of you guys on the back. Attendance, performance, and just overall attitude in the gym has just been amazing lately and that's all because of you guys. Let's stay consistent and strong as we head into this next week!
Bring A Friend Day: THIS Saturday at 9am! DJ-LA will be in the house dropping all the songs that get your blood pumping and your energy high! These days are the perfect opportunity to invite a friend or family member and introduce them to you're CrossFit Simplicity community. As always we will have a good "first time friendly" workout that will be appropriate matter what your skill level or ability may be. We hope to see you all there!
Google Reviews:

 

just want to take a brief moment to thank you guys as some of you have been leaving us some awesome Google reviews online lately. These are actually extremely helpful as people are getting out and about and searching for a new place to work on their fitness! If you haven't done one of these but you'd like to drop us five stars and a word or two simply Google the gym and scroll down to reviews!
Monday: It's the first day of the rest of your week…how are you going to start it off? You guys know how important it is to get in here and have a big day on Monday so we set the tone for the rest of the week. We have a great workout for you guys today that's going to really get you moving. We have a mix of deadlifts, bar facing burpees, and running! This one will get a little tough so pace things out early on. We'll be doing a descending rep scheme here so that should help you both mentally and physically as you work through this one. As always, try to build in intensity throughout and finish strong! Good stuff!
Tuesday: Hero day! This one is going to burn a bit…"DT" is on the menu today! This is one we have done in the past a couple times so if you remember it please show up! Ok, ok, all jokes aside; this is a great workout and one that's perfect to retest right now as it's been a while. DT is all barbell: 12 deadlifts, 9 hang power cleans, and 6 push jerks all at (155/105). This workout is supposed to be fast and super intense. We are looking for times under 7 minutes if possible so please scale the weight as needed! One of the best ways to approach this one is 11 deadlifts, quick rest, then take that 12th deadlift into your first hang power clean and just hold on from there and try to knock out all the rest of the reps! Let's really attack this one today!
Wednesday: We have a big day today! We are going to get into some lifting AND a metcon! First we'll open things up with a front squat. You will have exactly 15 minutes to establish a heavy triple for the day. The time domain is part of the stimulus so there will be no extra reps after that 15 minutes so manage your time wisely and make smart jumps! After this we will revisit a piece we've actually hit before. This is a chipper with pull-ups, box jump overs, and air squats! We will have a hard cap for this piece of 18 minutes. Whatever reps you have remaining will be counted as seconds on the end of your time. Overall this is going to be a great day with lots of work so show up to class ready to get after it!
Thursday: You Know! Aerobic Capacity today…and to stick with the theme of retesting: Fortitude! Ok now, don't get mad at me. You all know this is a solid piece and the epitome of aerobic capacity! Remember that this will be a 30 minute EMOM workout where we will alternate back-and-forth between 15/13 calories on the rower and 15 burpees. Obviously this is an extremely challenging workout and one that RX athletes will struggle with so we will have a couple different scaled variations that will still give you the same stimulus and end result. Remember that it's not about clicking "RX", it's about getting that desired stimulus. For some people that may mean 15 burpees, for someone else that may mean 10. You do you!
Friday: Heavy Day! That's right, we have a little weightlifting to round out the week for you guys. Today we will be focused on the squat clean. If you have trouble receiving the bar in the bottom position of your front squat then I would focus heavily on practicing this today. If you never spend the time to get comfortable in that position you'll never be able to progress past where you are weight wise. We will be working on a double today so expect weights to be a touch lower than if we were doing a one rep max. Remember as always to get a good contact off your thigh, shrug and pull hard with some fast elbows, and then make sure you keep those elbows high in that receiving position in the bottom of your squat. Have fun with this today and let's see if we can move some weight!
Saturday: Bring A Friend Day! We cannot wait to get you guys all in here for our first Bring A Friend Day since we reopened in June. Be sure to spread the word to your friends and family because we have a great class and a great atmosphere planned for you guys today! As always, it wouldn't be a bring a friend day event without the amazing and super talented DJ-LA in the house setting the mood for us!  Be there!
     Things are shaping up to be terrific at CrossFit Simplicity this week! We've got some really great workouts and you could even argue two heavy days. You all have been really crushing it lately and the vibe is strong in here. It's so amazing to be in here with everyone day in and day out and feel such a strong sense of community and togetherness. Let's keep the encouragement, keep being consistent, and have another amazing week. See you all in class!
Best,
~Daniel