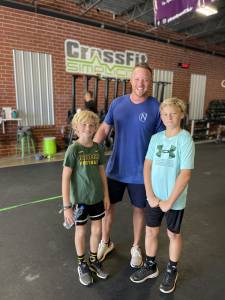 Hey guys,
       You already know it's time for another beautiful Sunday in Burlington North Carolina and this week's edition of the CrossFit Simplicity Weekly Rundown! First off, great job last week. Attendance was phenomenal and you guys put in some really good work in both our strength cycle and our conditioning pieces so let's keep it up this week. We are going into week four of our strength cycle and the percentages will be going up a little bit but the reps will be going down as things get heavier. We also have a fun throwback music theme that some of you guys, myself included, will really enjoy. Last but certainly not least, we are going to The week off with our next Bring A Friend Day this Saturday at 9 AM! It's going to be an amazing week so let's dive in!
Bring A Friend Day: We are excited to announce our next Bring A Friend Day event THIS Saturday, August 21st, at 9am! Our resident DJ, DJ-LA will be in the house setting the mood for some high energy fun and fitness! Invite your friends and let's have a great time working out and enjoying each other's company!
Monday: We are kicking Monday off with some deadlifts! As I mentioned above the percentages will be a little higher this week. We will have six sets of two reps at 85% of your one rep max. Make sure you focus on maintaining a tight core and driving through the floor as you lift the bar. After this we have a awesome little chipper called, "What I Like About You." This one is going to be one round of 250 double unders and 50 double dumbbell thrusters. The stimulus is moderate to high intensity today. You only have two movements but you should strategize your work/rest to avoid burning out. These sets should be quick and fast with intentional rest throughout the work out…Especially the double unders. For the double dumbbell thrusters make sure you pick a way that allows you to perform sets of 8 to 12 reps at a time. Also remember that we need these thrusters to go below parallel in the squat so be virtuous and get some good work in!
Tuesday: Floor press is back this Tuesday and we are bumping up the weight. This is the one movement we are not giving you guys percentages but you will have six sets of for reps so we want to see a weight increase from last week. After this we are hitting, "Twist and Shout!" This one is going to be 21-15-9 of clean and jerks, pull ups, and GHD's/sit ups. Intensity today will be moderate and we want you guys to work at a steady pace across all movements throughout the work out. The gymnastic movements will fly by but you'll have to grind through the barbell! Make sure you select a weight on the clean and jerk that will allow you to complete 5 to 8 reps touch and go when fresh, but you are welcome to use smaller sets or even fast singles during the workout. The barbell work and pull ups will definitely result in some heavy grip fatigue so make sure you're conservative in the way you approach your sets. If your grip goes then quickly revert to small quick sets on your pull ups so that you're ready for the next round. Easy day!
Wednesday: Weightlifting Wednesday is made complete today with the presence of back squats! Like Monday we will be doing six sets of two reps at 85% of your one rep max. You'll see that these are heavy so make sure you maintain a solid bottom position and stay upright throughout your entire range of motion. We will move from this into something a little more aerobic with, "Some Kind of Wonderful." This one is going to be seven sets, one every 3 minutes, of a 12/10 cal row, 12 Toes to Bar, and 12 Burpees. This is going to be a pretty high intensity piece. You guys are working in the smaller rep range today meaning that you can really push the pace across rounds. You will have a three minute window to complete your work but we want sets to take about two minutes so that you have a minute of rest before your next round. You need to stay moving on this one and really send it and then trust your fitness that you'll be recovered for the next round. Think about rowing at around 80% of your capacity and then jumping up on the bar and performing your toes to bar in 1 to 2 quick sets each round. After that hit the burpees and you're home free…until the next round!
Thursday: Partner workout! First we are going to knock out some shoulder presses in the same fashion we did for our deadlifts and our back squats. Then on to the fun! I love these mid week partner workouts and we know you guys do as well. "We are Family" is going to be three sets of calories on the assault bike, synchronized hand release push-ups, and squat cleans! This will be a moderate to high intensity piece where teams must communicate to find a pace that works for both partners across rounds and does not result in one partner being buried while trying to keep up. This is very important so go back and read that again! Teamwork! After each set you have a two minute rest to regroup and go again. This workout will be performed with only one partner working at a time and you may split reps between partners however you would like. Have fun with this when I really send it!
Friday: We have a fun little workout called "Brown Eyed Girl" to kick off your weekend! This one's going to be a mixture of running, box jump overs, squat snatches, and muscle ups/burpee pull ups.   The layout is a little hard to explain here but it'll make sense when you read it in Wodify. It's basically a pyramid of movements where as the movement gets more complicated the reps decrease. But each movement is anchored by a 200 m run. Today is really a lot of grunt work. You you want to try to hold a steady 75% effort across all the movements without trying to push your limits. Coming out too hot will result in early burn out and over resting whereas starting smooth and steady for the first few movements and then ramping it up will be a more manageable strategy! Oh yea…keep your squat snatch weight light..think less than 60%. You should be able to hit 5+ touch and go reps or fast singles. Good stuff!
Saturday: Bring A Friend Day! We are super excited for this Bring A Friend Day  so make sure you spread the word let's have a blast together this Saturday at 9 AM! Remember this is a first time friendly workout design for all skill levels and abilities so everyone is welcome!
      Well, that's all she wrote…he wrote? You get the point! It's obviously going to be another awesome week here at CrossFit simplicity and we are so thankful for all of you guys that make this community what it is today. Remember to keep getting in here and staying consistent so that we can realize the results we are looking for in the gym. Now enjoy the rest of your weekend and get plenty of rest and relaxation so that we can hit it hard on Monday. See you all in class!
~Daniel