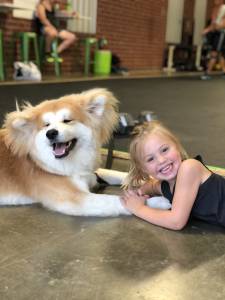 Hey guys,
     It's finally that time where we start  looking ahead and gearing up for the next week. I'm super excited for this Rundown, and for this week in general, as this marks a new change for CrossFit Simplicity. A change that we believe is going to produce lots of great results for you guys and help you reach your goals. As some of you guys have seen in our YouTube video we are going to be switching programs here at the gym and will now be following Mayham programming from Rich Froning's gym in Tennessee. We have been testing this out and have been thrilled with the results and all of the awesome backend information offered and value added. We know you guys will benefit greatly from this change and will be just as excited! That being said, we should have plenty of motivation heading into this week so let's check out some announcements below and then dive right in!
Bring A Friend Day: Thank you guys so much for making this past Bring A Friend day super special and an awesome experience for all of us. Also special thanks to DJ-LA for the amazing music and atmosphere she creates at all her events!
Diapers: I just wanted to say a personal thank you really quick to everyone who brought diapers on Saturday. That was very unexpected and greatly appreciated! This community means so much to me and it's awesome to feel the love from you guys. Carlie and I are super appreciative! (BTW: baby Eleanor was born this morning around 8am and mother and baby are both happy and healthy!)
Revival Class: Please don't forget our free Revival CrossFit class on Sundays for those struggling with addiction in the past, present, or those who are supporters of those in addiction/recovery! We would love to have you there! 11 AM at CrossFit Simplicity!
Monday: da da da da da da da da BATMAN, BATMAN! (Who remembers that one?) Obviously "Batman" is the workout today and it's legit! This is going to be a great way to start off the week and our new programming. This is a fun interval piece where we'll be doing some sprint rounds of bar muscle ups and squats snatches. If you don't have your bar muscle ups, don't sweat it, we can always go to chest-to-bar pull-ups or regular pull-ups if needed. The focus today will be on high intensity rounds and you'll have a good rest in between each one to recover. This is a great mixture of gymnastic and barbell work so expect to learn and grow today. The rounds are short so stay moving and make sure that you scale to a variation that allows you to complete all your reps without much rest or break between any certain movement. After this we will spend a little bit of time working some snatch accessory work to round out class!
Tuesday: Is there a theme this week you ask? Well, today's workout is "Alfred Pennyworth." So…yes! This one is really cool today and will be super challenging as well! It's almost two identical workouts except the second one decreases the reps but increases the weight! So we'll be doing 27-21-15-9 calories and hang power cleans…take a 1:1 rest..and then hit the same piece except with 21-15-9-3 on the hang power cleans and a heavier bar! The 1:1 rest means that you will rest the amount of time it took you to finish the first workout before you start the second. This means you're going to get a considerable rest so you should be pushing things hard and looking for a relatively similar time on the second piece. Remember that although the weight is heavier there are less power cleans than the first workout. This will really test your grit and we expect to see lots of push and good effort on this one!
Wednesday: Today is no joke! It is "The Joker" but there's nothing funny about this workout…it's going to be a grind for sure! Lots of single alarm overhead walking lunges in this one, tons of core work, plenty of pull-ups, and enough lateral burpees over the DB to go around. This is going to be on the longer side so you want to settle in for this one today. Much like yesterday we are going to have a two part workout where you will have some rest in between. That means you can really push the pace on part one and part two. Each part will be very similar except your pull-up variation will go from kipping to strict on the second round. Remember to push your shoulder into your ear and keep your joints stacked nice and tight overhead on those single arm overhead walking lunges so that you have the most stability possible. Also be sure to reach full extension at the top of each launch step and no stutter stepping. Try to keep a steady pace and let's knock this one out today! If we have time after this workout we will be knocking out some five rep push presses to get in a little bit of strength work!
Thursday: This is our last Aerobic Thursday retest day! Today's domain is cardiac output. Remember this just been steady state work where we don't get too out of control but we maintain some good movement in that longer 40+ minute window. If you'll remember back to June 18th you'll see 10 minute work windows filled with running, rowing, box jumps, and burpees! Have fun with this one today and just remember to work smooth and efficiently on each movement and you'll get the correct stimulus today. Easy day!
Friday: We have a great workout for you guys today and I think another testament to this programming. It's always important to find a way to keep moving and working out but we also have to be mindful that we allow our body to recover. We can't go max effort for time every single day. So today we have an EMOM that will allow us to still get in some great skill work, strength work, conditioning, but also a little bit of controlled recovery. This one is "The Dark Knight" and it's a 30 minute EMOM. Minute one we will row 200m, minute two we will have three high box jumps, and minute three we will have three heavy power cleans. We want the Backstrom hard to be challenging but not so much that you hesitate a long time for every jump. The power clean should be about 75% of your one rep max. This workout should keep us moving but not overly fatigued our bodies so make sure you're able to knock out each part in about 30 to 40 seconds. After this one we will have some muscle up/gymnastic skill work to round out the day!
Saturday: Weightlifting…on a Saturday?! Wha, wha?! That's right! We're going to kick things off with some heavy doubles on the front squat and then dive right into a partner workout called, "The Riddler." This one consists of wallballs, double unders, and a moderately heavy thruster! This one is certainly going to get the legs burning after those front squats so rely on your partner for a little bit of rest, push hard on this one, and let's have a great Saturday!
      Well that's quite the Rundown we have this week… But then again, this is going to be quite the week! We are so excited to get in here with you guys and kick things off with a brand new week and a brand new program! Make sure you guys get in here as consistently as possible this week as we begin this new program and pay close attention to your coaches as they are going over the workouts so that you can get the most out of each and every day. Remember to always focus on scaling the workout to preserve the desired stimulus and this will lead to the fastest path to Rx'ing these in the future. Let's come in here this week with a positive attitude and a big work ethic and really knock things out. See you all in class!
~Daniel