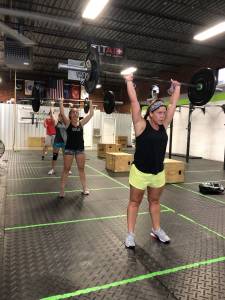 Hey guys,
       Sunday, Sunday, Sunday…It's time for the latest Weekly Rundown drop from CrossFit Simplicity! It's going to be an epic week at the gym as always but it's also pretty special because we will be wrapping up the month of June and kicking off July with some great workouts. We also have a really fun animated movie theme that will take some of you guys back in time! You all have been really crushing this latest strength cycle and this will be kicking off week seven of our eight week cycle. Stay focused on your coaches as they are going over these list before class and let's continue to strive for quality in our lives and movements as we wrap things up and look for some PR's! Now, without further ado let's dive into some announcements and then see what we have in store this week…
MS Strong: Our very own Tiffany Light is hosting an event right here at CFS to raise money and awareness for MS! This is going to be a fun CrossFit event Saturday, July 24th at 9 AM! This event is for all levels of fitness so invite your friends! It's $25 to register and all of the proceeds go to the MS Run Organization! (Oh yea…and DJ-LA will be here!)
We will be closed Sunday, July 4th for the holiday but we hope you guys will join us Saturday, July 3rd for a fun patriotic partner workout! Feel free to wear all of your red, white, and blue!
Monday: We are jumping right into the week with "The Iron Giant." This classic movie will tug on your heartstrings…this workout might just hit your heart a little differently. Either way there's going to be some water works! You will have four sets, one set every five minutes, of some single arm dumbbell overhead walking lunges, bar muscle ups or burpee chest-to-bar pull ups, and then more single arm dumbbell overhead walking lunges. We are looking for some moderate to high intensity here. You need to find a balance between intensity and recovery time. The goal is to achieve similar round times and avoid burning out on an early set. We want you guys to get roughly a minute to a minute and a half rest between each set. You're going to need to make sure you pick a dumbbell weight that you can confidently hold overhead for the entirety of the 50 foot lunge. If you are unable to maintain the overhead stability or mobility then you may bring the dumbbell down to the shoulder for the lunge. After this we have a nice little snatch complex consisting of a snatch pull, a high pull (from the hip), and then a full snatch from the floor. We are going to be working off some rough percentages here so focus on staying nice and upright in those pulls and quick foot work under the bar. Easy day!
Tuesday: I absolutely love this workout we have for today. At least it certainly "reads" well! "The Pagemaster" is going to be a 15 minute AMRAP of row calories, burpees over the bar, deadlifts, and double unders. We are looking for about three rounds here so find a steady pace for all the movements and attempt to maintain that across the 15 minutes. We want to really stress the importance of just moving today. It doesn't have to be fast but just keep the wheels turning to matter what! Also remember that these are burpees over the bar…not bar facing, so you can stay lateral to the bar which would be recommended! The weight on your dead lift should be around 50 to 55% of your one rep max. This should be something you consider moderate and able to perform 15 reps unbroken if asked to do so fresh. After we wrap up we will be hitting a clean complex. You will begin with one clean deadlift to mid thigh, one squat clean, and then one jerk. We are looking to work in some heavier percentage ranges today so stay tight and make sure you are making some good contact at the thigh and getting a big pull. Stay nice and upright in your jerk dip and get a big leg drive. Have fun going heavy today!
Wednesday: "James and the Giant Peach" is on the menu for you all today. This is going to be a fun little three round piece consisting of some wallballs, GHD sit ups, and hang power cleans. There is a tight cap on this one and we want the intensity to be high. The reps are in a range that should allow you to push the pace a bit and aim to finish each movement unbroken or in two sets. You need to really focus heavily on your breathing during the wallballs and GHD's to keep yourself moving and ready for the hang power cleans. This one is short and sweet so attack it today! When we finish up with the conditioning we'll be bringing back the front squat, back squat, goblet squat complex. Today you will have two front squats, two back squats, and then 10 goblet squats. We want to flow directly from squat variation to squat variation with no major pause or break. We are going to be doing five sets of this complex so volume is going to be pretty heavy today. Hang in there and let's focus on growing those legs and getting stronger! Good stuff!
Thursday: These Thursday partner workouts are beginning to come routine and we love it! "We're Back! A Dinosaur's Story" is going to be an intense workout of calories on the bike and dumbbell step ups. We have some relatively low reps today considering you will be splitting these with a partner so we want you guys to stay moving well. Partners can split reps as needed across the workout and should find a rep scheme that will keep intensity high and transitions fast. This workout is designed to be lower body taxing so make sure the weight you use and the height on the box are doable for consistent sets. We don't want a lot of standing around today! Next we have some fun hang snatch waves. We want these to be completed from a hang right above the knee. Don't go below the knee today. Also note that these are not power snatches so you need to be pulling fully under the bar into a squat snatch position if your mobility allows it. Pay attention to the percentages today and let's try to focus on consistency and no misses!
Friday: This is definitely a classic and one of my favorites as far as animated movies go…as far as workouts go, I'm not so sure you guys will feel the same. You will be feeling something in the heart, lungs, legs, and shoulders though! "The Rescuers Down Under" is going to be three sets…each consisting of two rounds…of thrusters and chest to bar pull-ups. Just so that's not confusing I'll try to reword it. One set of this workout is going to be two rounds of thrusters and chest to bar pull-ups. You will have three sets total. You will get a two minute rest in between each set. This one is going to be tough today. There will be a two minute cap on each set which means you really need to be honest with yourself about your capacity for thrusters and chest to bar pull-ups and scale if necessary so that you can get the desired stimulus and finish all of the reps on each set. We are looking to attack these movements with unbroken sets! Even though this workout might suck a little bit it will be over quickly and we will be moving on to some really fun power clean and push jerk waves. Like our snatch waves earlier in the week these will be based off of moderate percentages and the focus should be on proper form and position throughout the lifts. Have fun with these and blow off a little steam after that thruster piece!
Saturday: This will be our last day this week as we will be closed Sunday the 4th for the July 4th holiday. We are going to have a fun patriotic partner workout for you guys today so show up wearing all your red white and blue and let's celebrate our independence and this great nation!
       Th-th-th-that's all folks! It's looking like it's going to be an awesome week here at the gym…but what's new?! I always love when we can wrap up a great month and begin another one in the same week. Attitudes, motivation, and results have been amazing around here lately and we want to keep that alive as we finish up June and head into July! We have a lot of cool things coming up in the month of July so be sure to pay attention to the announcements as well as your coaches at the whiteboard. Lastly I just want to say great job to everyone for all of your hard work and consistency! You guys are something truly special and I know I speak for all the coaches when I say it really is a privilege to get to come in here and work with you guys every single day! Now enjoy what's left of your weekend and get plenty of rest and recovery. See you all in class!
~Daniel