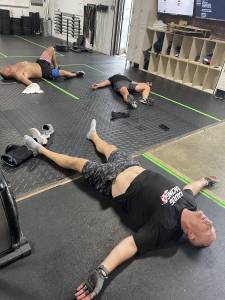 Hey guys,
      We are having a beautiful Memorial Day weekend here in Burlington North Carolina and it's time for the CrossFit Simplicity Weekly Rundown! What an awesome time to reflect on all the freedoms we enjoy here in America and all of the men and women who sacrificed their lives to make this possible. We are truly grateful! We have a great week ahead for you guys and we are kicking things off with our Memorial Day Murph Monday morning! Remember that this is our last week on a break from a strength cycle before we start our eight week cycle on June 6th. Now let's jump in and see what we have coming up…
Memorial Day Murph: We will be having two Murphy eats this year. One at 7 AM and one at 8:30 AM to try and beat the heat! I will be releasing a link this week where you guys can sign up. There will be a $15 drop in fee for anyone outside the gym that would like to participate with us just due to space and availability. Also we highly recommend you guys bring your own face or hand towel to the gym where you can wet it and then throw it in the refrigerator so you'll have a nice cold wet towel when you are done!
Strength Cycle: Our next lifting cycle will begin June 6th. This is going to be more of a strength-based cycle where we will focus on front squats, benchpress, and deadlifts! We have ordered a few new benches so this will be a fun cycle for us.
Monday: Happy Memorial Day. Again special thanks to all the men and women who have sacrificed and giving their lives for our freedom. We hit this workout today in remembrance of them. You guys have been prepping for this for weeks now so you should be excited and ready! Be safe and have fun!
Tuesday: We had a 15 minute workout today that's going to consist of rowing, skiing, and biking. Because of equipment we are going to get a little creative with this today so just listen to your coaches. This is also not gonna be a very demanding piece on your body so it should allow us some recovery from Murph on Monday. After this we are going to have a little bit of posterior chain accessory work to finish things off.
Wednesday: We have a tough little 5 set piece for you all today. Each set consists of 20 alternating dumbbell snatches, 10 burpees over the dumbbell, and 20 toes to bar. You will have a two minute rest between each set. The goal today is moderate intensity and staying consistent. Find a pace that you can maintain across each set. Toes to bar can be a problem here because this is a lot of volume so be sure you scale things back accordingly. You need to at least be able to consistently perform five reps at a time unbroken if you're going to try them in the workout today. after this we are going to get a bit of an upper body pump in our accessory work. This should be a lot of fun so stick around for the last part of class.
Thursday: Similar to Wednesday we will have a five set workout today. This time you will have a set every four minutes. Each set will consist of 50 double unders, four moderately heavy power cleans, and then another set of 50 double unders. We are looking to knock out a set in about two minutes so stay moving. The intensity is going to be high today. You need to sprint on the double unders to earn time on the cleans. This workout needs to be aggressive and hit with the intent to stay consistent on all your sets. This means you may need to scale back the doubles if necessary. We will also have some accessory work to finish out the day. This will be a little bit of tricep work and some hips!
Friday: We have a fun partner workout for you guys today. This is going to be a sort of pyramid scheme where you will run through each movement on the way down and back up. Movement order will be back squats, box jump overs, strict handstand push-ups, box jump overs, and then finally ending again with back squats. You may split reps however you would like with your partner. The stimulus for today's workout is steady. You need to make sure that you pace on the first half so that you can push hard through the second half. Try to be nice and smooth through these movements. Shoulders will be burning and legs on fire for this one!
Saturday: Partner day, as always! This one's going to be tons of walking lunges and kettlebell swings! The walking lunges will stay the same distance every round but the kettlebell swings will decrease by 20 reps each round. You guys may break up the kettlebell swings however you would like but the walking lunges must be completed together. This is a simple piece but it will be effective, so just have fun and encourage your partner!
       Well that's all we've got today guys! Again I hope you all are enjoying your Memorial Day weekend. Definitely take time to pause and reflect on this holiday and the massive implications behind it. It's so important that the regularity and monotony of holidays does not take away or distract from their original meaning and why we celebrate them. I think this is very important. You guys have been crushing it in the gym lately so keep it up! I feel like we are really gaining some traction and momentum this year, and effort in the gym has been phenomenal! Now enjoy the rest of your weekend and get plenty of rest and relaxation so we can hit Murph hard on Monday. See you there!
~Daniel