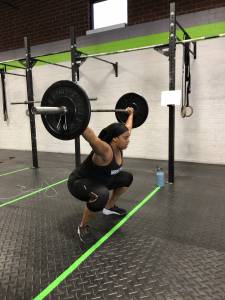 Hey guys,
      It's time to rock and roll with another week here at CrossFit Simplicity! That means it's time for another CFS Weekly Rundown to give us a little preview on what all we have in store. So far you guys have been absolutely crushing this new programming and we have already seen tons of PR's and lots of success. With any programming or routine remember that it's always important to stay consistent and show up every day looking to give out your best effort. We have some really cool workouts this week with a Game of Thrones theme that should keep things very interesting…and challenging! Be sure to check out a few important announcements below and then let's dive in to the week ahead!
Revival Class: Free class with Coach Hodge every Sunday at 11am for anyone in addiction recovery!
Gymnastics Skills Class: FREE gymnastics skills workshop with Stewart at CFS on Sunday Oct 4th from 3-5pm! Come work on those skills that may be holding you back in class!
Bring A Friend Day: These have been nothing short of amazing lately with tons of high energy and great workouts. Our next event will be October 10th at 9am so go ahead and mark your calendars for a good time with DJ-LA and your CFS family!
New Gear: it's starting to cool off and we want to get some new cold-weather gear here for you guys. Look for an email this week so we can get your opinion on what you'd like!
Monday: Our first workout this week will be, "Game of Thrones." This one is going to be a three-part workout where each round the reps decrease and the weight increases. The movement today will be a squat clean and jerk…emphasis on the squat! This means that in the lighter rounds it may be better to perform a cluster rather than a squat clean plus a jerk for each rep. Per usual there will be a time cap for each segment so that everyone gets a guaranteed rest before the next segment begins. Part one will be 30 reps at (95/65), followed by part two of 20 reps at (135/95), and finally by part three of 10 reps at (165/115). The goal will be to finish up each of these segments in under five minutes! When it's time to go you've got to go today! Make sure these weights are something you can confidently perform even under high stress and a high heart rate. (Remember that Simplicity members are virtuous about their form and depth! Work on making this a priority!)
Tuesday: Winter is coming…I mean it is…but also that's today's workout! And what's even cooler…today is a partner workout! That's right, mid-week partner workout. This one is going to be challenging, different, and a lot of fun. We are going to introduce a new movement that we've never done here at CrossFit Simplicity. You and your partner will alternate full rounds of calories on the rower/bike (or a run) and then 5 burpee box "get overs." Don't confuse these with box "jump" overs. The box will be too high for that today. You'll have to put your hands on the box and then hoist yourself up and over the other side like climbing on a low wall. The men's height will be 48 inches and women's 40 inches! This is going to be really fun workout today and will allow you to really push yourself because you'll be resting while your partner completes a full round. Try your best and have fun with this one today!
Wednesday: Hump day! We have a really gymnastic day for you guys with this one. You're going to have an initial couplet of double unders and toes to bar that will be three rounds long. After this we will have a rest followed by another couplet of double unders and bar muscle ups that will also be three rounds. The double under reps decrease in the second couplet as do the number of bar muscle ups. If you don't have your bar muscle up yet that's no problem at all, we can always go to a chest to bar or another pulling variation. This one is certainly going to get a little bit grippy so be sure to break things up early if possible. We want the intensity to be high on this one so make sure you pick a number of double unders that you can complete in 1 to 2 sets across all rounds and stay moving. Be sure you don't come out too hot on the toes to bar and blow your grip up early. I would suggest breaking these up sooner rather than later just in case.  After this workout we are going to be hitting the rack for some shoulder press to finish out the day!
Thursday: We have a cool little aerobic piece for you guys today that will keep you moving but also won't be too hard on the body. The idea today is not to go full send, but rather just to keep a good steady working pace throughout the entire workout. We will be alternating between three movements, one each minute, followed by rest minute. Your movements will be row/bike calories, running, and burpees. You want to try to establish a goal number of reps for each minute and then try to maintain that across all your rounds. We are not going to put a huge emphasis on scoring today so that you guys can focus more on a good consistent working pace and building that aerobic capacity.
Friday: Benchmark day? Not quite, but this is a spin on an old familiar CrossFit benchmark workout: Helen. Today will be a pyramid double Helen. This means that in total when the workout is over you will have completed the same amount of work as two Helens. However the rep scheme will be designed in a pyramid. Meaning your first round will be technically three rounds of Helen, your second round will be technically two rounds of Helen, and your final round will be one traditional round of Helen. A normal Helen round is a 400m run, 21 kettlebell swings, and 12 pull-ups. So as you can image, that amount times 6 is going to get spicy! Listen to your coaches today and really scale this down so that you can hit that target time of around 20 minutes. We will give you guys a couple variations that back off the running and the pull-ups a little bit but we encourage you to keep the kettlebell swings the same or potentially just drop the weight. This will be our second kind of grippy workout this week so be sure you don't tax those forearms too hard in your early rounds. Also make sure you don't treat the runs as too much of a rest. This can be very tempting sometimes but try to make sure we stay moving at a strong pace as this will certainly help your time!
Saturday: "Ice and Fire" is on the menu today for your Saturday partner workout. For this workout you'll be alternating movements with your partner but completing them at the same time. Your movements will be calories or running alternated by handstand push-ups for part one and power snatches for part two. This means that during part one while you are doing handstand push-ups your partner is rowing, biking, or running and then you guys will switch. Part two will be the same but we will swap out the handstand push-ups for power snatches. Although you don't get as much rest as a typical partner workout you will have a rest for both of you guys between part one and part two which will allow you to push the pace for both! Have fun with this one and remember to encourage your partner!
       Overall this Game of Thrones themed workout week is looking pretty stacked. We have some great pieces with lots of variance to keep things interesting. We also have a good mixture of strength and skill work that should really help us continue to progress and see results. As always try to stay as consistent as possible in here and don't be too hard on yourself if you have a rough day here and there. It's always possible to scale back and just show up to check that box and stay moving! Hope you guys enjoy the rest of your weekend and get plenty of rest so we can hit the ground running on Monday. See you all in class!
~Daniel