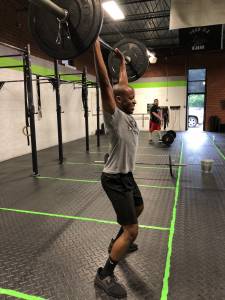 Hey guys,
     This week is looking Solid! We survived Flo and didn't even really skip a beat around the gym which is great! We have some really good workouts program this week so try to get in here as much as you can. Also, remember to get yourself signed up for our in-house competition! We designed this competition with you guys, and you guys ONLY in mind! That means you can handle what we have in store and there's no need to be nervous. Just come ready to have some fun with your friends. Link below:
cfshalloweenhouseparty.wodifyarena.com
Monday: starting the week off with a solid aerobic capacity piece. We'll spend the entire day on the rower here so get your mind right to settle in and do some work. The key to these workouts are are trusting your fitness and trying to hold on to a fairly high pace. This will be a 10 round workout so you'll have to pace to some extent but you still want to push yourself on each round and trust that, with the rest in between, you'll be able to maintain a consistent pace throughout.
Tuesday: today may be one of our more fun workouts this week. We'll start off with a 16 minute EMOM loaded with kettlebell swings. After this we will have some really good accessory work in the form of a three round circuit that will NOT be timed. The goal of this is to focus on form and perfect movement as we work to build pressing strength.
Wednesday: Fun little (10min) AMRAP for you today with lots of barbell work and some rope climbs! If you're working on these then wear some long socks on Wednesday to save those ankles! This one should be fun!
Thursday: Great day today! We are hitting a CrossFit Benchmark workout. One of our favorite "Ladies": Angie  if you don't know this one feel free to look it up… Or be surprised in class! There's a lot of movement exhaustion in this work lout as it is designed as a chipper. This means we will have one movement at a time with a pretty high volume (number of reps) before we can move onto the next movement. Because of this it will be very important to break things up wisely in order to save yourself from muscle failure. Don't hesitate to scale this workout down in complexity or in total number of reps in order to get the correct stimulus for the day and keep yourself moving fast.
Friday: Just hang in there…you can do anything for 4 minutes right?! Today we will have three 4 minute AMRAP's with a two minute rest between each. Total reps of each AMRAP will decrease while overall movement complexity will increase. This is definitely a good one but will tax the shoulders. Lots of overhead here!
Saturday: this Saturday will be really fun and a little bit different than anything we have done in a while. It will consist of three "21-15-9" couplets and each of the three members of your team will complete each one. We'll have a barbell and an aerobic movement in each! Should be a good time!
As you can see this is an exciting week! That's the beauty of CrossFit, you really never exhaust the possibilities for new stimulus is and a great workouts. Remember to get yourself signed up for our in-house competition and give yourself that extra push and motivation in your training over the next month or two!
cfshalloweenhouseparty.wodifyarena.com
~Daniel