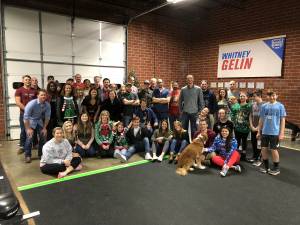 Hey guys,
      December is here, the roof is new, and we have a great week of programming: Things are looking up! Remember we talked about not waiting until the New Year to start working on those goals so we'd love to hear some of these in class if you're willing to share. Also, as the holiday season can be a little sweet and savory you'll notice some fun little "25 Days of Christmas" workouts that we'll be posting everyday until Dec 25th. These are some quick little pieces we'll come up with that you can hit outside of class to combat those extra calories. These are going to be mostly pretty high intensity "sprint style" workouts to really help ramp up your metabolism and help you burn some fat! Check out the announcements below and let's have a great week!
Hoodies should be in by the end of the week. If you pre-ordered you'll see your hoodie charged when they arrive at the gym (unless you've paid cash)
The Christmas party was a HUGE success! Thank you all so much for coming and celebrating with us. We had so much fun and fellowship..and cookies!
There will be NO class Dec 25th and 26th. We will be having a very limited AM schedule the 24th. (Likely an 8am and 10am class.)
Monday: Starting things off with a good three round piece. This one has a great mix of shoulders, core, and overall conditioning. Reps are light at first and build until the last movement of 42 double unders. This is one you'll want to pace (maybe even from the start of the 7 power snatches) but not too much as this is a relatively quick one. Also notice the first day of the "25 Days of Christmas" workout! Go all out on this one…can you break 100 reps?
Tuesday: Heavy day!…but maybe not too heavy as we'll have a clean complex. This means there will be multiple movements done in succession without dropping the bar. We are looking for "working" sets here so we want all of them to be within 10% of your heaviest one for the day (this may mean an extra set or two at a slightly lighter weight after your heaviest set). The goal is ALWAYS form over weight! Build that foundation.
Wednesday: Hump day…I mean "jump" day, will be good! This one is 5 rounds of rowing and box jumps. The row is short (fast) so be careful on the box jumps as the legs start to tire out. If you'd like this could also be run/box jumps and would still be an equally great piece…pick your poison!
Thursday: No question about this one today, it's tough. It's descending reps of front squats and C2B pull-ups. The key is going to be smart pacing here from the start and keeping the heart rate down as long as possible so that you can move quickly through the last really short rounds. The bar will be coming from the ground today so that makes strategizing your breaks a little more important. You can squat clean the first rep after each break.
Friday: Partner workout on a Friday? That's right. This one will be in teams of two but can also be done individually if desired. (Also a good one to hit as a recovery/flow workout if you're sore from Thursday). This one will be mostly aerobic with some DB snatches thrown into each of the 3 rounds. Wear your running shoes…
Saturday: BIG partner chipper today! This one will be lots of fun and lots of reps so settle in! The format will be "I go, you go" with only one person working at a time (minus the opening 800m run). It's hard to say what all is in this one because it's everything but the kitchen sink!
As always we have another great week ahead. Of course there are days we love and days we hate…just like in most workouts there are movements we love and movements we hate. But remember that variance and overall capacity in all areas of fitness is really our main goal. Enjoy the days you love and just come in and "check the box" (put in the work) on the days you don't and that's how we'll get to where we want to be! See you all in class!
~Daniel