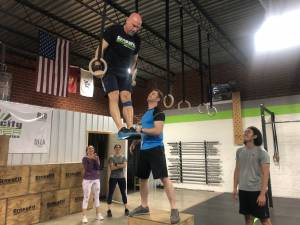 Hey guys,
        Time for another awesome week at CrossFit simplicity! January was one of the best months we've had in class attendance and we are expecting February to be just as good, so get in here and let's stay consistent! We have some awesome programming ahead of us this week with some really challenging and fun pieces, including a retest on Monday which will kick things off right! We also have some really cool announcements and events coming up in February like our three-year anniversary! Be sure to check out the announcements below and then let's dive into this week!
CrossFit Simplicity three year Anniversary! CFS is turning three this February 15th and we are celebrating with an awesome Bring a Friend Day. Including our very own DJ-LA and a little post workout brunch!
Raven's Pursuit Twisted 5k! Raven's Pursuit is a nonprofit organization that works with underprivileged youth in Greensboro to teach them about health and fitness. We are going to be a host location for a charity competition that we hope you guys will all sign up for and enjoy! Details in an email coming at you this week!
Monday: Retest! That's right, today is a retest of a workout we did way back in 2018! This is a quick and fun little AMRAP that will test your barbell cycling and gymnastic skills…Not to mention your heart and lungs! this one will alternate between power snatches, toes-to-bar, thrusters, and another set of toes-to-bar for 12 minutes! This will be a taxing workout on your shoulders so you might want to think about breaking things up sooner rather than later. Possible break your power snatches and toes-to-bar but try to go unbroken on the thrusters to save a little bit of time. The barbell weight is light today so you'll be able to push the pace on this one and really keep things moving! After this will have a little bit of handstand push-up accessory worked around out the day and kick the week off right! (compare today to 1/5/18)
Tuesday: We have a tough little EMOM for you guys today. This one will definitely challenge you aerobically! It will be 21 minutes and will alternate between row calories, box jump overs, and Russian kettlebell swings. Remember that Russian kettlebell swings do not go all the way overhead but stop slightly above eye level. This abbreviated kettlebell swing will definitely allow you to save some time and give you some extra rest during this minute…Which you will likely need! The reps are pretty high today so if you bust, or need to scale, then think about dropping a couple reps from each minute. Trust your fitness and really push it on this one and see if you can hold!
Wednesday: Love this hump day workout! This one is a great mixture of barbell/olympic lifting, gymnastics, and strength work that will make it really effective. This one is short but don't be deceived by the low reps. It will still be challenging and will get your legs burning. We have a descending rep scheme here today working from 10 down to two (by twos). Your movements will be hang squat cleans and burpee pull-ups. Hang squat cleans will really test your legs and you might want to think about breaking these up in at least two sets during the front part of the workout and then try to go unbroken later on as the reps decrease. If you've ever done a burpee pull-up you know that these can be a little tedious and take quite a bit of time so potentially use this as a chance to do some good steady paced work and sort of catch your breath so that you can jump right back on the bar in the next round. When you get into those rounds of four and two reps really turn it on and leave nothing on the mat!
Thursday: We have a really cool workout today and a bit of a twist on an old CrossFit.com main site workout that some of you may have seen before if you ever started out your CrossFit journey like me checking the main page every day…Nostalgic! This one will be a 400m walking lunge for time. That's right, no barbell, no kettlebell, no weight vest… just you, your two legs, and the open road! there is a slight twist on this one today however. Every minute on the minute you'll have to stop and complete seven push-ups. They should take you no more than about 10 or 15 seconds but we don't want you to do an excessive amount of push-ups today so if the workout takes you longer than 15 minutes to complete drop the push-ups altogether or switch to doing your seven push-ups every two minutes rather than every minute on the minute. there's not a lot to say about this workout except for it's not a bad idea to start things off smooth and steady and try not to burn out your legs too early on. If you need to scale this we can always shorten the distance or the amount of push-ups.
Friday: Cool workout to round the week out here today. This one is three parts and each one is a little different…just a little! You'll have three 5 minute AMRAPs that will be performed back to back. Each ones is a slight variation of the one before it. We'll begin with 7 power cleans and 10 calories on the bike/rower for the first 5 minutes. During the second 5 minute AMRAP the power clean changes to a push jerk but the reps stay the same. Finally, in the last 5 minute AMRAP we'll put it all together and the barbell movement will be a clean and jerk! This one is going to be pretty tough today. 5 minutes is short but we have no rest between AMRAPs so you'll really need to think of this (and pace this) as if it were a 15 minute workout…because it is! Try to be as efficient as possible on your barbell movements and keep breathing. Breathe and move, breathe and move!
Saturday: Partner day! These workouts are always the best! We aren't sure what we are going to throw at you guys this Saturday but rest assured: it'll be good!
        As always we have an excellent week ahead of us here at CFS! As much as I'd love to tell you all about it, the Super Bowl is on and I KNOW you'll all be in class this week to find out firsthand! See you all in class!
~Daniel