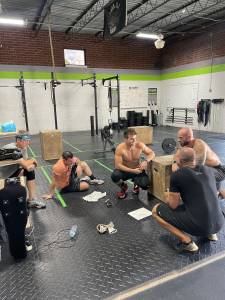 Hey guys,
       It's a beautiful Sunday and time for the CrossFit Simplicity Weekly Rundown! This is going to be a bit of an abbreviated Rundown today as I am out of town. So all meat and no filler today. Just what you need to know to get you through the week. It is shark week for our programming so we have some pretty interesting names coming for you guys! This is also the culmination of our eight week strength cycle so we will be testing one rep maxes! That definitely makes for an exciting week so be sure you are getting good sleep and recovery so we can really give it our all on these lifts!
Weightlifting:
Week 8 (July 25)
Day 1: Heavy Single Front Squat / Heavy Single Strict Weighted Pull-ups
Day 2: Heavy Single Bench Press / Max Height Box Jump
Day 3: Heavy Single Deadlift / Max Rep Strict Handstand Push-ups
Workouts:
For this week, we have a good mix of workouts. Monday, everyone asked for a sprint workout. Well, here it is! We have a "Fran" type workout that will leave the classroom lying on the floor. Tuesday will be another repeated workout from last July, and Wednesday, we have a partner barbell workout. Thursday and Friday are multiple sets; grind through types where pacing off the start will be critical.
     All in all we have a great week so make sure you guys come to class prepared and ready to go big! It is always awesome to wrap up a strength cycle and have the opportunity to test things out and see if all that hard work paid off! Again make sure you get plenty of rest, recovery, and relaxation this weekend so we can hit it hard Monday. See you all in class!
~Daniel