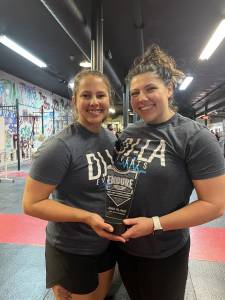 Hey guys,
      "What day is it?" asked Pooh. "It's today." squeaked Piglet. "My favorite day." said Pooh. It's my favorite day of the week as well… Sunday! The day of the CrossFit Simplicity Weekly Rundown and hopefully a day of rest and relaxation. If you haven't guessed it we have a Winnie the Pooh theme for our workouts this week but don't imagine for a minute that we are going to get soft! We are going to be continuing with week four of our six week strength cycle With the emphasis on some overhead work. We also have a ton of really great conditioning pieces for you guys this week with lots of variance to keep things interesting and effective. Let's check out some announcements and then jump right into what we have in store for our training!
We have some new t-shirts on the way! Winter gear coming after that!
Congrats to Felicia and Maryann on finishing second place in their competition this weekend and to Stewart and Lucas for finishing first! Way to rep CFS!
Bring A Friend Day: Our next Bring a Friend Day will be October 30th at 9am! DJ-LA will be here of course so spread the word! Costumes strongly encouraged!
Monday: We are going to kick off your week with the continuation of our strength cycle. Remember that we are on week four. Today we will have a three position power snatch. Your three positions will be from the ground, from below the knee, and then from above the knee. Note that these are power snatches and will all be caught above parallel. Also remember that you cannot drop the bar during this complex so make sure you were up to a heavy set while maintaining proper form and position. After this we'll hit "Winnie the Pooh." This is going to be a chipper of wallballs, GHD sit ups, push-ups, and alternating dumbbell step ups. We want moderate pacing today with strategic sets to avoid burnout on all movements. This workout will tax the body in so many different ways. It's going to be important today to understand winter break wraps and went to scale. Keep this in mind for your 100 wallballs (15-14-13-12-11-10-9-8-8)
Tuesday: Today we'll have a cool little squat/press complex for our lifting. You'll perform a front squat, push press, and then a push jerk. Bar will come from the rack today. For most of us the push press is going to be the limiting factor on this so make sure you get a good reset at the top of your front squat and then an explosive dip and drive on the push press. Careful not to re-bend the knees here! Next we'll head to Pooh's best friend, "Christopher Robin!" This will be three 3 minute AMRAPs of power cleans and strict handstand push-ups. Every round the reps of both movements will increase but the weight of the power clean will decrease. We are looking to high intensity on all of these today. Be prepared to work hard for three minutes then use the rest following each periods to actively work on getting your breathing and your heart rate under control. Your heaviest power clean weight should be around 70% of your one rep max and your lightest around 40%. Think about using fast singles today as this will help you control your breathing bit more effectively. The clock moves fast on this one so suck it up and attack!
Wednesday: We are taking a break from lifting today (ironically on weightlifting Wednesday) to hit, "Tigger!" Feeling enough we will be doing a little bit of jumping today. This workout will consist of burpee box jump overs, calories on the bike, I am not sit ups, and a pull up variation of your choice! This is a pyramid style chipper and we want you guys to have a steady pace throughout. Basically settle for constant movement as your chip away at the reps. This is going to be a cool piece because you are going to have some options with your pull ups. You can either do 20 bar muscle ups, 40 chest bar pull-ups, or 60 pull-ups. Either option would be hitting the workout RX today. Have fun!
Thursday: Back to our lifting cycle today! We'll be working to a heavy snatch balance. Focus on a smooth and controlled dip into a fast and aggressive drop under the bar. Punch the arms up hard! Make sure your foot work is consistent and doesn't get sloppy as the way it goes up. We are just looking for a heavy single today. After this we will have a partner workout called "Gopher". You guys will have a partner row, a big batch of power snatches, and then one last long partner row to finish out the workout. You guys will be able to split the reps anyway you would like today but it's probably not a bad idea to hit a couple singles back-and-forth with your partner. Easy day!
Friday: The sprints are back this week with "Eeyore!" (which again is a little ironic if you know the character.) This is going to have an interesting layout. We will have 10 sets, one every three minutes, and your shuttle run will be broken up into 50m out and back and then 25m out and back. We will have some measure distances for you guys to go off of outside! Stimulus today is definitely high intensity. Think about maintaining around 90% effort with the first shuttle sprint being the slowest and the last one being the fastest! Go for it!
Saturday: Halloween Bring A Friend Day! DJ-LA will be here bringing some heat and we encourage you all to wear a costume for this workout! Invite a friend and let's have a good time! (There will be NO candy at this event!)
      Well that's all we have for you guys on this beautiful Sunday! We have a really awesome week planned for you guys with lots of listings, fishing, and fun! Maybe there are some old diehard Winnie the Pooh fans that will get a special kick out of this weeks theme as well. Remember to get in here and stay as consistent as possible so we can get some good results and king the needle moving. You never know…you might win that committed club prize! Now enjoy the rest of your Sunday and get plenty of rest and relaxation so we can hit it hard. And never forget what Pooh said, "You are braver than you believe, stronger than you feel, and smarter than you think!" See you all in class!
~Daniel