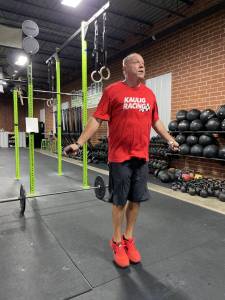 Hey guys,
     Happy Sunday! It's time for the CrossFit Simplicity Weekly Rundown. We are currently in a two week transition before we begin our new "back to the basics" strength cycle that starts on January 23rd. During this time we will still have some weightlifting and strength mixed in throughout to keep us up to speed and ready for the next cycle. The theme this week is pastry items…Keep reading to see what we're going to bite off this week at CFS!
Bring a Friend Day: We had an awesome time with you all on Saturday and we hope you did as well. Special thanks to Coach Hodge for running a great class and DJ-LA (Leslie) for the awesome music!
War of the WODs: A A few of your fellow gym members and coaches will be competing this weekend in Greensboro to represent CrossFit Simplicity at War of the WODs! If you guys would like to stop in on Saturday and watch us compete we would love to have you! Ask Coach for more details!
2023 CrossFit Open: The 2023 CrossFit Open is right around the corner! Be on the lookout for some more details in the near future. Simply put this is a worldwide online competition throughout the CrossFit community and it's also a great way for us to motivate, encourage, and have a little fun with each other in the gym. I would highly recommend all of you guys get signed up as we will be hitting these workouts in class for three weeks in February! (so you might as well join in the fun!)
Weightlifting:
We are in a 2-week transition period before we begin our new "Back to Basics" cycle that starts on January 23rd. (January-March/ 8 Weeks) With the New Cycle, we will take it back to basics for the start of the New Year. This cycle will focus on the 3 basic power movements (Back Squat, Deadlift, and Bench Press), where we will hit maxes early and retest again. We will also be taking the Olympic Lifting down in weight and focusing on light barbell cycling to help prepare for the Open. The cycle will last 8 weeks, bringing us to the middle of the 2023 CrossFit Open.
Workouts:
Monday, we kick things off with a long bodybuilder/cardio AMRAP that you all can cruise through and get the best of both worlds. For Tuesday, it's a throwback ground and pound from January last year; Let's ramp it up. We are getting over the hump for Wednesday with a favorite chipper-style workout, where you climb down, turn around, and work your way back up. For late in the week, we bring a fun little 1:1 partner sprinter where you all will work fast, rest, and repeat for 5 sets each. Then it's Friday, and we know what is coming, another Open workout (19.3). This one starts fast and becomes a muscle endurance grind, so please adjust the skill level to keep yourself moving.
     Well, that's all we've got for this week's edition of the CrossFit Simplicity Weekly Rundown! It's looking like a great week and we hope you all will show up ready to put in a solid effort with a positive attitude. Consistency is the key as we press into this new year and begin to set new goals for ourselves. Remember to get plenty of rest, relaxation, and recovery so we can hit it hard on Monday. See you all in class!
~Daniel