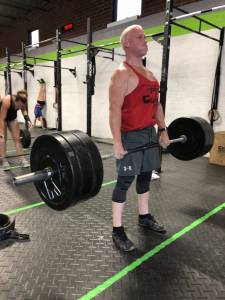 Hey guys,
       It's the moment you've all been waiting for. Every rep, every drop of sweat, every workout has led us to this moment in time…The CFS Weekly Rundown is here! We had a great week last week and we are expecting nothing less as we head into this one. We will be continuing with our strength cycle hoping to increase the weights a little bit and continue getting stronger in these core movements. You'll also see lots of great conditioning sprinkled in there with some really good variance in movements and workout set up that should keep things interesting and keep your body guessing just enough to get that stimulus we're looking for. Any Fast and Furious fans out there? if so then buckle up because that's the theme this week! Now have a quick peek at the announcements below and then let's dive in!
Bring A Friend Day: Our next BAFD is THIS Saturday, Nov 14th, at 9am. Mark your calendars and go ahead and tell your friends! DJ-LA will be here setting the perfect mood for the workout and your coaches will be here setting the perfect workout for the mood!
CFS Winter Gear: We have gotten word that our sweatshirts have arrived and will begin being printed this week. We hope to have these to you guys in about a week hopefully!
Monday: Big big kick off to your week here today! You not want to miss Monday this week. We are going to open up the day with some percentage work on our back squats. We will have a 5-3-1+ approach here where we will aim to end with a single…or two…at 95%. These are going to be heavy today so remember to keep that chest up in the bottom and really fight for a position. Don't go down so fast that you crash in the bottom and risk your hips coming up faster than your chest. Go down smooth, hit the bottom, then drive out hard with a tall chest and a tight midline. After this we will be hitting, "Fast and Furious" to round out the day. This will be a shorter AMRAP with ascending reps of devils presses. Between each sET you have to do 10 box jump overs. These devils presses can get tedious and are certainly challenging. Be sure to place your dumbbells wide enough to drop your chest down between them for your Burpee but not so wide that you can't still swing in between your legs to get them up over your head. This one's going to be a grind so try to do just that. Keep grinding until the end!
Tuesday: We are going to continue right along with the lifting as we roll into Tuesday. Will be starting things out with a snatch EMOM. Today's focus will be on technique and the weights will be a bit lighter. Every minute on the minute your complete three squash match is at 70%. We are looking for singles here though. Meaning you will be able to take a second or two to reset between each rep and do not have to go touch-n-go. After we snatch we are going to see just what kind of threshold you have for lactic acid! "Dominic Toretto" will be descending reps of calories on the assault bike (or rower) and air squats. We will be filling up the bikes today until we run out and then going to the rowers. This one is definitely going to blow up the legs but try to stay moving as good as possible. Coaches are going to be taking extra care to monitor our air squat depth in the bottom and lock out at the top. Remember that we want to reach full extension. To keep things fair on the board we need to make sure that everyone's reps meet a certain set of standards. Get tough on this one and push the pace but stay true to form!
Wednesday: It's time to mix things up a little bit for hump day. We are going to be throwing in an old Games workout from 2007! Now normally that would be a scary statement but just think about how much the games, and games athletes, have evolved over the past 13 years! This workout is actually not too bad in terms of Games workouts. This workout will start with 1000m row buy-in and then you will transition to five rounds of pull-ups and push jerks. The pull ups are definitely on the higher volume scale today with over 100 reps so be sure to back this off a little bit if you need to to reach the time goal. Push jerks are certainly more moderate at only 135/95lbs. Pull ups should be something that we complete in about two sets and the push jerks should be something you are able to do unbroken each round. Remember we always want to modify to reach that stimulus so keep that in mind today. This one is definitely going to get taxing on the shoulders so settle in and then push hard the last round or two. Easy day!
Thursday: We have some weightlifting and then a big chipper for you guys today with lots of double unders so get ready! The lifting will be shoulder presses today and will follow the same rep scheme as our back squats as we lower the reps and increase the wight. Then we are going to start, finish, and reached the halfway point with a big set of double unders on this chipper. These will be framing some alternating dumbbell box step ups as well as some burpees. What we are really looking for today is just consistent pacing throughout the entire workout. You can definitely push the pace on the double unders if you feel comfortable and confident with this movement but be careful to not get your heart rate going to fast too soon. Just "chip" away at these reps today as the workout type implies! Good stuff!
Friday: We are going to wrap up the week with a pretty tough workout. "Brian O'Connor" will be five rounds of a 600m run, 20 light overhead squats, and 20 light sumo deadlift high pulls. This one is going to be super cardio intensive so you are really going to need to focus on the long game and not coming out of the gate too hot. The goal today should be to stay consistent within rounds and maintain unbroken sets or as close to it as possible. This means you definitely need to pick some appropriate weights for the day and remember that they should be light and very manageable. Have fun with this one today and do your best to stay moving.
Saturday: Bring A Friend Day is back and better than ever! Save the date, invite a friend, and come get in a great workout to celebrate our community!
     It's looking like another top-notch week here at CrossFit Simplicity. Hopefully this fast and furious theme gets you guys hyped up to ready attack these workouts with some intention and some intensity! We want to make sure we continue to stay consistent and get in here as much as possible so that we can see those results rolling in. Don't forget to keep an eye on your emails throughout the week as well as the announcements in Wodify and any post that may pop up in our "CFS Friends" Facebook page. We have a lot of exciting things coming down the pipeline and we want to keep you guys informed. Now, enjoy what's left of your weekend and let's hit it hard on Monday. See you all in class!
~Daniel