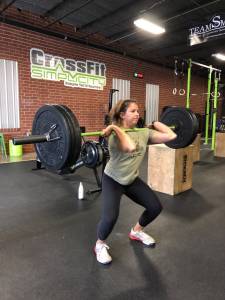 Hey guys,
      It's time to start another week of great workouts and fast times at CrossFit Simplicity! The Rundown is packed with great info and workout notes today so make sure you give it a thorough read. We have had an awesome September so far and the energy in the gym has been outstanding. Let's definitely try to keep this motivation going as we knock out this week. We've been getting tons of great feedback from you guys on our new Mayhem program and we couldn't be more excited to keep the ball rolling. Make sure you have a quick look at the announcements below and then let's dive into the week!
Bring A Friend Day: These have been nothing short of amazing lately with tons of high energy and great workouts. Our next event will be October 10th at 9am so go ahead and mark your calendars for a good time with DJ-LA and your CFS family!
1,000 Classes: Congrats to our first ever CFS member to reach over 1,000 classes! Eleni will go down in Simplicity history! Good job!
Revival Class: Free class with Coach Hodge every Sunday at 11am for anyone in addiction recovery!
There will be NO 6:30pm class Tuesday, Sept 22nd! Sorry for any inconvenience.
Monday: We have a legit one for you guys to kick off the week! This one is called "Lifter Cables" and it's going to be spicy. It most likely gets its name from all the lifting involved and all the "cables"…aka jump ropes! This workout is a two part piece with descending reps. You'll work from 100 to 20 doubles (down by 20s) and from 10 to 2 squat snatches (down by 2s) on part one. We'll take a rest and then hit the same thing but with squat cleans! For both the lifts make sure you're staying no more than 75% of your one rep max and make sure you stay in control. Don't break down your form or go to inefficient lifts because you're trying to go fast. We want our CrossFit Simplicity athletes to have excellent form and pretty lifts even under pressure! The double unders are going to get taxing so please, please scale these back if needed. Remember we have to shoot for preserving that stimulus and there will be time caps on both parts today. Think about smooth sets and try to go unbroken if possible. Have fun with this one today as it's a great start to our week! (Side note: there will be a one rep max clean and jerk on the next level today. If you have time to hit that before/after class think about working it in!)
Tuesday: This is going to be a great play on the classic CrossFit Benchmark workout, "Diane." This one is a little bit hopped up though, which hints the name, "Diane Bailey." (If you follow games athletes you'll get the reference.) Unlike a typical Diane this one is heavier and harder. We'll have (275/185) for our deadlift weight today and strict handstand push-ups. The reps today are the same (21-15-9), which will allow you to really push mentally as they decrease each round. Be careful not to blow up your shoulders too early on this one and break things up in sets of four or five if needed. If you're a gymnastic ninja then go for it unbroken! We want to deadlift to be something that's not over 70% of your one rep max. Keep in mind though that 70% of your one rep max is still quite heavy for 45 reps. This is a classic push/pull workout that's going to be very effective if we hit it right! Aim for a higher intensity here as we have a goal time of about six or seven minutes.
Wednesday: Hump day is looking stacked…and jacked! We are going to start out with a little floor press to get things moving and then dive right into a tough metcon. Today will be "Steroid Cindy!" This one has a real cool layout that's going to require a good bit of strategy and pacing today. First of all, all of your pull-ups will be strict today. If you have trouble with this we will be going to a ring row instead of a banded pull up today so keep that in mind. The goal here is to build some real strength in that pulling motion and a very low ring row will accomplish this really well if you need it. Also, after eight rounds of our typical Cindy rep scheme (5-10-15) you'll complete four rounds with a double rep scheme (10-20-30), and then two rounds doubling that rep scheme (20-40-60). Finally, if you have not hit the 20 minute, you'll have one round doubling that last rep scheme (40-80-120). This will be set up as an AMRAP and it's understood that no one will finish today's workout. The goal today will be getting over 480 reps…This equates to getting out of the first set of eight rounds and the next set of four rounds. Be very careful today as those push-ups will start to get very challenging. I would suggest pacing the pull-ups and push-ups and then really pushing the air squats fast to save time. Do make sure that we are reaching full depth at the bottom and full extension at the top of each squat. CrossFit Simplicity members are virtuous and complete good full reps even at speed or high intensity! Hold yourself to a higher standard!
Thursday: Test day! We are going to be testing our 1,000 meter row time today. This is also a CrossFit standard and a number that we want you guys to know about yourself. To be clear this is a 1000m row for time…Max effort! There will be some element of pacing but not much. I would recommend starting out hot and getting the rower cranked up in spinning for those first 100m and then settling into a strong pace for the next 700m. Finally, when you get to the last 200m you need to pull all out until your rower hits zero. This is a benchmark test so really give it your all today and leave nothing on the table. After this if you want we will have an optional 300 cow bike or row as a sort of next level/aerobic work piece. Easy day!
Friday: We have an awesome two-part day for you guys to kick off the weekend! Starting things out with a one rep max overhead squat and then moving to an awesome chipper. On the overhead squat be sure that we are doing our absolute best to achieve full depth in the bottom. For some of us with mobility struggles this may mean going pretty light today and just working on getting comfortable with an empty bar in the bottom. If that's the case then embrace it and put in the work so that we can get that mobility right for future workouts! If you're able to achieve full depth then remember to take things smooth and slow with a good focus on keeping that upper back tight and those arms pressing up and locked out through the entire range of motion. The chipper today will consist of rowing, wallballs, burpees over the rower (that's right), and ring muscle-ups. Each movement will come with shorter reps but obviously more fatigue. Try to keep a good steady pace through this and stay moving. This is a very "Open style" workout so approach it as one. Try to keep a good pace on the rower and then come out aggressive on the wallballs and knock these out in 3 to 5 sets if possible. The burpees over the rower can get challenging so feel free to allow yourself a couple breaths on your chest at the bottom if you need them in a few seconds rest between every 10 reps. if you don't have your ring muscle ups we can go to bar muscle ups or chest-to-bar pull-ups to finish out the day!
Saturday: Lots of thrusters here today so get ready! Luckily you will have a partner to tackle this with but it's still going to get spicy. Today is basically just a descending rep workout of thrusters and rope climbs. Lots of pulling, lots of pushing, and lots of legs! still working out the best way to tackle this one for class so you'll have to show up Saturday for the rest of the details. Do remember to stay upright in the bottom of your thrusters and get a good lockout and an extra breath up top on each rep. We want these to be as efficient as possible so that you can stay moving! Also remember on your rope climbs that you want to "stand" your way up the rope rather than pull your way up the rope so be sure you are bringing those knees to your chest and getting a good foot lock on each pull! Good stuff!
     Overall we have what looks to be another amazing week at CrossFit Simplicity. And we know you guys wouldn't want it any other way! Our new programming from Mayhem is going great and we are so thrilled with the feedback and results we are getting from you guys already! It's so important to trust the process, buy into the programming, and really dedicate yourself to reaching that stimulus each and every day so that you can grow your skill and fitness level every week. You all have been doing an amazing job at staying consistent, dedicated, and encouraging each other in class. Keep that up this week and we will get the job done. Always remember that CrossFit Simplicity is not a building, equipment, or a program…CrossFit Simplicity is the sum of each and everyone of you guys and the atmosphere and environment your personalities and attitudes create. That's what makes this place so amazing! See you all in class.
~Daniel