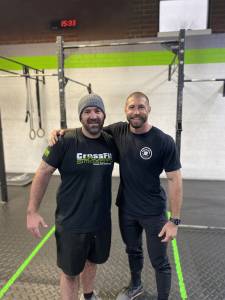 Hey guys,
        Happy Sunday! It's time for another installment of the CrossFit Simplicity Weekly Rundown. We had an awesome week last week and we want to keep that rolling. Great job to everyone who participated in the open workout on Friday. We saw a lot of gritty performances and tons of effort. Not to mention a lot of fun! Friday night lights was a huge success so be sure to try your best to make it this Friday evening from 5 to 7 PM if you can. Even if you just want to show up and cheer on your friends. This will be week eight of our strength cycle and we will be hitting some heavy singles and then taking a two week break to get ready for our next cycle. We also have a really cool meat theme for all you carnivores out there. Let's dig in…
Open 22.2: We had an awesome time Friday hitting open workout 22.1 with you guys! This week we will be hitting open workout 22.2. This will be Friday night from 5 PM to 7 PM at the gym. We had an awesome atmosphere so we encourage you guys to come out and give it your all while we cheer you on!
Monday: We are going to kick the week off with a one rep max back squat. You guys will have 10 to 12 minutes to work through a heavy single for the day. This is definitely a great opportunity to max out this lift but also don't put too much pressure on yourself. We really just want a heavy single! After this we will hit "New York strip." This is going to be five sets, one set every 3 1/2 minutes, of GHD sit ups, thrusters, and burpee box jump overs. Stimulus today is moderate to high pacing. You guys should find a pace that you feel you can maintain across the rounds. If you push yourself too hard on initial rounds you will fall off pacing for later rounds. You should be getting roughly 60+ seconds of rest each round. If you miss this by large margin remember to reduce the reps and keep going! We want to see these rounds virtually unbroken. Easy day!
Tuesday: Heavy single on the shoulder press today! Just like the back squat you have 10 to 12 minutes to establish a heavy single for the day. Remember no knees or hips and keep that bar in a straight line! When we wrap up we will hit "bottom sirloin." This will be three sets, with a three minute rest between sets, of 50 cal on the assault bike. 40 for the ladies. It doesn't get more simple than this. Stimulus is moderate intensity today. You guys want to keep the goal of scoring similar times across all rounds or getting slightly faster as they progress. The first round should be your slowest, testing the waters, while the next two are all about hanging on and grinding through. This will definitely be a mental test so embrace the suck!
Wednesday: Weightlifting Wednesday! Today we have our snatch EMOM. Every minute on the minute for 10 minutes you guys will have five touch and go snatches. We've been doing this for weeks now and it should be pretty familiar. Remember to focus on technique and smooth cycling. After this we have a cool one called "filet mignon." This is a descending rep couplet of double unders and kettlebell swings. Stimulus today is moderate intensity with increasing effort across rounds as the reps decrease. Shoulder fatigue from kettlebell swings will affect your ability to perform double unders as the workout progresses so focus on a strong hip drive during the swings and keeping the shoulders relaxed during the double unders. Good stuff!
Thursday: Deadlift Day! You guys gonna be working to a heavy single on your dead lift. If you are signed up for the open you may want to consider taking it easy or skipping this all together as there is a potential that deadlifts will show up in the open workout on Friday. We will be working to a heavy single today as with our other lifts this week. Next up is "Ribeye!" This will be a bike (or run) and front squat piece. Each round your bike distance will remain the same but your front squats will decrease. Stimulus is moderate to high intensity today. You should look to recover on the bike in order to push the pace on the front squats. We definitely want the front squats to be something you can complete in 1 to 3 sets. If you are signed up for the open keep the bike distance the same but adjust the front squat weight to something very light and just move a little.
Friday: Open workout 22.2! We don't know what the workout will be yet but we are excited for it! Remember to do your best to show up to our Friday night lights event from 5 PM to 7 PM! Even if you're not signed up for the open we would still love to have you there to cheer us on!
Saturday: "Skirt Steak" is a partner workout and it's a good one! You will have sets of running and rowing. The catch is that while you are doing you're running and rowing your partner will be responsible for six power clean in jerks. While your partner is doing they're running in rowing you will be responsible for a set of six power clean and jerks. So there will be some built in rest today but not a ton! The power clean weight will be on the moderate to heavy sides so think about quick, smooth singles. Have fun with this one and encourage your partner!
      Well that's all we've got for this weeks edition of the CrossFit Simplicity Weekly Rundown. We certainly have a lot going on right now with the CrossFit Open in full swing and the culmination of our strength cycle. What's an exciting time at CrossFit Simplicity to say the least. Great job to all you guys for staying so motivated and committed lately. Definitely keep it up as we roll into March. It's the small decisions to show up every day that make a big difference in the long run. Now enjoy what's left of your weekend and get plenty of rest and relaxation so we can hit it hard on Monday. See you in class!
~Daniel