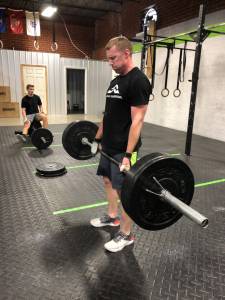 Hey guys,
     We have a great looking week ahead of us and we just finished up a great one too! Love seeing you guys all tackling these Open workouts so far. Everyone is really doing a good job and putting out a ton of effort. Remember these are great potential re-rest workouts for us down the road so still try your best even if you aren't signed up. This week will be Open workout 20.3 announced Thursday night…but before that we have 4 solid days of programming to get into. So give the announcements a quick look then let's dive in!
Hoodie/Crew Neck pre-orders are dude tomorrow! (Monday!) These are pre-order ONLY. We will not be ordering extras. Email daniel@crossfitsimplicity.com with your order.
We still have new black CFS tees up front at the gym for $20!
Bring A Friend Day is THIS Saturday, the 26th at 9am! DJ-LA will have this place cranked up and we'll have a great workout planned! Be there!
Monday: We have a great piece to start the week of for you guys! This one is pretty short but it's going to sting a little that's for sure. This one is 21-15-9 of a heavy deadlift and calories on the bike/rower. The deadlift weight should be something challenging but the time goal is shorter here (about 8 minutes) so make sure it's a weight you can really manage for the full 45 reps. The key to really getting the stimulus right on this one is to not rest on the bike/row. You should be pushing yourself on the calories and trying to get right back to that bar. Get comfortable being uncomfortable and you'll really increase your results!
Tuesday: Hero workout today! But don't freak out too bad. This one isn't one of those horrible ones that's going to crush you. This should be about 20ish minutes long and has a little bit of everything (too much to list). The workout is "Cameron" and it follows a 50/25 rep scheme with some pretty light movements. We won't see a barbell in this one but we will see lots of bodyweight stuff like lunges, pull-ups, sit-ups, etc. This is a really solid Hero workout and one we have never done before so try to get in here Tuesday!
Wednesday: Heavy Day! We have front squats on the menu today and they are in sets of 7. This is definitely a challenging rep range because things get pretty uncomfortable under the bar. And we want these sets to be heavy/tough. It's going to be really important to stay upright and keep a good position…especially in the first 4-5 reps to give you the best chance at getting all 7. We will do three sets of seven today so ideally we would like to have no failed sets but especially not in the first two sets. If you decide to really go for it on that third set of seven and you only get five or six reps you are still getting the right stimulus so don't sweat that too bad! If you feel good let's really go for today!
Thursday: We have a pretty cool one for you guys today. Basically you'll have a task to complete for time (a 2000m row in this case) and a penalty every minute that's going to slow you down (4 burpees over the rower). These can be really fun and really challenging workouts. Also don't be surprised to see some significant differences in times here today. If you're conditioning level is high you'll be able to keep a strong pace on the rower..the faster you row the fewer burpees you and the faster your workout is over. But if these movements are tough for you then things can escalate pretty quickly and you'll begin to knock out fewer and fewer meters between the penalty reps…so now your workout is taking longer and longer…and you're getting more and more fatigued. That being said (obv don't redline our of the gate) but do try to push hard to get as much work done between those minutes as possible and keep your transitions quick on and off the rower.
Friday: Open week 3 is here with 20.3! Who knows what the workout will be..your guess is as good as mine but like the previous weeks you guys will be prepared! I think the most important thing to remember is not to stress or be anxious about the workouts. There is nothing you can do at this point to prepare..all that work has been done in the weeks, months, years leading up until now. So the best thing to do is just go for it and don't sweat it too bad. You got this!
Saturday: Bring A Friend Day! Get ready for another epic workout and an amazing atmosphere from DJ-LA! Spread the word!
     It's looking like a great week ahead of us and you know it'll be a great weekend with our Bring A Friend Day! Let's keep getting in here and putting in solid work day in and day out and the rest will follow! Hope everyone had a great weekend, now let's get to work! See you all in class…
~Daniel