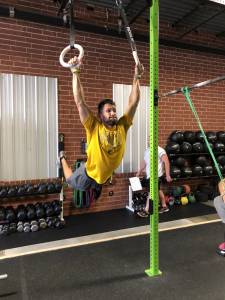 Hey guys,
      We have a great week planned ahead for you all and some really important announcements. Make sure you give everything a good read below and then check out what we have in store this week!
We will have one class Thursday, Thanksgiving Morning at 9am! Come burn some calories before we pack them back on at dinner!
Friday we'll have 3 classes: 9am, 12pm, and 4pm! Keep burning off that stuffing and pumpkin pie!
Save the Date! Our second annual CFS Christmas Party will be Saturday Dec 1st at 7pm! We will be catering Tickle My Ribs and we will also be doing a cookie exchange! Everyone please bring at least 24 of your favorite cookies!
Sweatshirt pre-orders end Tuesday at 12pm! Get your order to me at daniel@simplicity.com ASAP!
Monday: Starting the week off with a double! We'll start with 15 minutes to establish a heaving single for the hang squat snatch and then hit a tough little 4 round metcon with some burpee box jump overs! Get ready, it's going to be a good Monday!
Tuesday: Squats! We are front squatting today! We'll be working our way from 3s to a heavy single! After this we have a pretty cool piece. We'll be doing 21-15-9 Thrusters…but not for time..for weight. Try to increase across sets and each set must be unbroken! That's the kicker..
Wednesday: Hump day! Good one for you all today! This one is a 21-15-9 rep scheme but with 4 movements. A good mix of pushing and pulling in this one as well as legs! All around a great conditioning piece for you!
Thursday: Happy Thanksgiving! Come in for one workout today at 9am! It's going to be a good one!!
Friday: (We will only have 3 classes today: 9am, 12pm, and 4pm) This is a tough one today but a great piece! We will be increasing reps of the clean and jerk each round. However each round will be broken up by a round of "Cindy".  You'll want to pace this one a little from the start as the reps are increasing rather than decreasing.
Saturday: We have a pretty challenging one for you all today but it's good to keep burning off those Thanksgiving calories! This will be a partner workout with hang squat clean thrusters and burpees…enjoy!!
     The schedule is a little different this week with the Holidays so make sure you remember your Thursday and Friday hours. I know it's tough to stay consistent during the holidays but do your best to get in here and we will have a lot of fun! Keep putting in the work every day and stay consistent and it'll pay off! See ya this week!